Top Piano Performance for Modern Living
The F-140R is a digital piano built for modern life. With a contemporary, compact design perfect for smaller apartments, it's also packed with useful technology from the leader in digital piano innovation. First, you'll experience an authentic, expressive piano tone that's nothing short of remarkable for such a compact and affordable instrument. The built-in stereo speakers project rich, full sound, while the Headphones 3D Ambience effect completely immerses you in your performance during private practice. Onboard rhythm accompaniments make playing even more fun, giving you control of a backing band that automatically follows the chords you play. The F-140R can help improve your playing and composition too, with onboard recording, Bluetooth® connectivity for using with music score apps and a USB port for hooking up to a computer.
Standard Features
Roland's industry-leading piano technologies in a stylish, affordable instrument for smaller living spaces
SuperNATURAL Piano delivers the rich, authentic tone of a real acoustic grand
PHA-4 Standard Keyboard features high-resolution sensing that maximizes the vast tonal potential of the SuperNATURAL Piano sound engine
Sophisticated onboard rhythm feature with intelligent accompaniment; 72 different rhythm styles, including 6 pianist styles
Explore a world of instruments beyond the acoustic piano with 305 additional tones that include electric pianos, strings, organs, guitars, brass, synthesizers, and many others
Headphones 3D Ambience effect provides a multi-dimensional sound experience while using headphones for private practice
Connect your smartphone or tablet via Bluetooth technology to turn sheet music pages wirelessly
Available in White or Contemporary Black finishes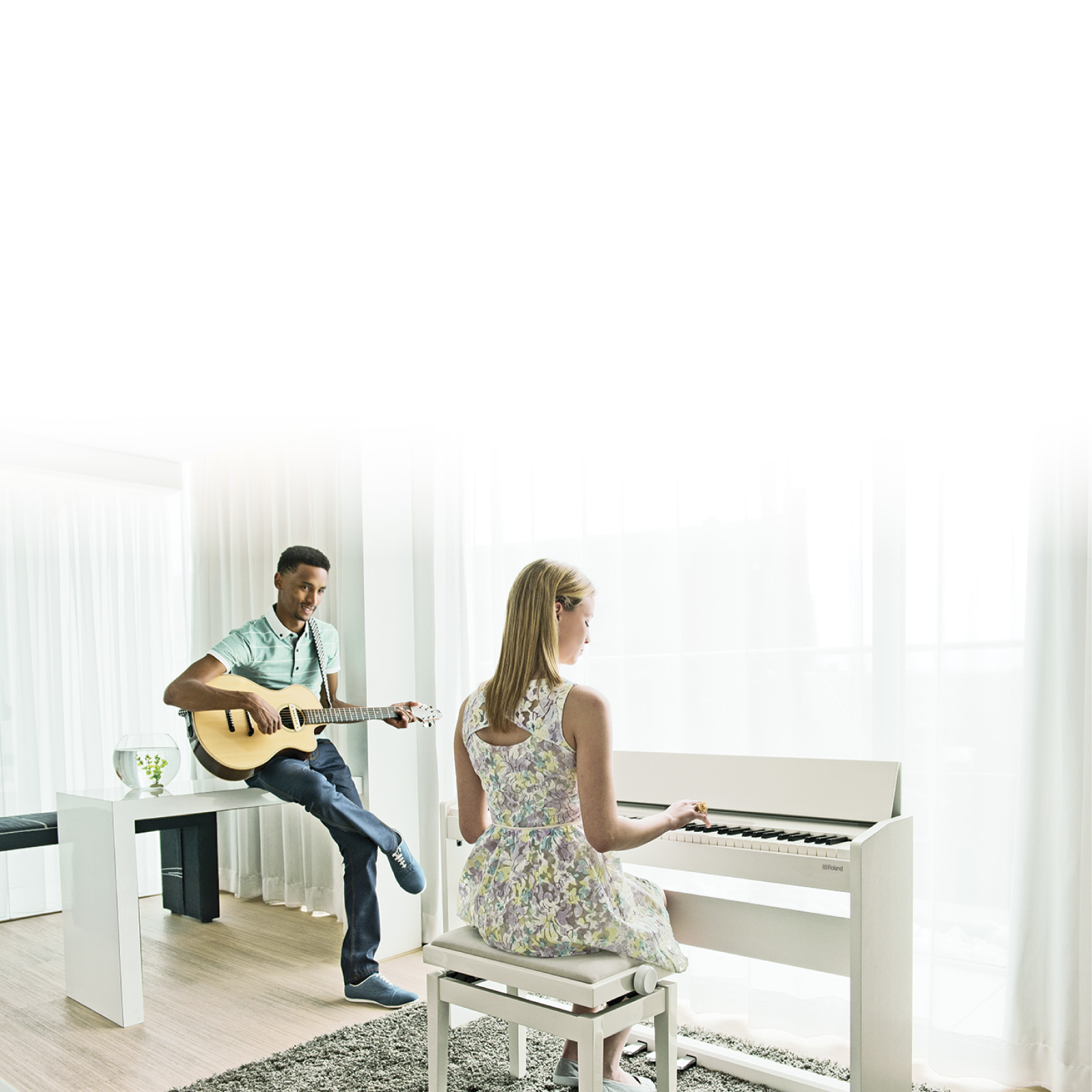 PREMIUM PIANO PERFORMANCE FOR COMPACT LIVING SPACES
If you live in an apartment and want to bring a quality piano into your life, the F-140R is for you. Roland's acclaimed sound, action, and technology features deliver premium piano performance in a size that fits easily in tight spaces. The F-140R's understated-yet-elegant look is ideal for modern living, and your choice of White or Contemporary Black finishes allow you to perfectly match the instrument to your style and decor. Functioning as a music rest when open, the F-140R's unique lid design closes to completely cover the keyboard, providing a low-profile appearance when the piano is not in use.
ROLAND'S LEADING TECHNOLOGIES OFFER A HIGH-END PIANO EXPERIENCE
With superior build quality and innovative technology that far exceeds other instruments in its price class, the F-140R is a serious musical instrument that will last you through years of musical growth and piano enjoyment. Roland's SuperNATURAL Piano sound engine delivers the rich, complex sound of an acoustic grand, providing a truly incredible playing experience. The PHA-4 Standard Keyboard inherits the Progressive Hammer Action and Ivory Feel texture of keyboards found in our high-end pianos, and includes advanced sensing technology to take full advantage of SuperNATURAL Piano's enormous tonal range.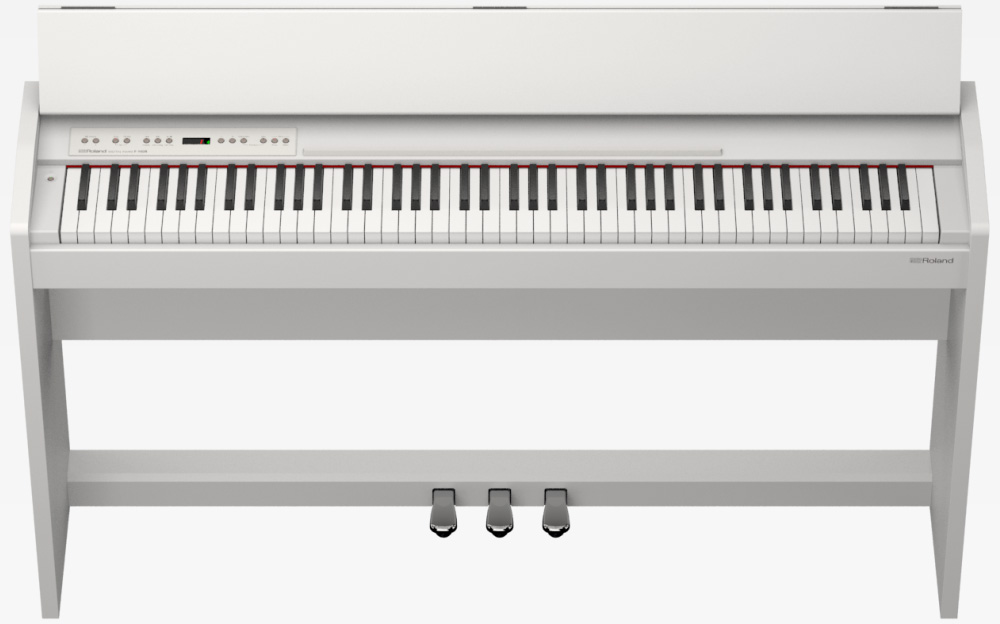 INTELLIGENT ACCOMPANIMENT PUTS YOU IN COMMAND OF A FULL BAND
With its onboard rhythm function, the F-140R gives you the ability to play and practice music along with a beautiful backing ensemble. The rhythms are incredibly easy to use, providing intelligent backing that automatically follows the chords you play. 72 different rhythm styles cover a diverse variety of musical genres, from rock and jazz to Latin, reggae, modern electronic styles, and many others. In addition to the fun of practicing and performing with a full-band sound, the rhythms help build your timing skills in a way that's far more engaging than the standard metronome function. Playing with rhythms also offers a great opportunity to explore making music with the F-140R's generous selection of non-piano sounds, such as organ, guitar, brass, synths, and more.
CONNECT YOUR SMARTPHONE OR TABLET VIA BLUETOOTH TECHNOLOGY - AND USE APPS TO MAKE LEARNING EASY
The way people learn the piano is changing thanks to smartphones and tablets. Whether you order your music scores from an online store like Sheet Music Direct, or you prefer a more advanced approach, the F-140R fits around the way you like to play. Using iOS apps like PiaScore gives free access to over 70,000 classical music scores - and by pressing the piano's pedal you can even turn the pages of the score on your iPad/iPhone screen.
*The Bluetooth feature may not be available depending on the country where you purchased this product.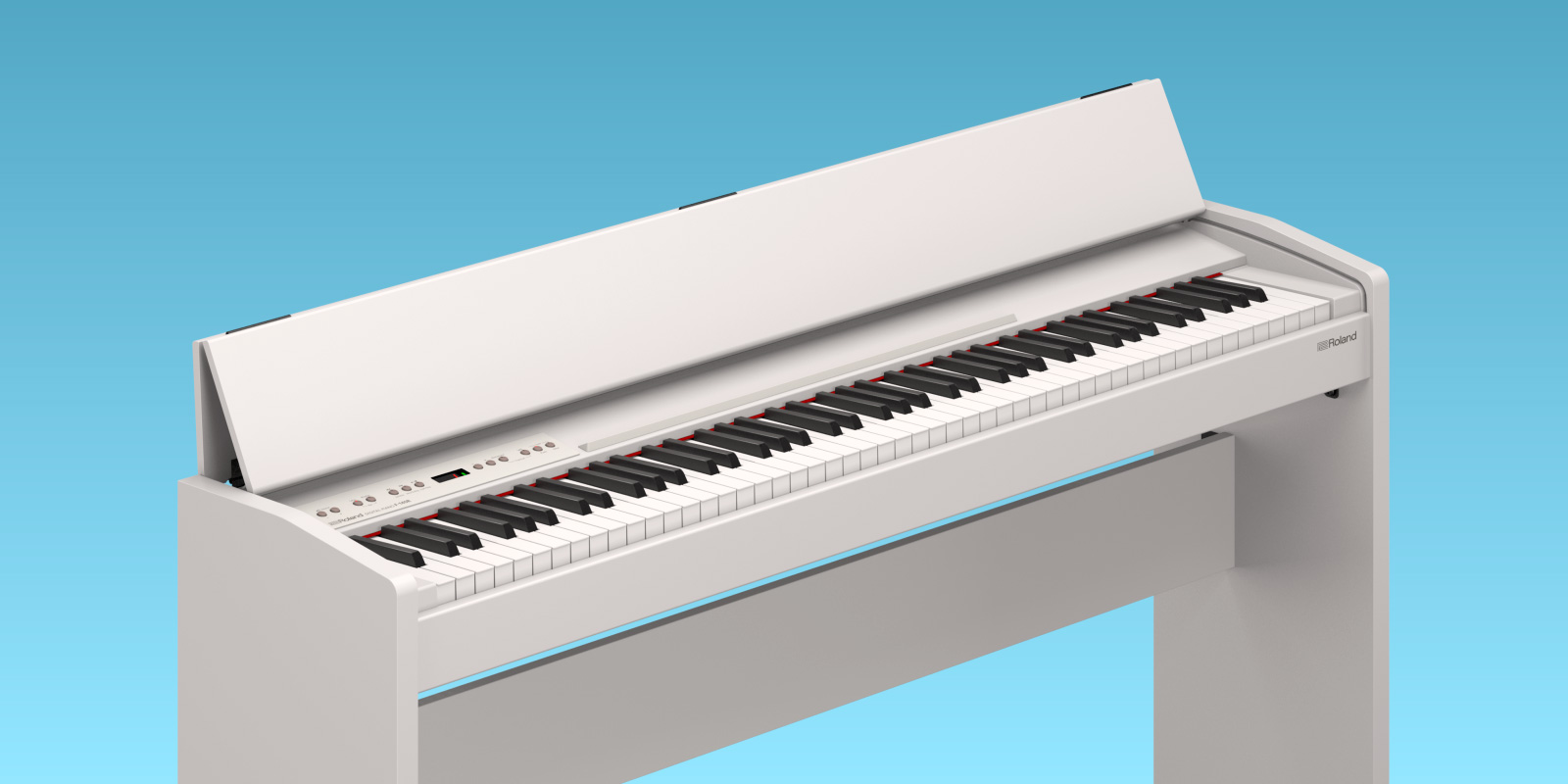 ENHANCED LEARNING AND ENJOYMENT THROUGH DIGITAL TECHNOLOGY
The powerful digital technologies inside the F-140R make it simple to bring the joy of music into your busy life. A digital piano never needs tuning and always sounds perfect, eliminating the annual costs that come with regular maintenance for an acoustic piano. In addition, you can easily adjust the volume of the piano's speakers, an essential feature for apartment living. Another major benefit of a digital piano is the ability to turn off the speakers entirely and use headphones to play anytime without disturbing others; the F-140R's unique Headphones 3D Ambience effect greatly enriches the piano experience during these private sessions, making it feel as though the sound is emanating from the instrument itself. The F-140R also includes numerous digital convenience features for practice and fun, such as a built-in metronome, a recorder for capturing and sharing performances, computer connectivity via USB, and a Twin Piano mode that splits the keyboard so that two people can play side by side in the same ranges.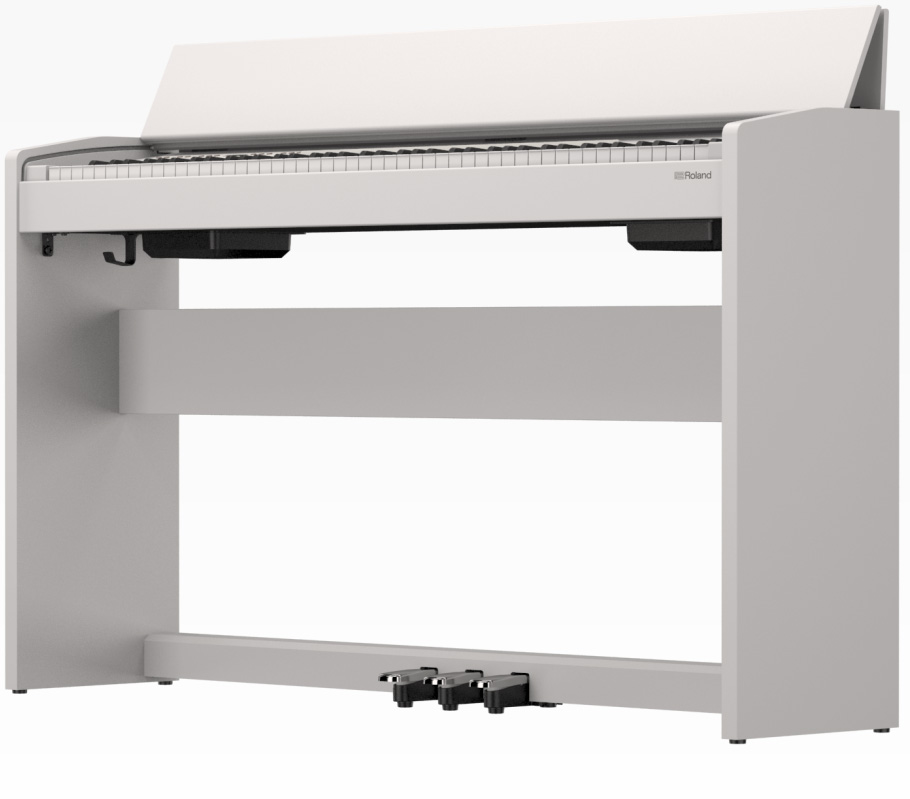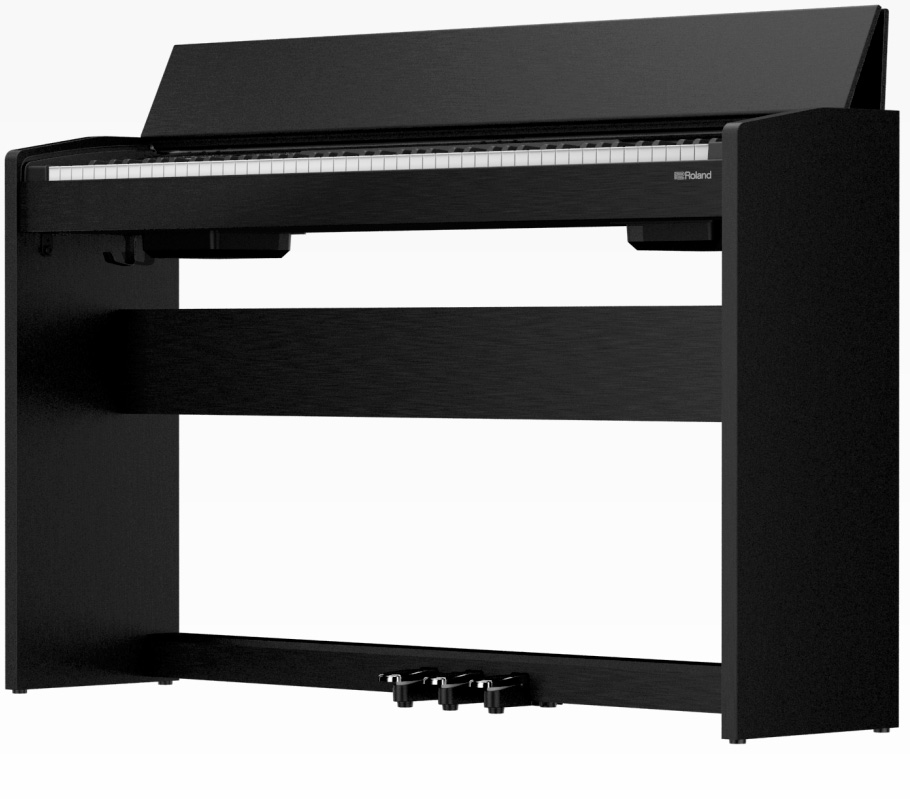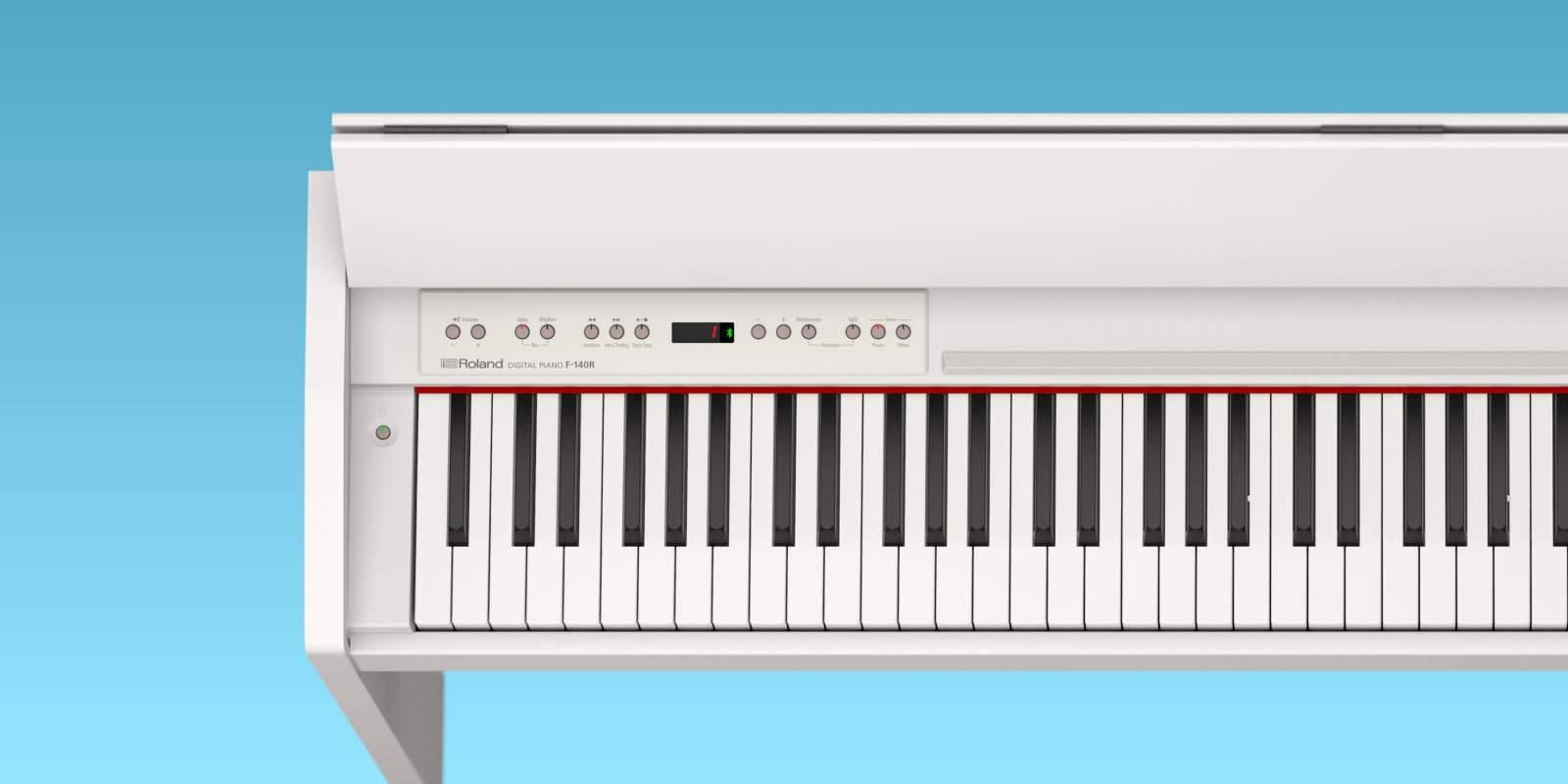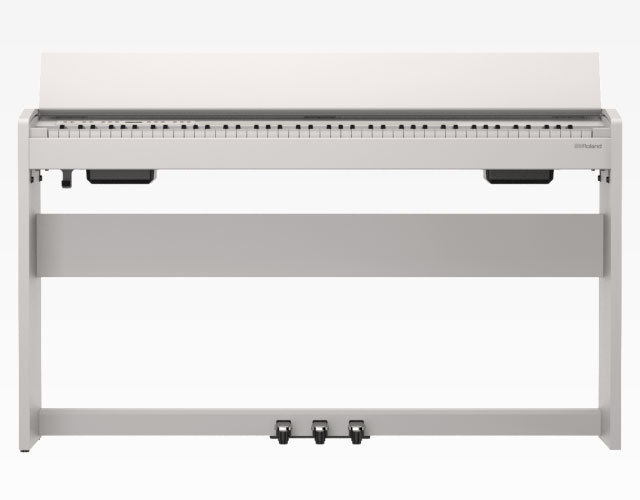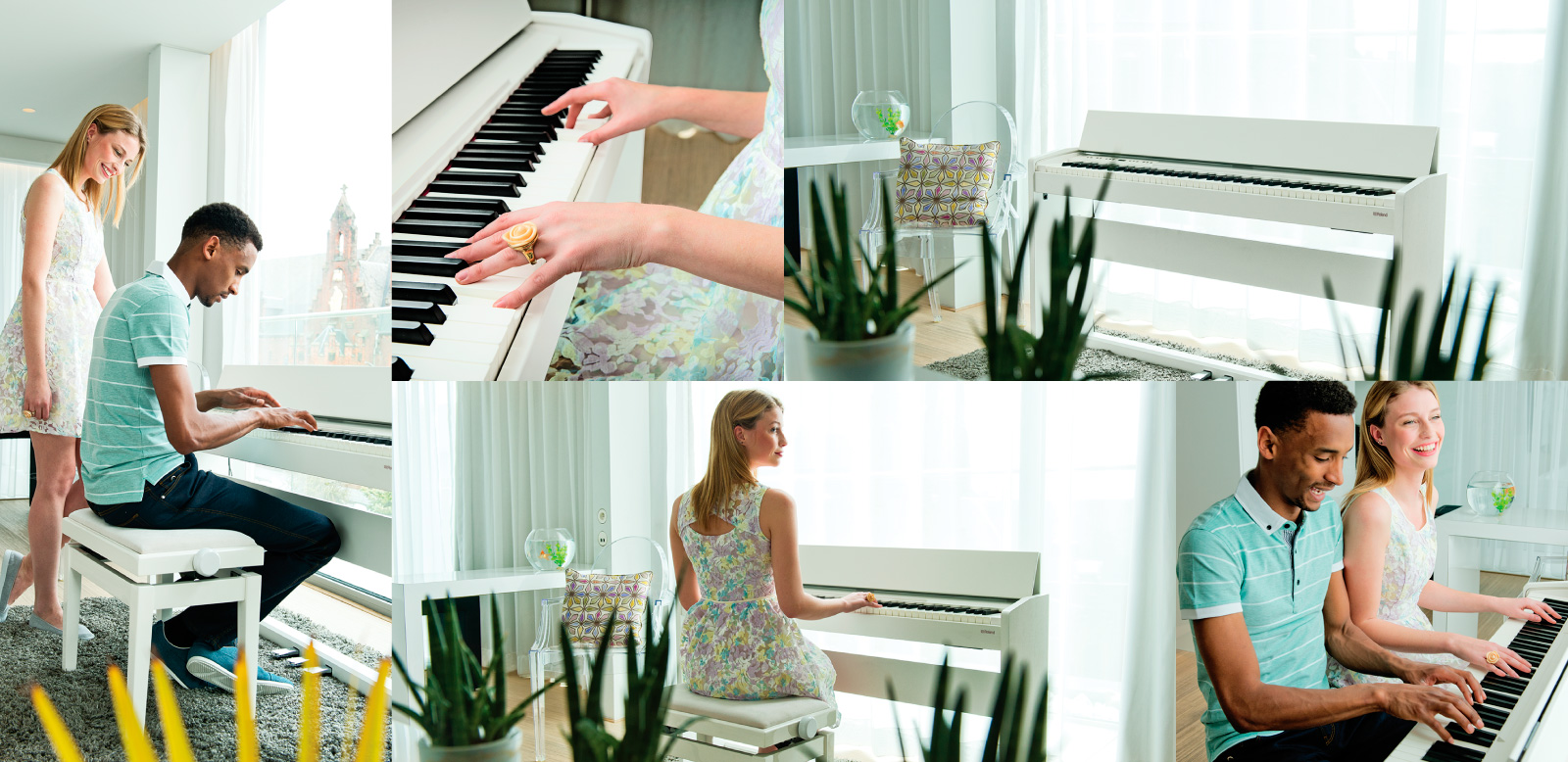 Top Piano Performance for Modern Living
Le F-140R est un piano numérique conçu pour les styles de vie actuels. Doté d'un design à la fois compact et contemporain pour pouvoir être joué en appartement, il intègre les meilleures technologies du leader en matière d'innovation pour les pianos numériques. Tout d'abord, vous remarquerez l'authenticité et l'expressivité du son de piano, impressionnantes pour un instrument aussi compact et aussi bon marché. Les haut-parleurs stéréo intégrés produisent un son d'une grande richesse, tandis que l'effet Headphones 3D Ambience vous permet de vous immerger totalement dans votre musique lorsque vous jouez au casque. Les accompagnements rythmiques intégrés rendent le jeu encore plus passionnant, vous donnant le contrôle d'un orchestre complet qui suivra automatiquement vos changements d'accords. Le F-140R peut également vous permettre de progresser en matière de composition grâce à son enregistreur intégré, sa connectivité Bluetooth® pour l'utilisation d'applis de partitions numériques, et son port USB pour le relier à un ordinateur.
Caractéristiques
Les meilleures technologies Roland en matière de piano numérique dans un instrument stylé, compact, capable de s'intégrer aux plus petits intérieurs
SuperNATURAL Piano produit un son riche et authentique de piano à queue acoustique
Le clavier PHA-4 Standard intègre les dernières nouveautés en matière de détection du toucher, pour pouvoir profiter de toute la finesse du générateur de sons SuperNATURAL Piano
Des accompagnements rythmiques élaborés et intelligents ; 72 styles rythmiques différents, et 6 styles pianistiques
Explorez tout un monde d'instruments depuis le clavier du piano, grâce aux 305 sons supplémentaires : pianos électriques, cordes, orgues, guitares, cuivres, synthés, etc.
L'effet Headphones 3D Ambience recrée le champ sonore multi-dimensionnel d'un piano acoustique lors du jeu au casque
Connectez votre smartphone ou votre tablette en Bluetooth pour tourner les pages de vos partitions numériques sans contact
Disponible en finitions Noir ou Blanc contemporains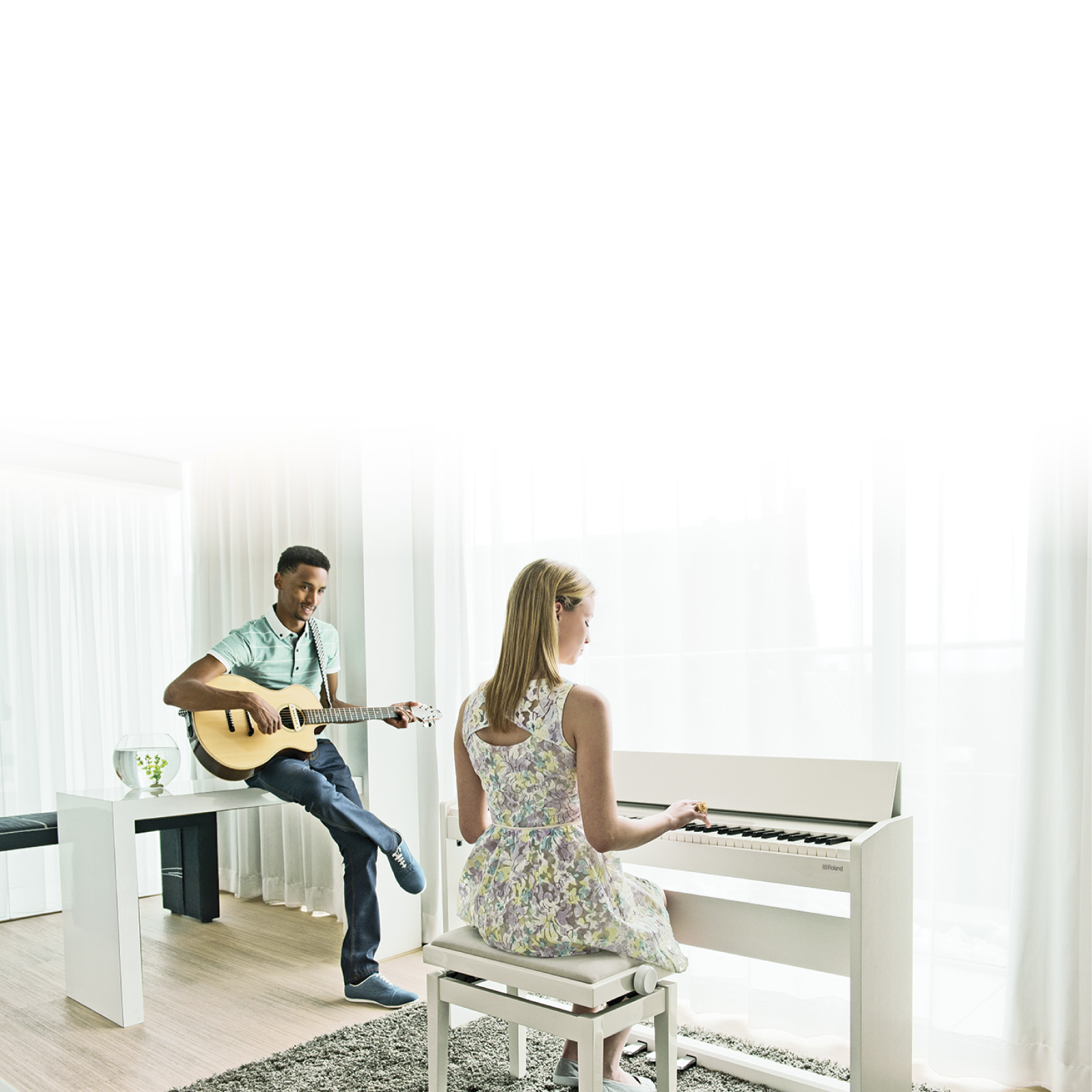 UN PIANO DE QUALITE PREMIUM POUR LES ESPACES RESTREINTS
Si vous vivez en appartement et souhaitez accueillir un piano de qualité dans votre intérieur, le F-140R est pour vous. Les fameux sons, mécaniques et technologies Roland vous permettent de profiter d'une expérience pianistique premium sur un instrument d'un encombrement étudié pour les espaces les plus réduits. Le look discret mais élégant du F-140R est idéal pour les espaces de vie actuels, et les deux finitions disponibles, Blanc ou Noir contemporains, vous permettront d'adapter au mieux la couleur de l'instrument au style de votre décoration. Servant de pupitre lorsqu'il est ouvert, le couvercle de clavier et son design unique donne à l'instrument une grande discrétion lorsqu'il est fermé.
LES MEILLEURES TECHNOLOGIES ROLAND POUR DES SENSATIONS HAUT DE GAMME
Grâce à la haute qualité de ses matériaux de construction et à ses technologies innovantes, uniques dans cette gamme de prix, le F-140R est un instrument de musique de qualité qui vous suivra durant toutes vos années d'apprentissage. Vous n'en croirez pas vos oreilles : le générateur de sons SuperNATURAL Piano est capable de délivrer les timbres riches et complexes d'un piano à queue acoustique ! Le clavier PHA-4 Standard incorpore le mécanisme Progressive Hammer Action et le toucher Ivory Feel de nos modèles haut de gamme, ainsi que les dernières avancées en matière de technologie de détection du toucher, pour profiter de l'immense gamme de timbres produite par SuperNATURAL Piano.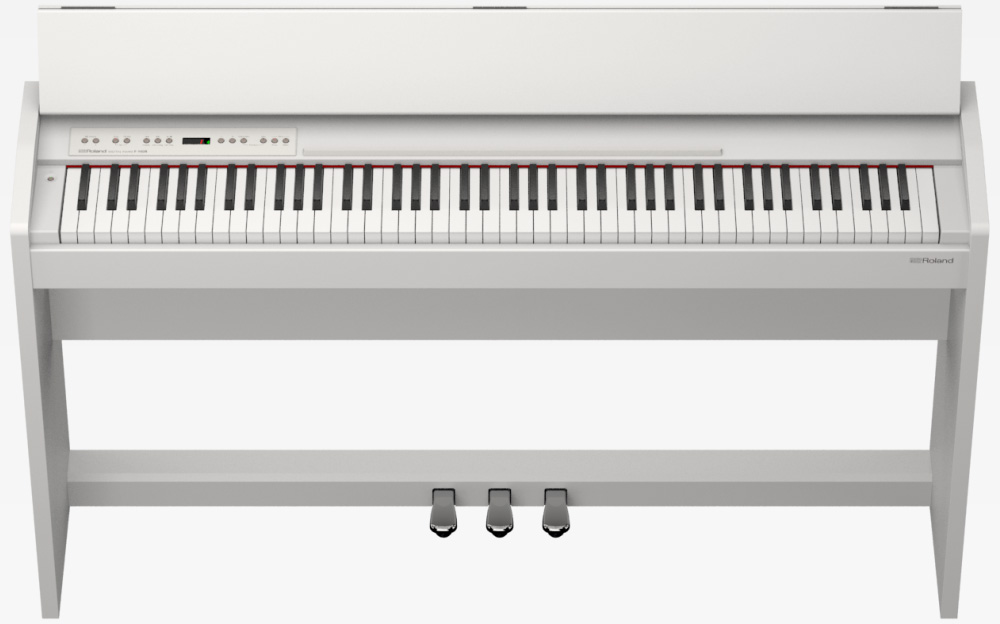 L'ACCOMPAGNEMENT INTELLIGENT POUR PRENDRE LES COMMANDES D'UN ORCHESTRE COMPLET
Grâce à sa fonction d'accompagnement intégré, le F-140R vous donne la possibilité de jouer et de vous entraîner accompagné par un orchestre complet. Les rythmes sont incroyablement faciles à utiliser, vous fournissant un accompagnement intelligent qui suit tous vos changements d'accords. Les 72 rythmes différents couvrent une grande variété de styles musicaux : rock, jazz, latin, reggae, musiques électroniques… En plus du plaisir de jouer en orchestre, cette fonction vous permet d'améliorer votre précision rythmique, de manière bien plus ludique et efficace qu'avec un simple métronome. En plus des différents rythmes, vous pourrez vous plonger dans les différents genres musicaux grâce à la grande quantité de sons supplémentaires proposés : orgues, guitares, cuivres, synthés…
CONNECTEZ VOTRE SMARTPHONE OU TABLETTE EN BLUETOOTH ET UTILISEZ DES APPLIS POUR APPRENDRE DE MANIÈRE LUDIQUE
Grâce aux tablettes et smartphones, la manière d'apprendre le piano a considérablement évolué. Que vous commandiez des partitions en ligne sur un site comme Sheet Music Direct, ou que vous utilisiez des fonctions encore plus avancées, le F-140R s'adapte à votre méthode de travail. Utiliser une appli sous iOS comme PiaScore vous donne par exemple accès à plus de 70 000 partitions classiques. Et en pressant la pédale de votre piano, vous pourrez tourner les pages des partitions qui s'afficheront sur l'écran de votre iPhone ou iPad.
*La fonction
Bluetooth
peut ne pas être disponible selon le pays dans lequel vous aurez acheté votre piano.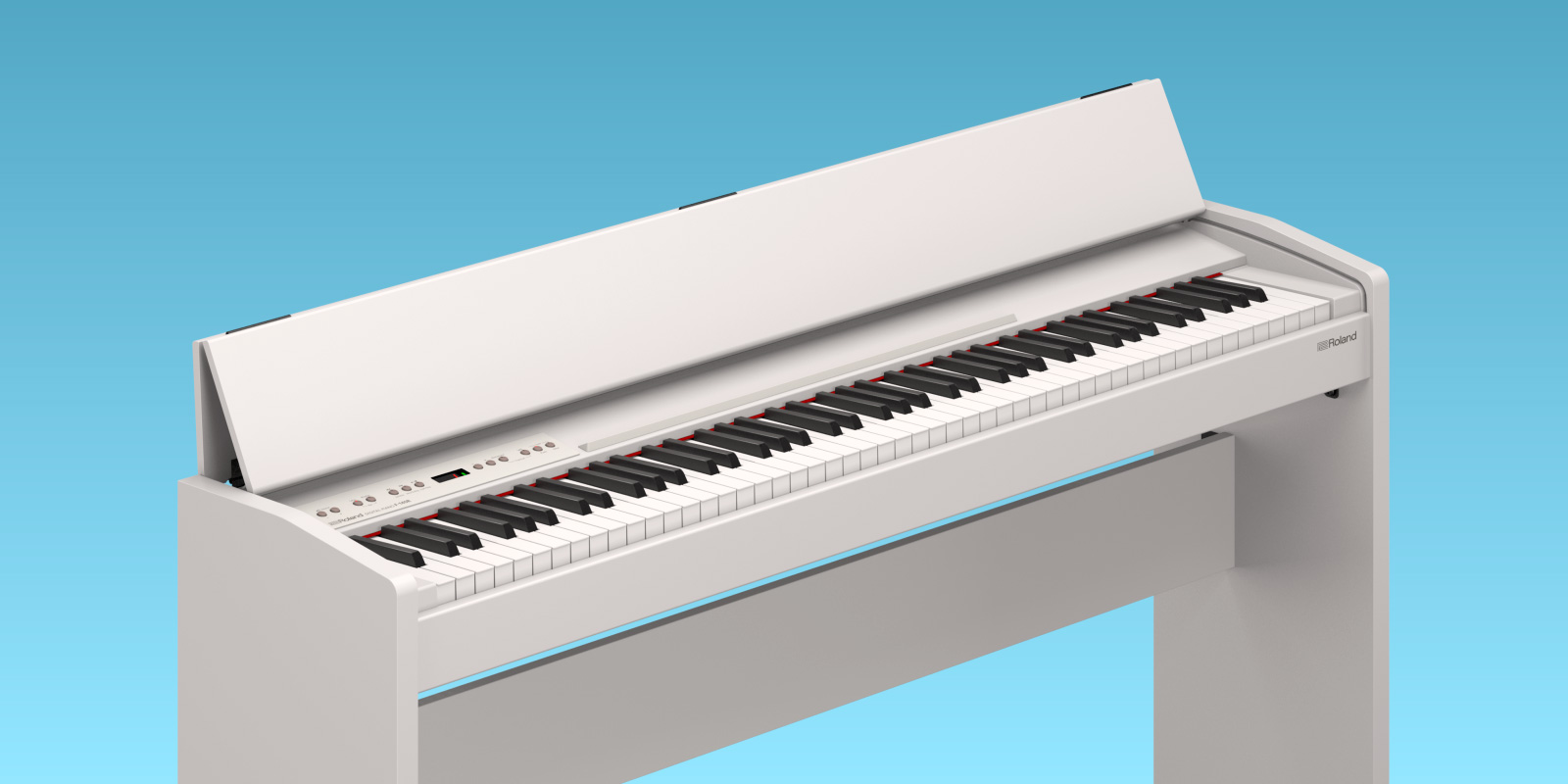 UN APPRENTISSAGE AMÉLIORÉ ET PLUS AMUSANT GRÂCE AUX TECHNOLOGIES NUMÉRIQUES
Les puissantes technologies numériques intégrées au F-140R facilitent l'intégration de la pratique d'un instrument dans votre vie quotidienne. Pour commencer, un piano numérique n'a jamais besoin d'être accordé et sonne toujours parfaitement, ce qui vous libère du coût annuel d'entretien d'un piano acoustique. Vous pouvez par ailleurs régler le volume de ses haut-parleurs, une fonction essentielle lorsqu'on joue en appartement. Autre énorme avantage : vous pouvez couper le son des haut-parleurs et jouer au casque, à n'importe quelle heure du jour ou de la nuit, sans déranger votre entourage. L'incroyable effet Headphones 3D Ambience du F-140R enrichit grandement votre expérience pianistique durant ces sessions privées, vous donnant l'impression que le son émane du piano et non des écouteurs. Le F-140R inclut également de nombreuses fonctions numériques utiles : un métronome, un enregistreur pour capter instantanément vos idées musicales et les partager facilement, la possibilité de se brancher en USB à un ordinateur, et un mode Twin Piano qui sépare le clavier en deux, pour que deux pianistes puissent jouer côte à côte dans la même tessiture.