Rehearsal and Recording Mixer for Ensembles
Convenient and simple to use, the HS-5 allows up to five musicians to rehearse, jam, and record while monitoring with headphones. Players have individual hands-on control of their personal mix, plus access to reverb and COSM effects for guitar, bass, and vocals. Bands can capture stereo recordings directly to a USB thumb drive, or connect the HS-5 to a computer via a USB cable and record each channel to individual tracks in a DAW. Additionally, each musician's personalized settings can be saved for instant recall, providing quick setup for future rehearsals and recording sessions.
Performer-friendly digital mixer with high-quality sound and USB
Up to five musicians can rehearse or jam while monitoring with headphones
Independent control of the monitor mix for each performer
COSM amp modeling plus vocal effects and built-in reverb
Record stereo mixes to a USB thumb drive
Connect to a computer via USB for multitrack recording in a DAW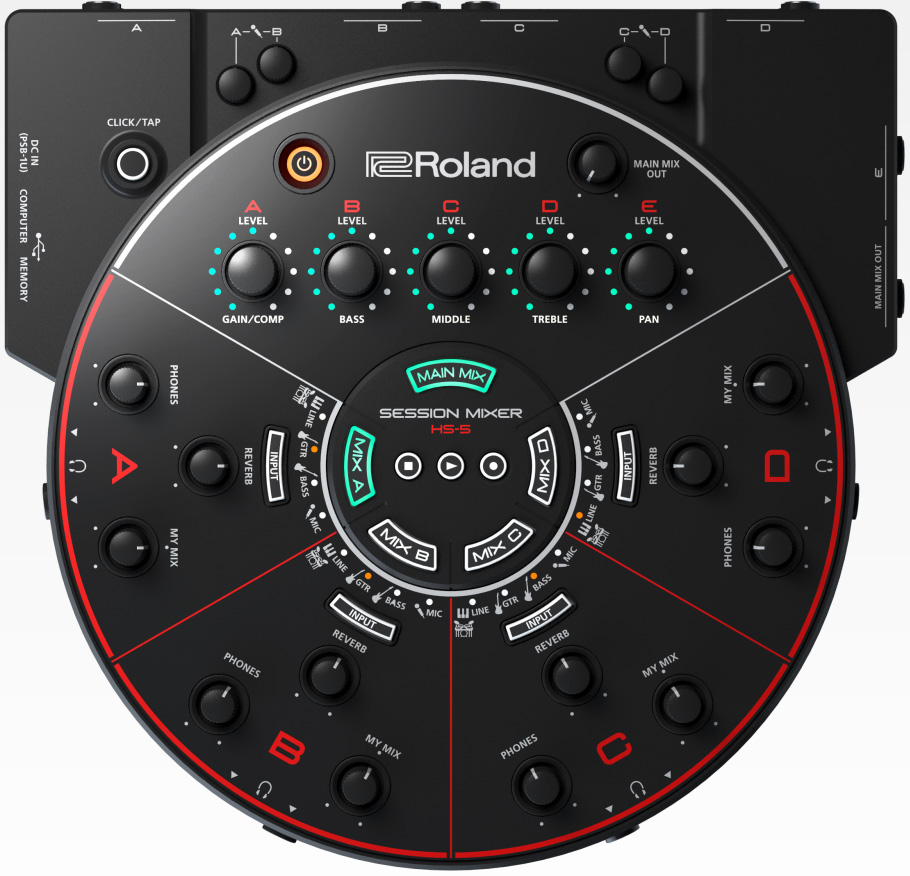 A Personal Monitor Mix For Each Musician
The HS-5 allows every musician in a group to set up their own independent monitor mix using the Mix A thru Mix D switches located in the center of the unit. Once an overall mix has been decided, musicians can use the My Mix knob to adjust the volume of their own mic or instrument, and they can also add ambience independently with their channel's Reverb knob. Current settings are clearly displayed with LEDs encircling the knobs, making it easy to check the status while playing. For larger groups, another HS-5 can be connected in tandem to accommodate up to eight musicians.
Four Channels With Guitar/Bass Amp Modeling And Vocal Effects
The HS-5 provides access to guitar and bass amp modeling on four independent channels. This means that players can connect their electric guitar or bass directly into the HS-5 and jam with the same sound and feel as playing through an amp. Vocalists can also experience enhanced, studio-quality sound via the built-in compressor for each mic input. With the intuitive panel controls, HS-5 users can quickly adjust EQ and pan settings and dial in just the right amount of amount of guitar distortion or vocal compression.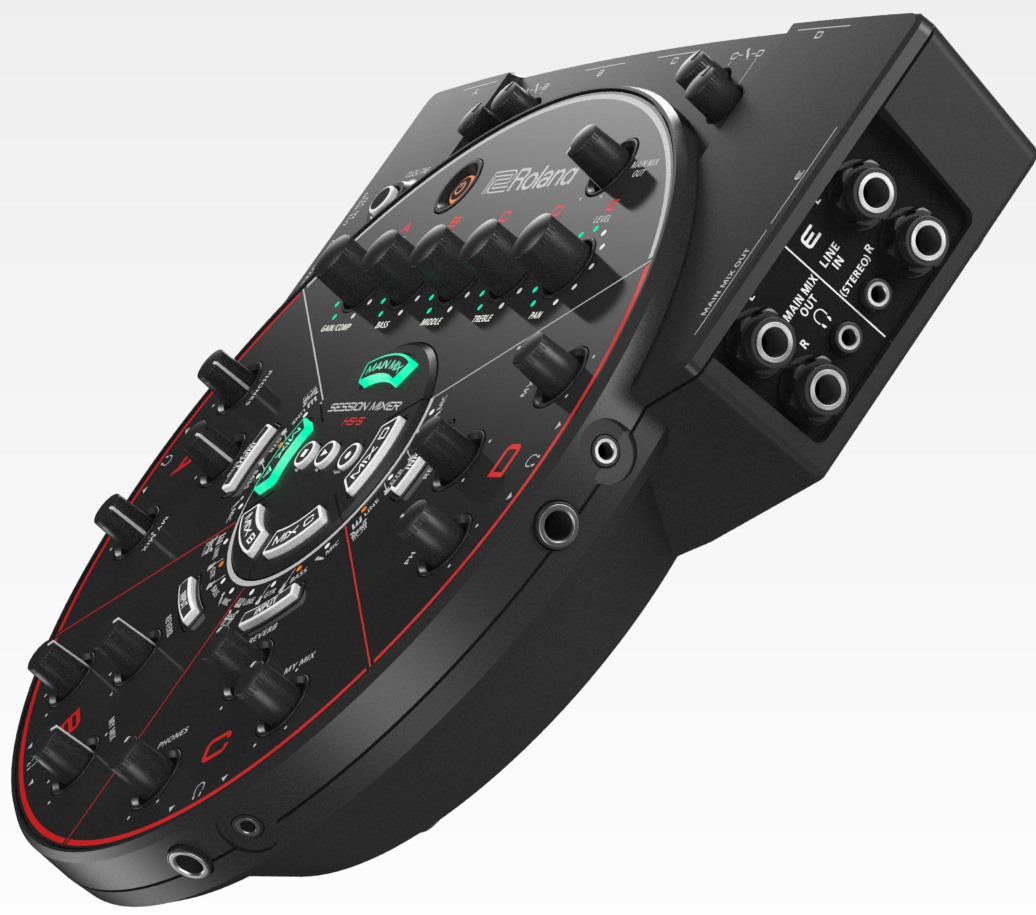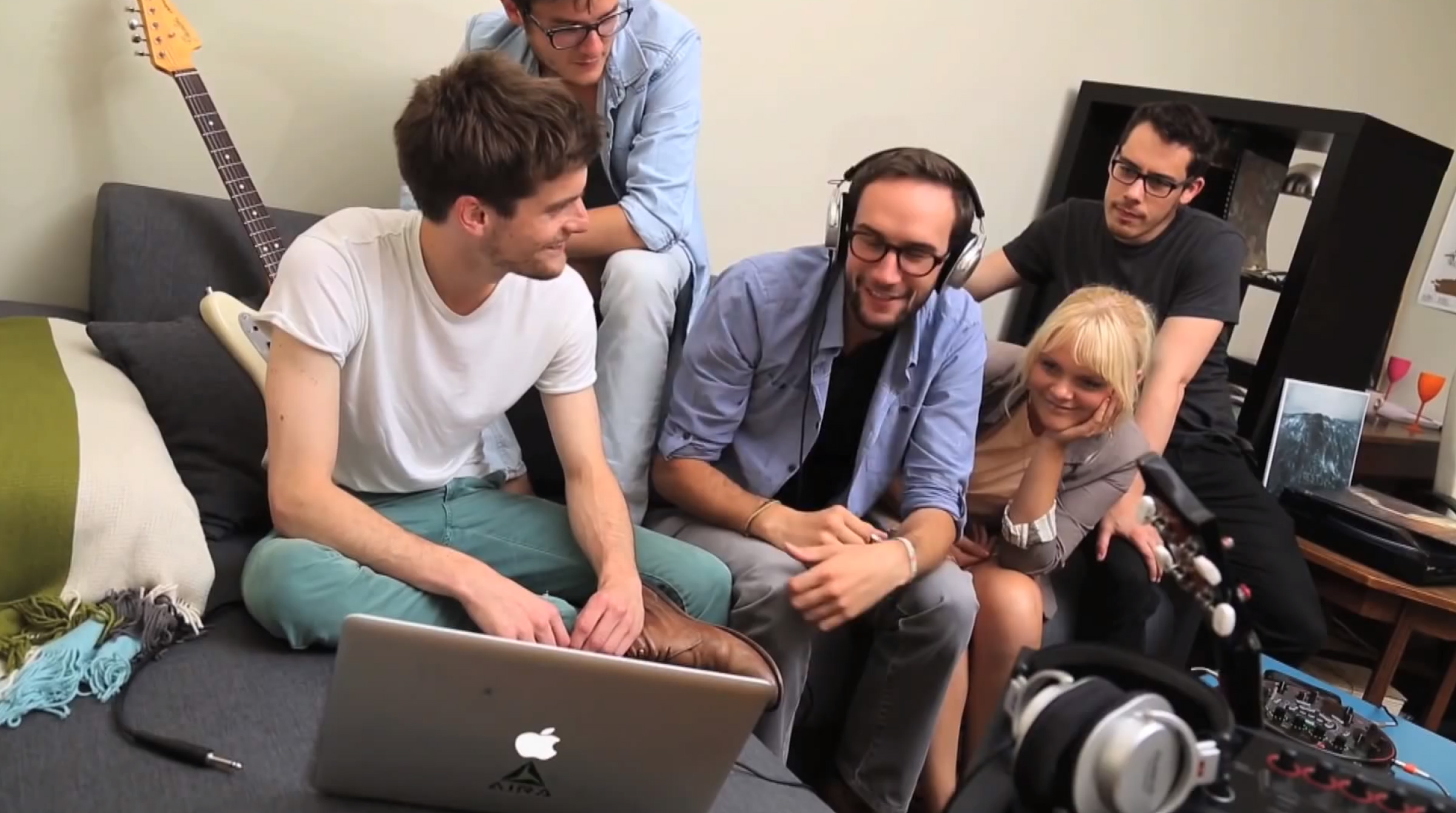 Capture Stereo Mixes Or Full
Multitrack Recordings
By connecting a USB thumb drive to the HS-5's Memory jack, it's extremely easy to record stereo mixes of group performances for evaluation and sharing. For more advanced production, it's possible to connect to a computer via USB and record each performer to individual tracks in popular DAW software. This powerful combo creates an incredibly simple and versatile system for creating complete ensemble recordings.
Onboard Metronome For Tight Timing
Timing is essential for rehearsal and recording, and the HS-5 includes a built-in metronome to keep everyone playing together. Just press the dedicated Click/Tap button to start the metronome, and then tap the button at the desired tempo to adjust the speed for the music.
Total Recall For Quick Setup
The HS-5's snapshot function allows you to save all the unit's current settings to a USB thumb drive. This lets your entire group resume performances right where you left off—even at a totally new location or a much later date.
*Only one set of HS-5 settings can be stored on a single USB thumb drive.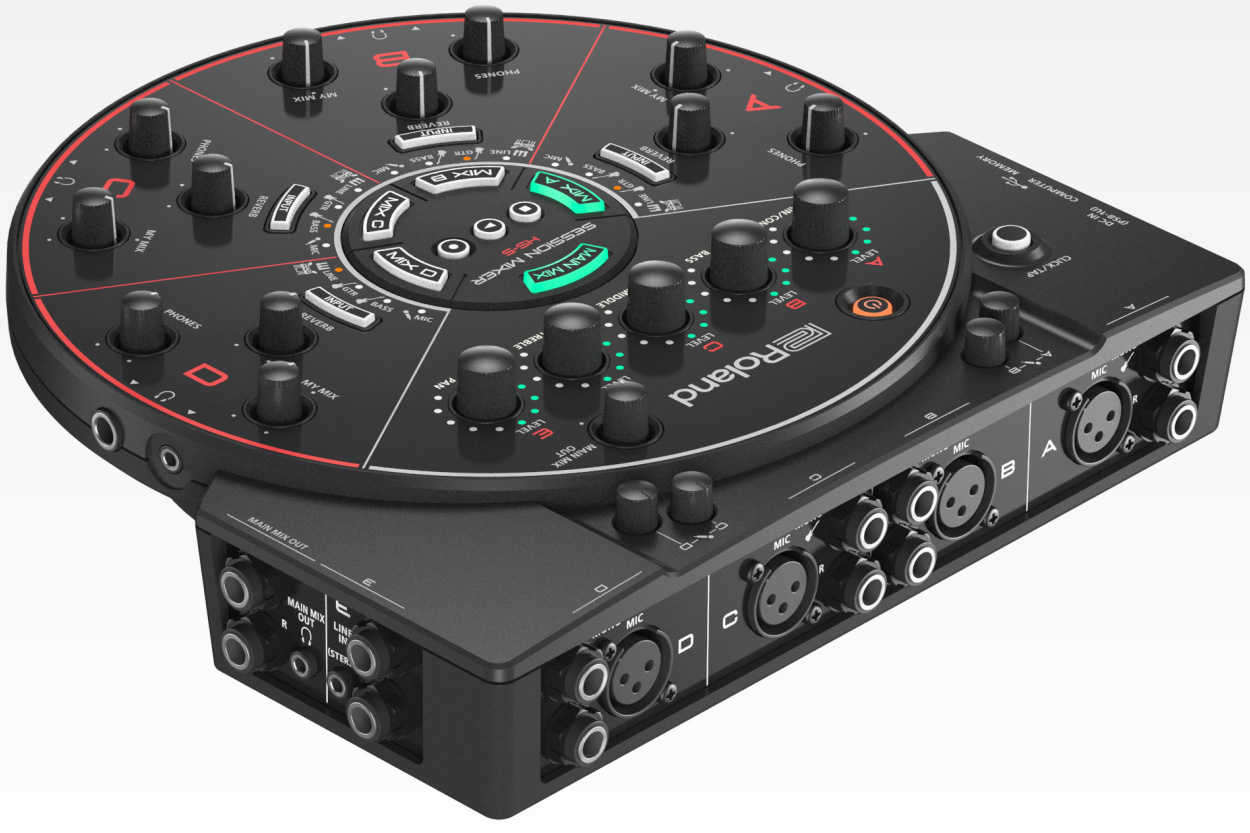 Rehearsal and Recording Mixer for Ensembles
La HS-5 est une table de mixage numérique qui permet à cinq musiciens de répéter et de jouer ensemble au casque. Jusqu'à quatre d'entre eux peuvent ajuster leur mix de casque personnel, ce qui permet aux groupes de répéter avec précision et efficacité. La HS-5 intègre également des effets COSM pour guitare, basse et chant, en particulier de nombreuses modélisations d'amplis pour guitares et basses. Elle permet d'ajouter de la Reverb ou autres effets à une partie vocale. Elle permet d'effectuer des enregistrements en stéréo sur clé USB sans passer par un ordinateur, mais vous pouvez la connecter à un ordinateur en USB pour réaliser des enregistrements multipiste. Les réglages de mix de chaque musicien peuvent être sauvegardés.
Jusqu'à cinq musiciens peuvent répéter ou jouer ensemble au casque
Nombreux réglages de la balance générale possibles
Modélisation d'amplis COSM et effets adaptés au chant. Reverb intégrée.
Enregistrement de votre mix général en stéréo sur clé USB
Enregistrement en multipiste sur ordinateur via USB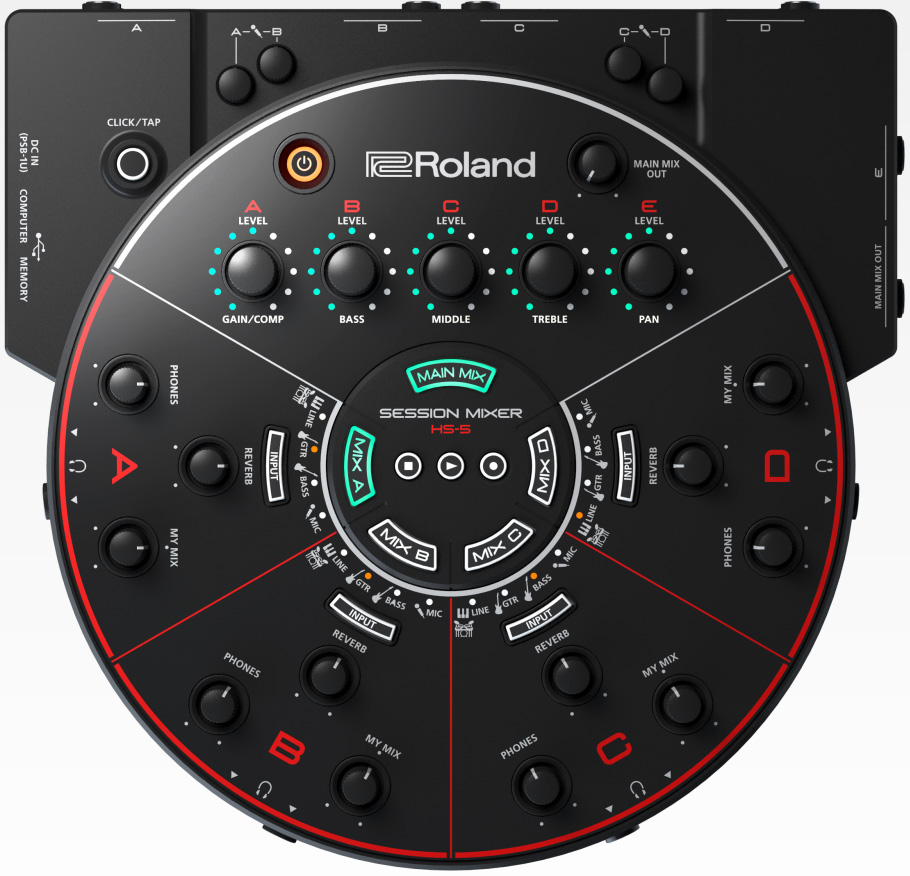 Cinq musiciens peuvent régler le mix de leur propre casque
Quatre musiciens ont la possibilité de régler leur mix de casque grâce aux boutons MIX A à D situés au centre de l'appareil. Ces quatre mixes sont totalement indépendants du mix global du groupe. Lorsque celui-ci a été établi, les musiciens peuvent utiliser le bouton rotatif MY MIX pour ajuster le volume de leur instrument. D'autres réglages sont également possibles à partir d'opérations simples. Les valeurs de ces réglages s'affichent sur les LED encerclant les boutons, et sont donc faciles à repérer. Vous pouvez relier deux HS-5 entre elles et les faire fonctionner en parallèle pour un ensemble maximal de huit musiciens.
Quatre canaux avec modélisation d'amplis pour guitares et basses
La HS-5 vous permet de bénéficier d'amplis modélisés pour basses et guitares sur quatre canaux, A à D. Les musiciens peuvent donc connecter directement leur guitare ou basse électrique sur la HS-5 et jouer avec le même feeling que sur un ampli. LA HS-5 permet également de régler la quantité de distorsion (gain) et de compression sur les micros, ainsi que l'égalisation et le panoramique (localisation dans la stéréo).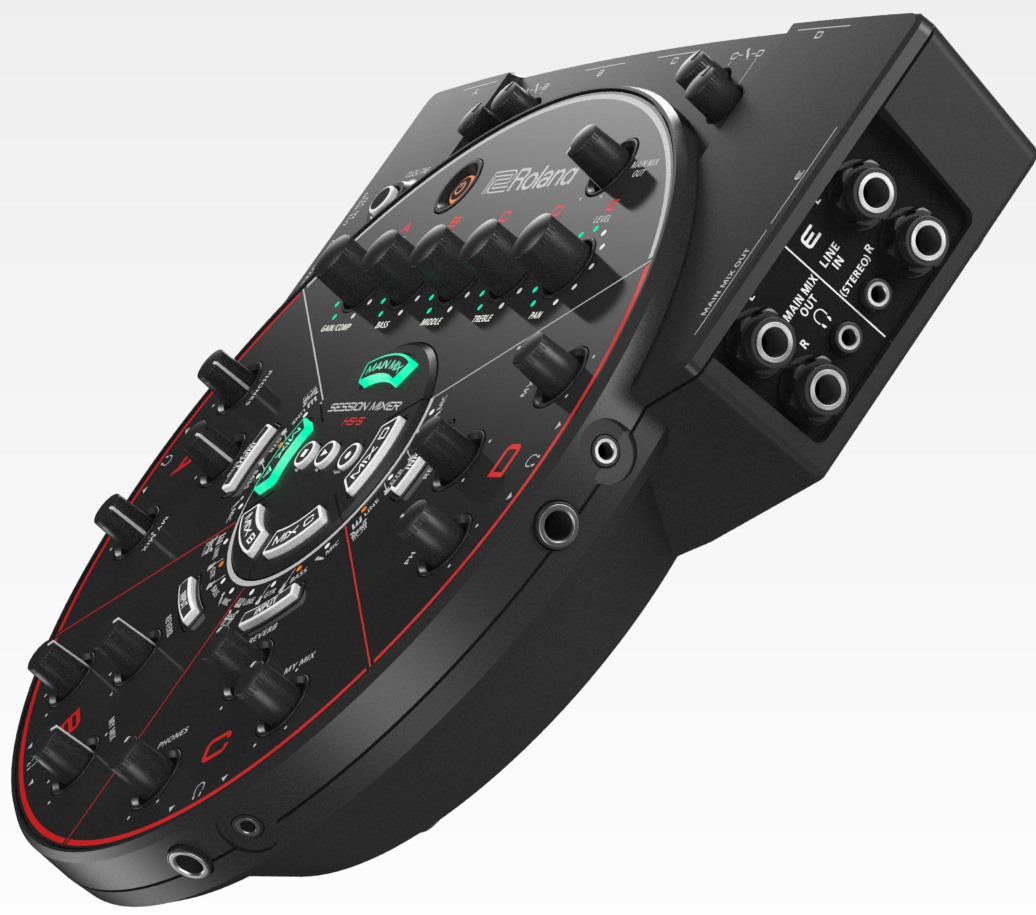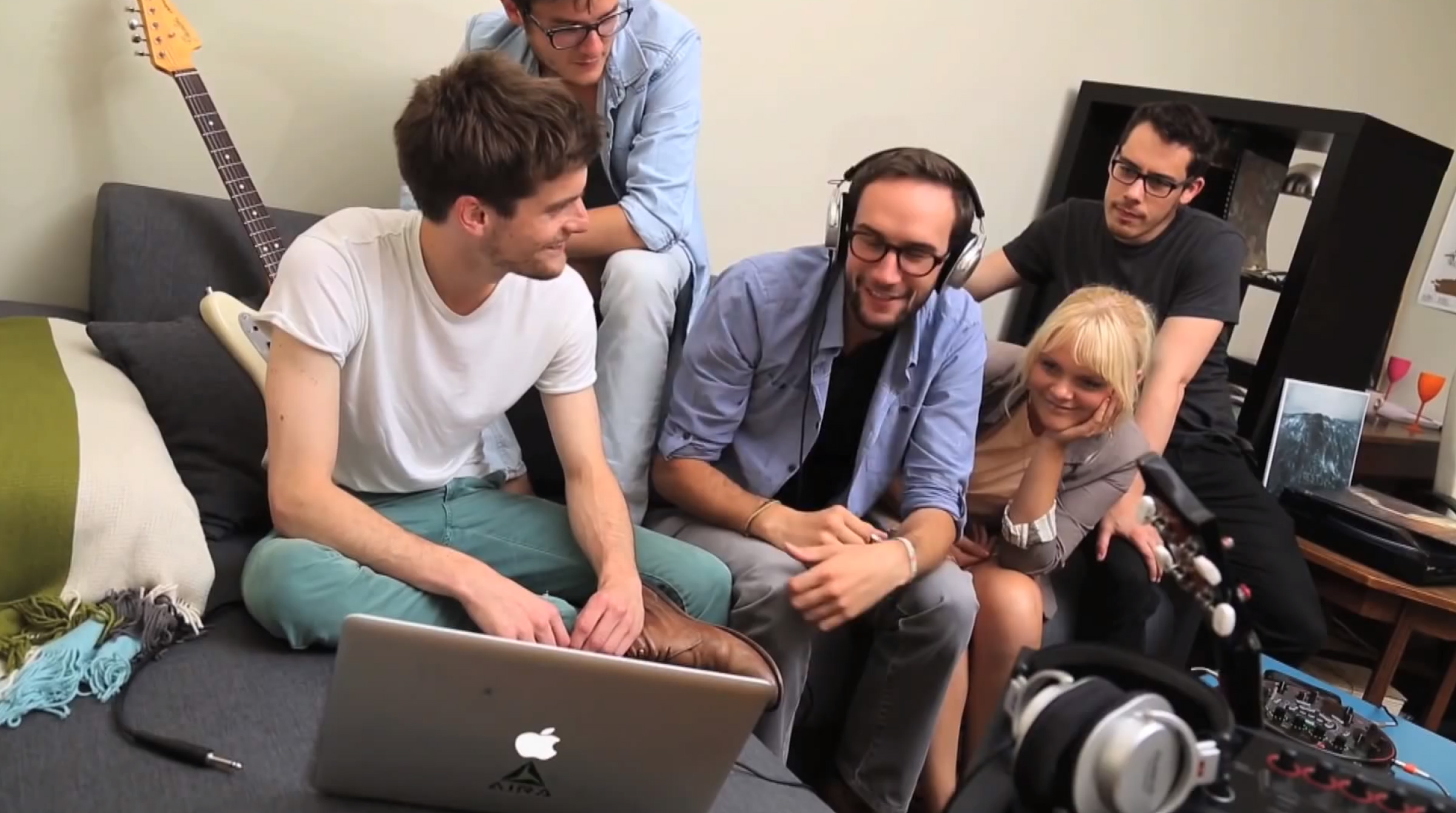 Enregistrez en stéréo sur clé USB,
ou en multipiste sur ordinateur
Connectez une clé USB au port MEMORY de la HS-5 et enregistrez vos titres en stéréo par un simple appui sur un des boutons centraux. Vous pouvez également connecter un ordinateur au port COMPUTER et enregistrer chaque canal en tant que piste audio. Vous pouvez ainsi obtenir des enregistrements complets à l'aide d'un seul appareil connecté à votre home-studio. (Les entrées Mic et Line de chacun des canaux A à D seront enregistrées de la manière dont elles sont mixées)
Une fonction métronome intégrée
Pressez le bouton CLICK/TAP pour lancer une piste de clic, essentielle lors des répétitions. Vous pouvez régler le tempo en tapant à la vitesse désirée sur ce même bouton.
Sauvegardez tous vos réglages
La fonction Snapshot permet de sauvegarder tous les réglages effectués* sur clé USB. Ainsi, vous pouvez retrouver tous vos réglages lors de la répétition suivante, même si vous avez utilisé la HS-5 entretemps.
*Un seul set de réglages peut être sauvegardé sur une clé USB donnée.