Powerful Compact Synth with Onboard Pattern Sequencer and Vocal FX
Tiny, mighty, and affordable, the JD-Xi puts a true analog synth engine, Roland's famous SuperNATURAL synth sounds, and many other creative tools under one hood. Equipped with 37 mini keys, this compact instrument delivers fat, warm analog bass and lead tones with ample controls for hands-on tweaking, plus polyphonic PCM essentials like pads, strings, brass, and more. Create impressive loops in a flash with the pattern sequencer and built-in drum kits, and explore expressive vocal textures with the gooseneck mic, Vocoder, and AutoPitch. Small in size and large in versatility, the JD-Xi is all about big sounds and big fun!
Standard Features
Interactive crossover synthesizer with analog and digital sound engines
Analog synth section provides authentic lead and bass tones
Two digital synth sections with SuperNATURAL synth tones
Four-track pattern sequencer and high-quality rhythm sounds
Included gooseneck mic for use with built-in Vocoder and AutoPitch
Process sounds with four simultaneous effects (Effect 1/2, Delay, Reverb)
USB for audio/MIDI communication with computer music software
Includes a large selection of ready-to-play sounds and patterns
Additional sounds and patterns available for download at Roland's Axial sound library site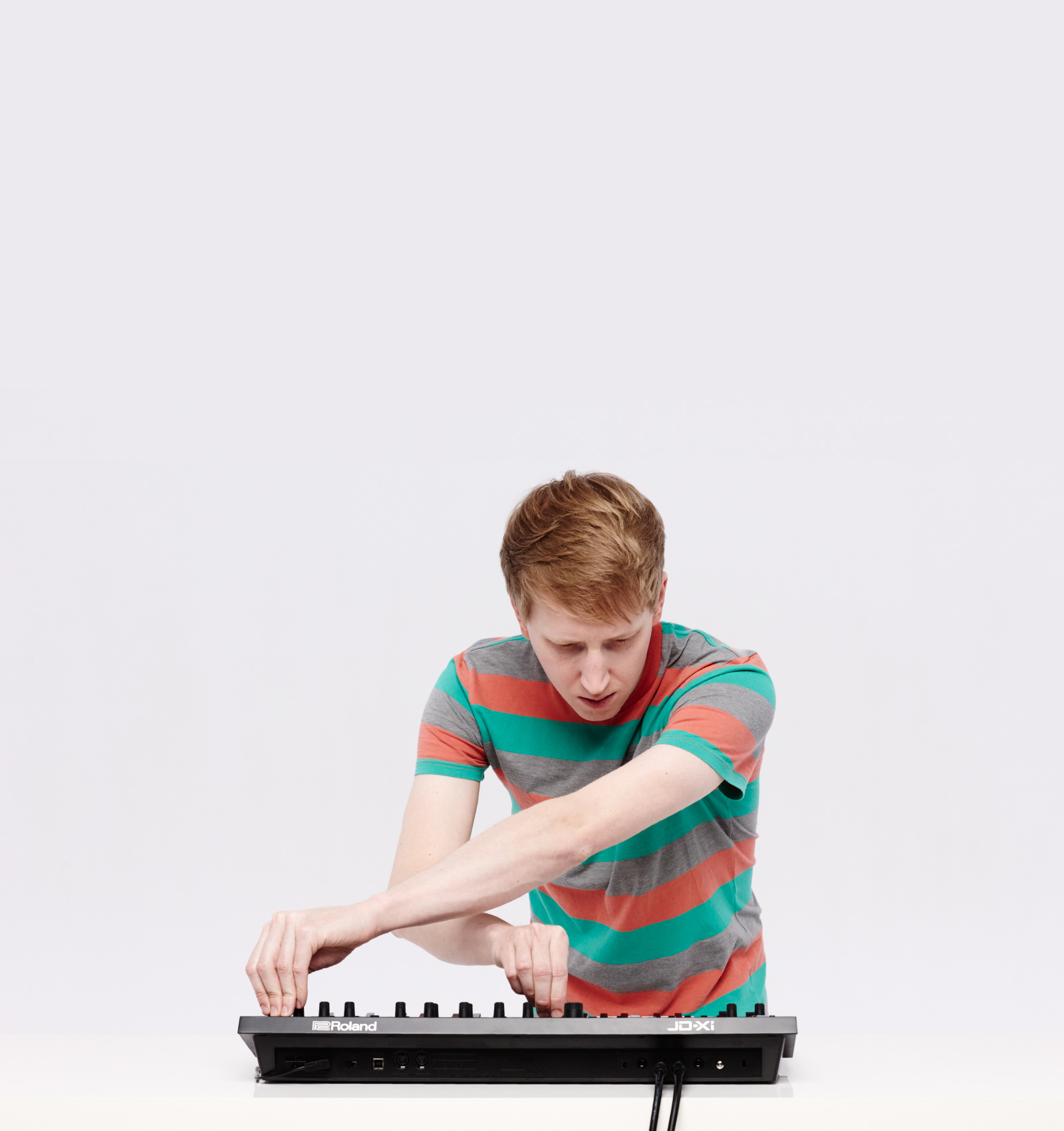 Analog and Digital Synths in One Keyboard
With its unique crossover sound engine, the JD-Xi provides the best of both worlds: the warm, smooth response of classic analog, and the clarity and versatility of modern digital. The newly developed monophonic analog synth section features saw, triangle, and square waveforms with pulse-width modulation and an analog filter, plus an independent sub oscillator for low-end power. Two digital synth sections offer a wide range of high-quality SuperNATURAL synth tones, including pads, strings, electric piano, sound effects, and many others.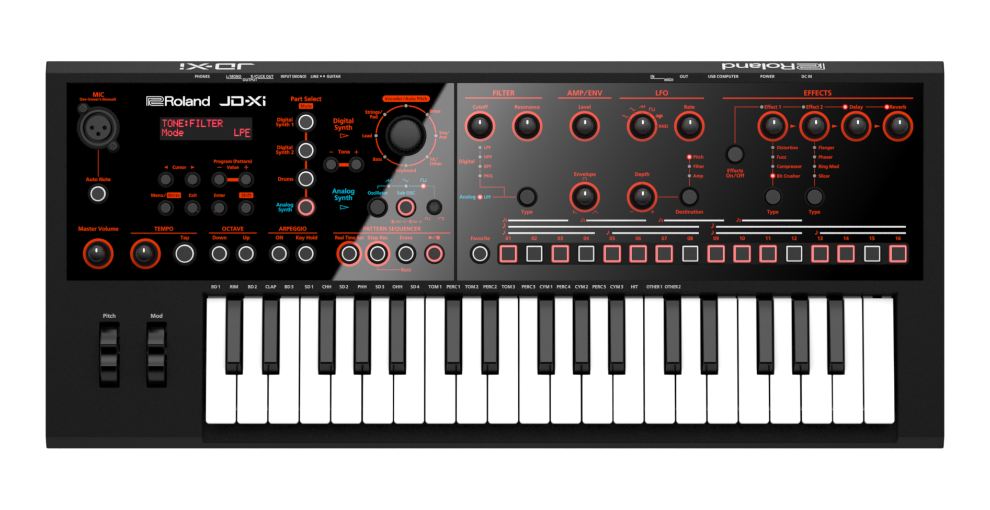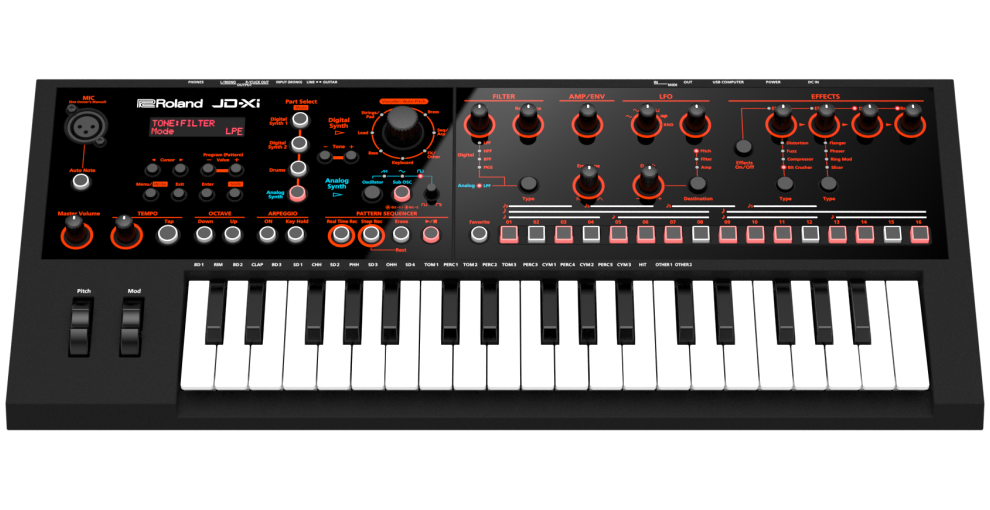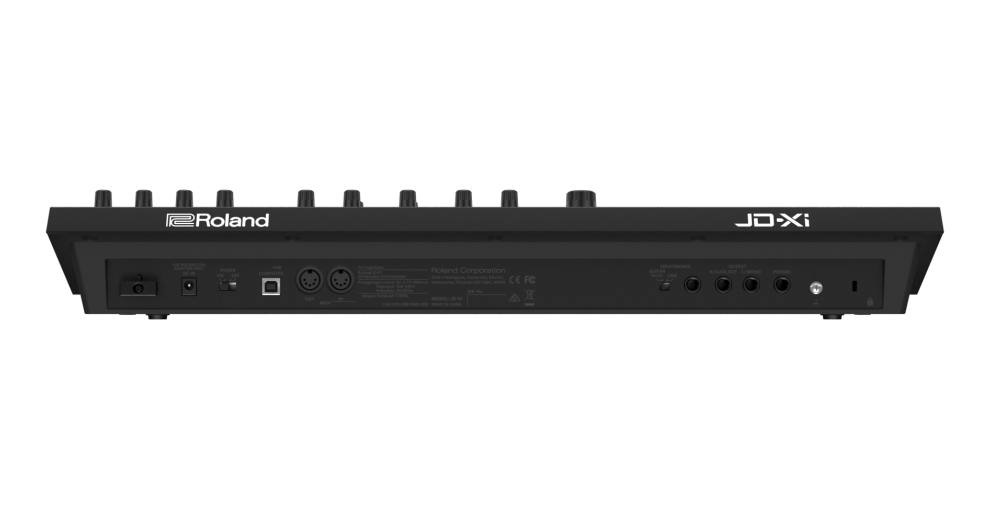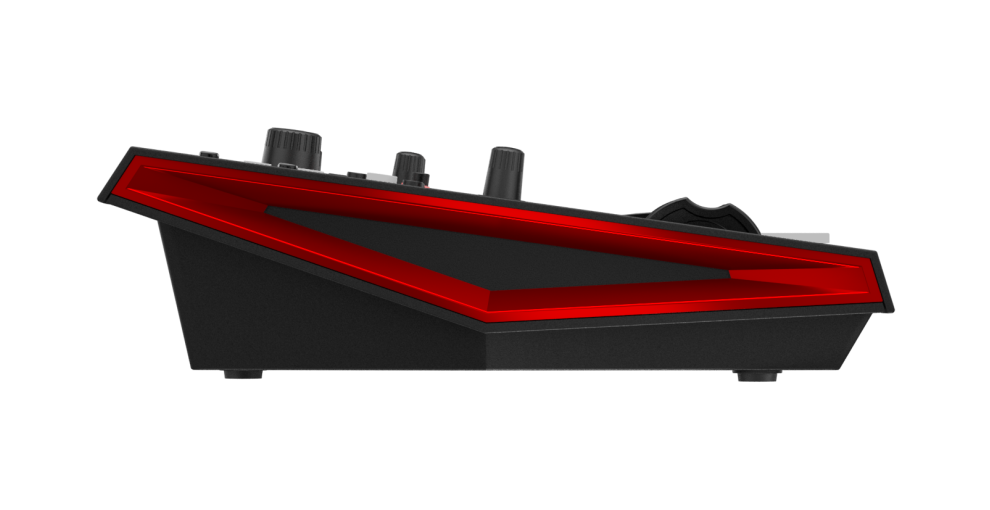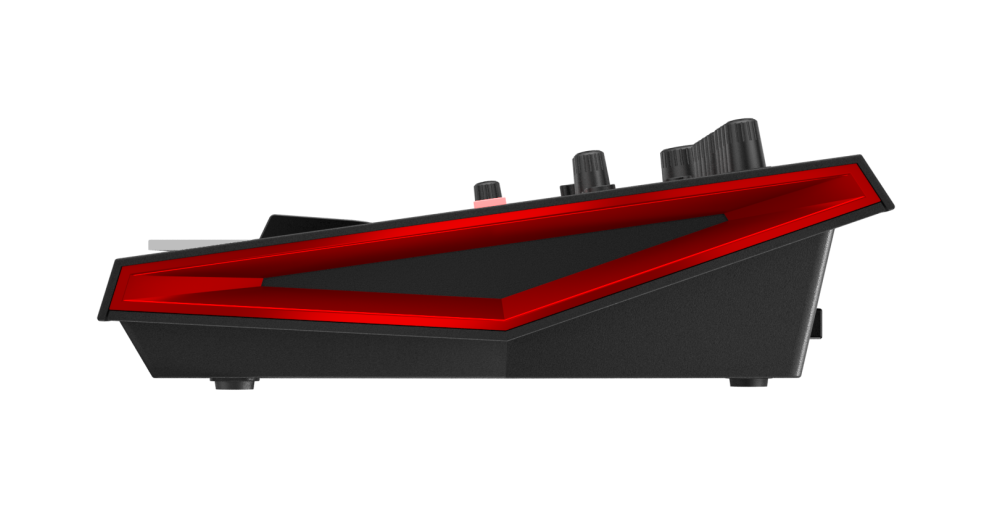 Gooseneck Mic for Vocoder, AutoPitch, and Other Vocal Effects
The JD-Xi comes with a sturdy, high-quality gooseneck mic that brings even more fun to the party. Using the Vocoder, you can sing into the mic and control the tone and pitch via sounds played on the keyboard. With AutoPitch, it's simple to achieve the exaggerated, robotic vocal sounds that are common in today's pop and electronic music styles. There's also a cool Auto Note function that allows you to "sing" JD-Xi synth sounds without touching the keyboard!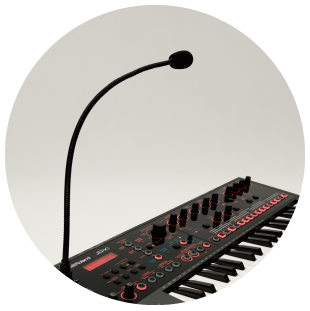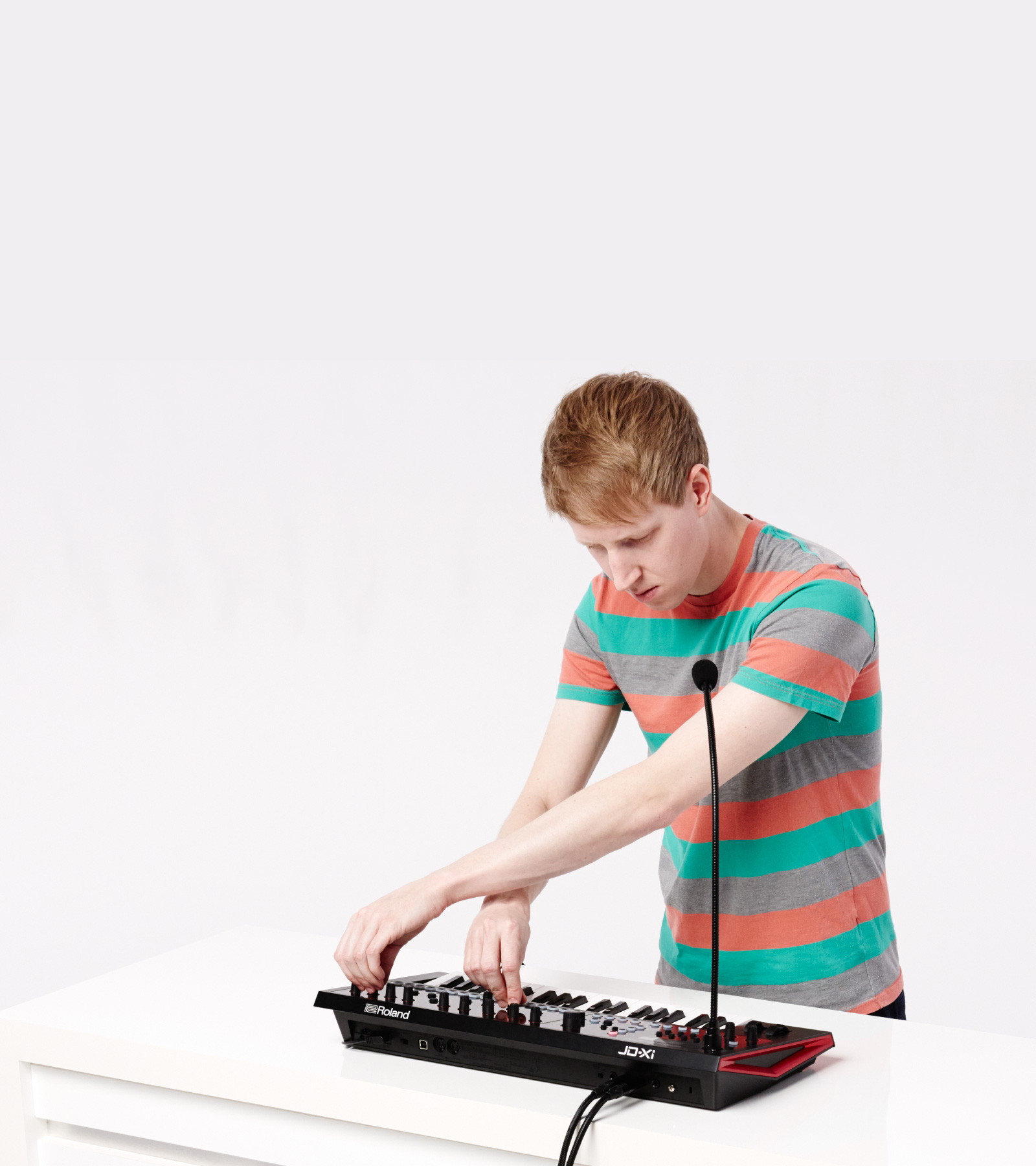 Build Loops with the
Four-Track Pattern Sequencer
Using the intuitive pattern sequencer and large selection of onboard sounds, you're able to create and perform sophisticated music with only the JD-Xi. The sequencer offers four separate tracks—two digital synth parts, analog synth, and drums—allowing you to build rich-sounding loops for any genre. Real-time and step recording modes are provided, along with a special TR-REC mode for programming in the style of Roland's classic TR-series beatboxes. It's easy to play patterns and tweak sounds as you perform, and many preset patterns are built in for jamming right out of the box.
Pro Drum Kits for
High-Impact Beats
Packed with a variety of dynamic drum kits, the JD-Xi delivers quality rhythm tones to suit any groove. Included are many types of electronic and acoustic kits, and the drum instrument assignments are conveniently labeled above the keys for quick identification. You can also personalize the kits for your music by adjusting filter, envelope, pitch, and pan parameters on individual drum sounds.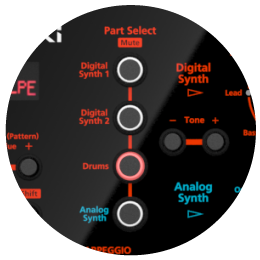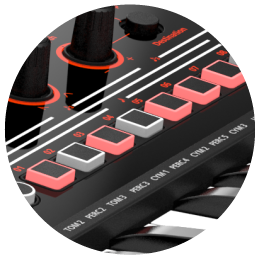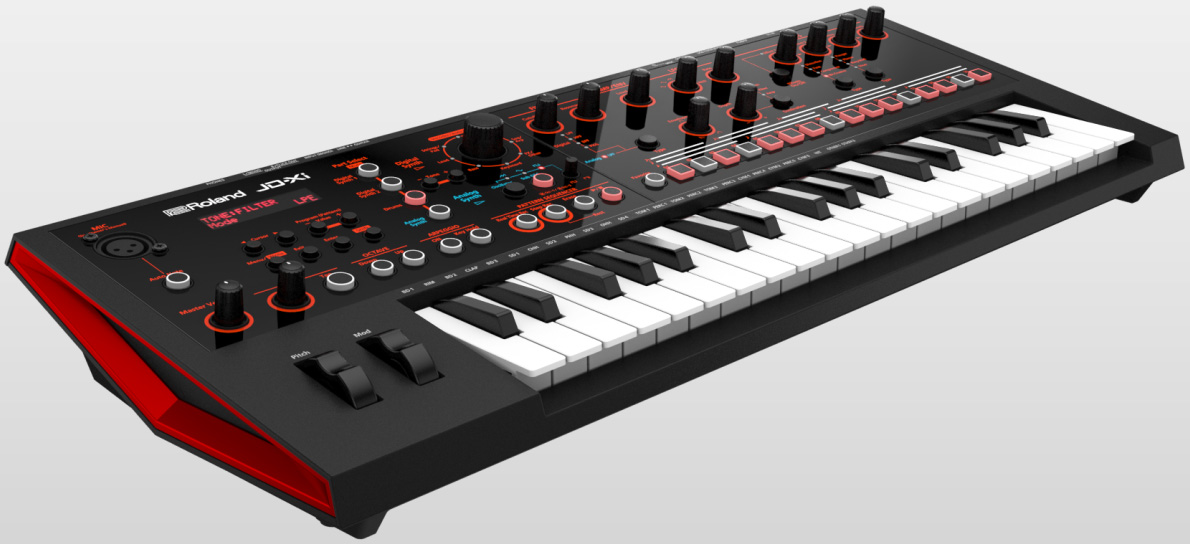 Shape Sounds with Impressive Effects
The JD-Xi includes four simultaneous effects sections for enhancing any sound. Effect 1 and 2 provide selectable processing options such as Bit Crusher, Slicer, and Ring Mod, while dedicated Delay and Reverb sections make it easy to envelop sounds in spacious ambience. Each effects section can be turned on/off separately for the three synth sections and drums, allowing you to shape your mix with many creative combinations.
Download Additional Sounds at Roland's Axial Site
Need some fresh inspiration, or maybe a sound for a particular style of music? Just visit the Axial sound library site, where you'll find a growing selection of free new sounds and patterns for the JD-Xi. Axial features sounds for many other Roland synths as well, all created by top engineers and leading electronic music artists.

Powerful Compact Synth with Onboard Pattern Sequencer and Vocal FX
Petit, puissant, d'un prix abordable, le JD-Xi rassemble dans un seul instrument un véritable générateur de sons analogiques, les fameux sons de synthé SuperNATURAL de Roland et de nombreux autres outils créatifs. Avec ses 37 minitouches, ce clavier compact délivre aussi bien des basses analogiques grasses et chaudes que des sons Lead, avec la possibilité de les contrôler en direct, ainsi que les essentiels du PCM comme les Pads, Strings et autres Brass. Le séquenceur par patterns et les kits de batterie intégrés permettent de créer des boucles impressionnantes en un clin d'œil. Vous pourrez également produire des textures vocales étonnantes grâce à l'AutoPitch, le Vocoder, et le micro monté sur l'instrument. Petit par sa taille, mais grand par sa polyvalence, le JD-Xi est le maître des gros sons et du plaisir de jouer.
Caractéristiques
Synthétiseur mixte interactif avec générateurs de sons analogique et numérique
La section analogique produit des sons Lead et de basse authentiques
Deux sections numériques avec sons SuperNATURAL
Un séquenceur quatre pistes et des sons de percussion de haute qualité
Micro sur perchette inclus pour l'utilisation du Vocoder et de l'AutoPitch embarqués
Possibilité de traiter les sons avec quatre effets simultanés (Effets 1 et 2, Delay, Reverb)
Communication avec les logiciels de création musicale en USB pour l'audio et le MIDI
De très nombreux sons et patterns prêts à jouer, déjà en mémoire
Des sons et patterns supplémentaires disponibles en téléchargement sur le site Axial de Roland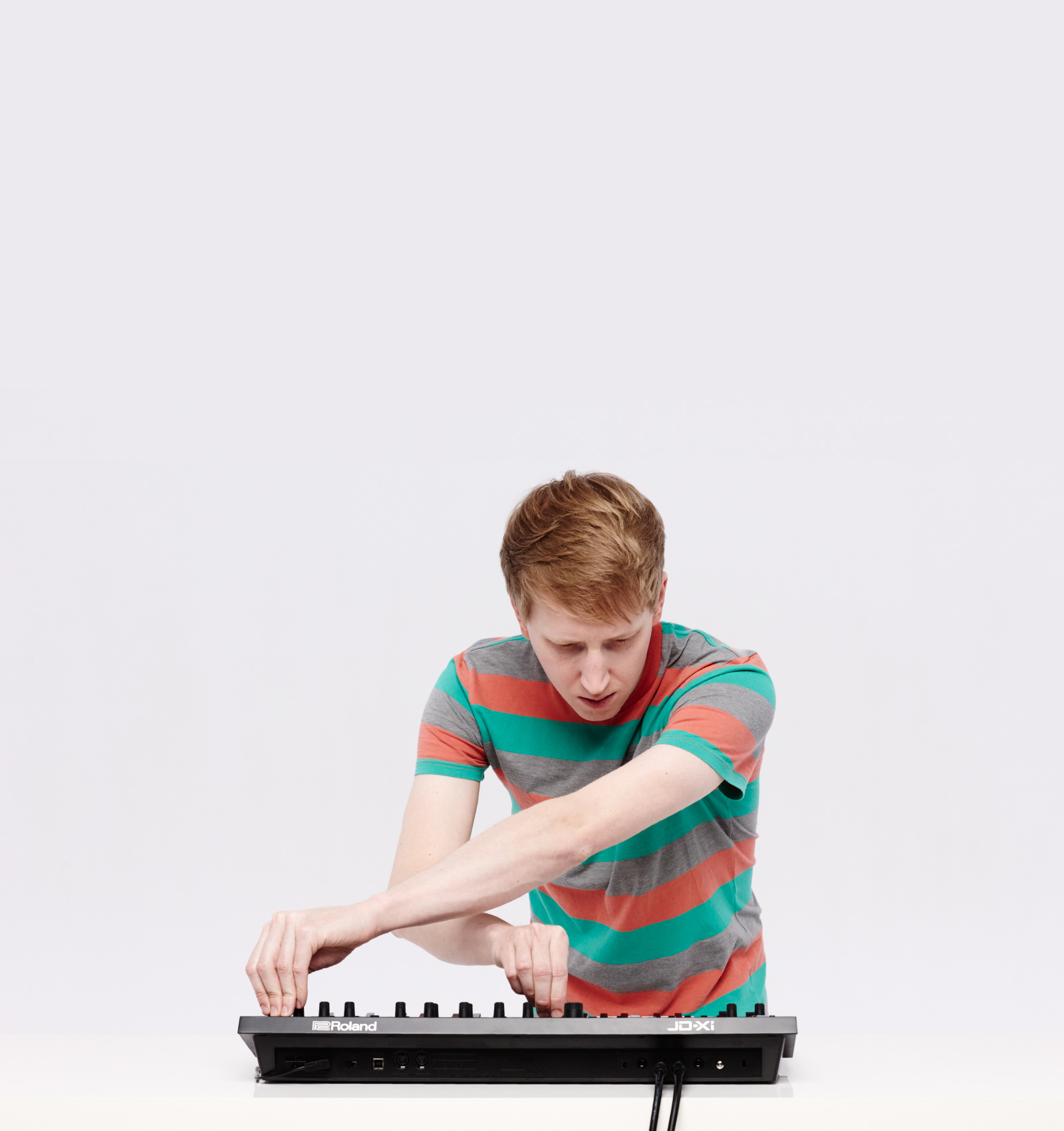 Un synthé à la fois analogique et numérique
Grâce à son générateur de sons mixte unique, le JD-Xi vous permet de bénéficier du meilleur des deux mondes : la chaleur et la réponse souple de l'analogique, la clarté et la polyvalence du numérique. La section synthé monophonique analogique, récemment développée, propose des formes d'onde en dents de scie, en triangle, en carré, avec modulation de largeur d'impulsions et filtre analogique, ainsi qu'un sous-oscillateur indépendant pour des fréquences basses puissantes. Les deux sections synthé numérique offrent une large gamme de sons SuperNATURAL de haute qualité, incluant Pads, Strings, pianos électriques, effets sonores, et bien d'autres.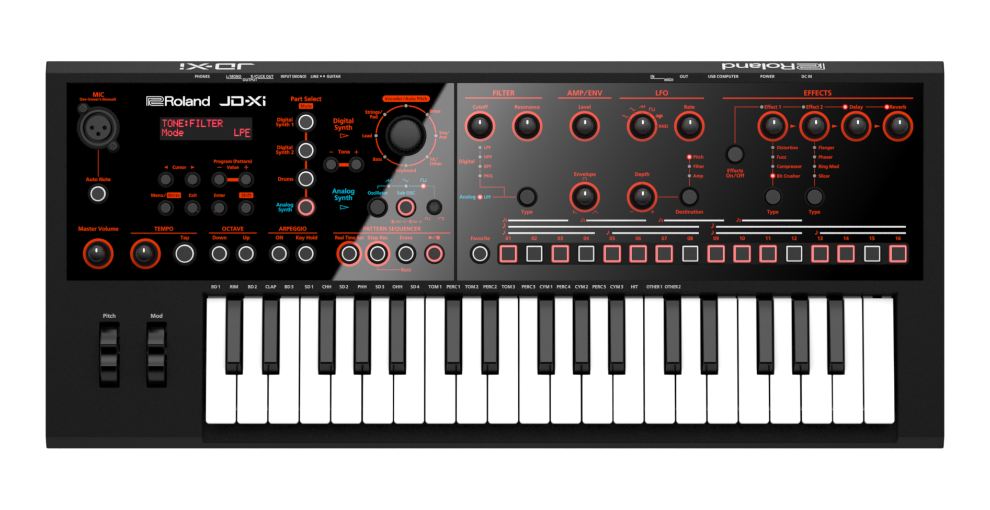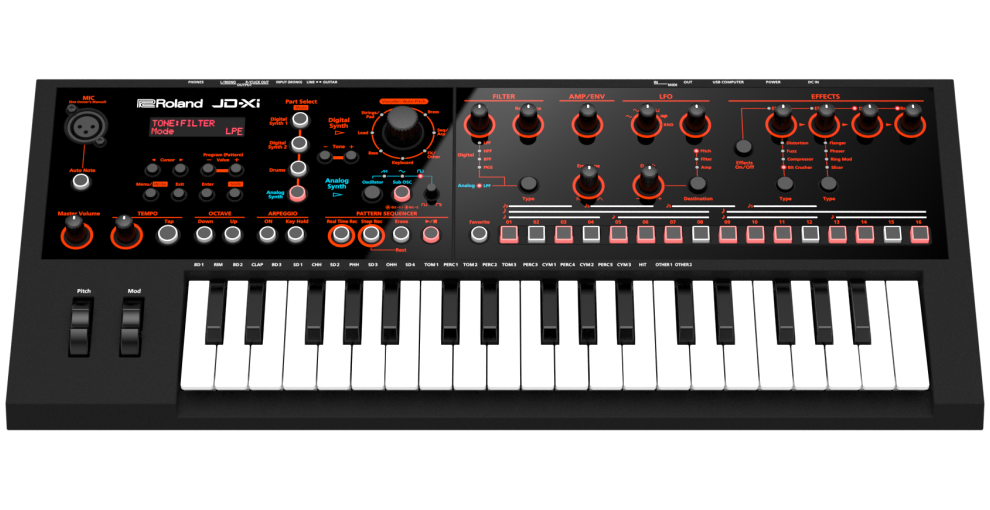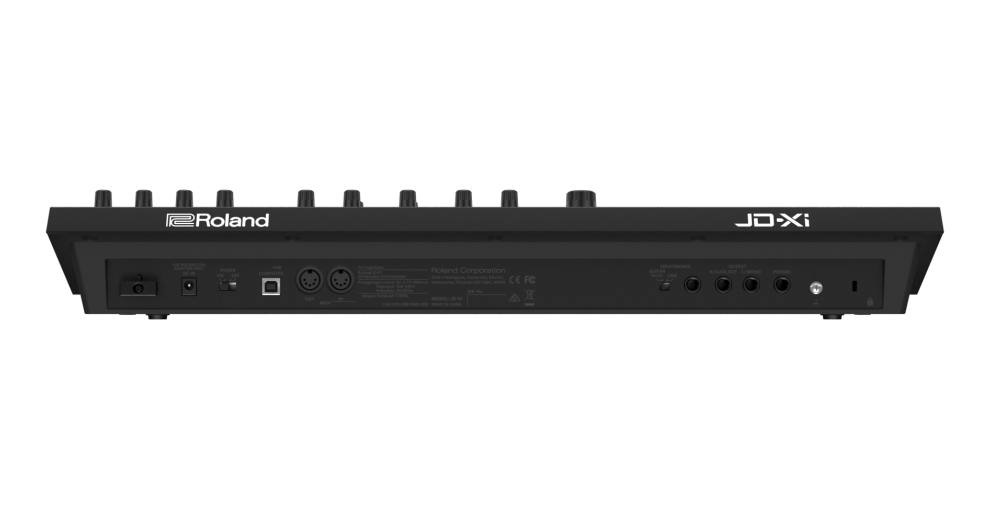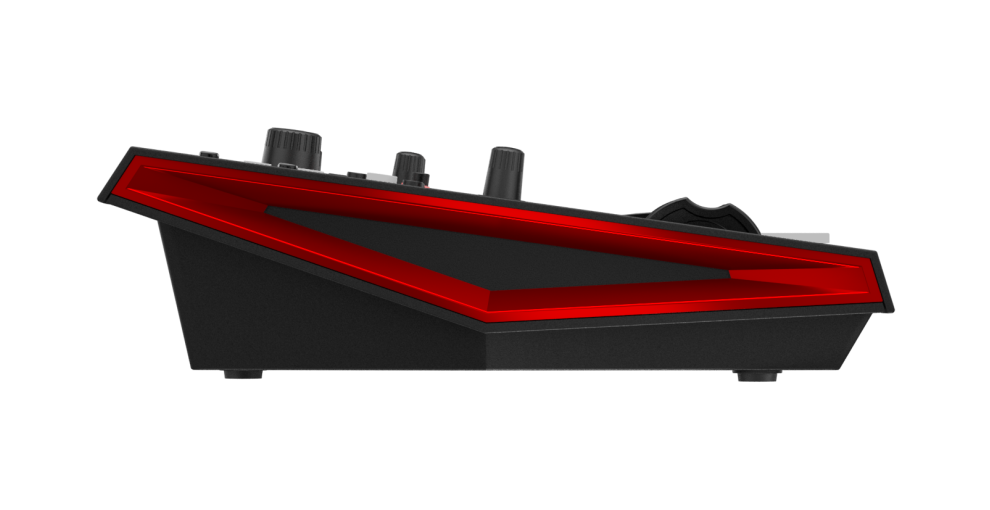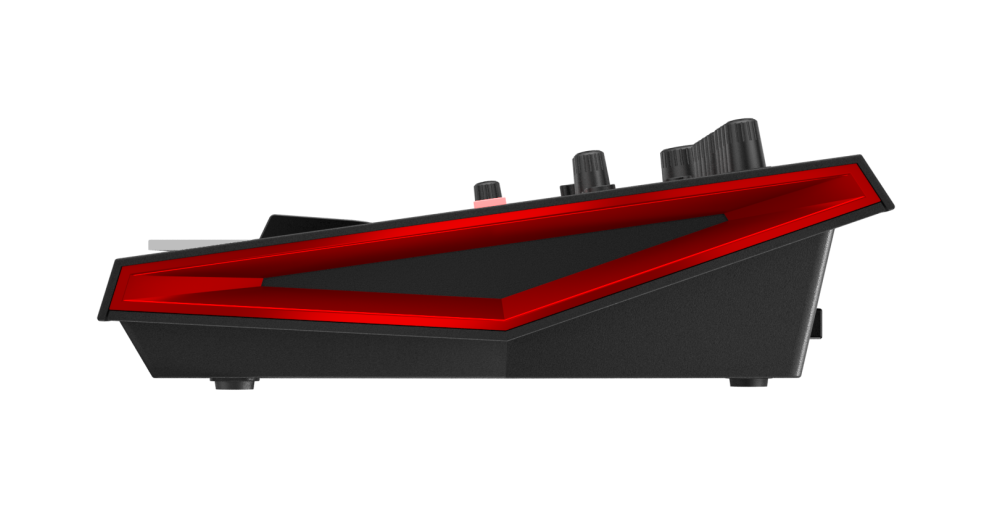 Un micro sur perchette pour Vocoder, AutoPitch et autres effets vocaux
Le JD-Xi est équipé d'un micro sur perchette de haute qualité qui va élargir votre palette sonore. En utilisant le Vocoder tout en chantant dans le micro, vous pouvez contrôler le timbre et la hauteur de votre voix à partir de sons joués sur le clavier. Avec l'AutoPitch, il est facile de produire les sons de voix robotiques devenus classiques dans la pop et les musiques électroniques. Quant à la géniale fonction Auto Note, elle vous permet de « chanter » les sons de synthé du JD-Xi sans toucher au clavier !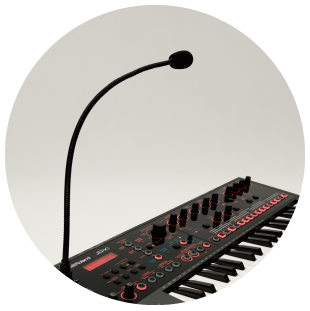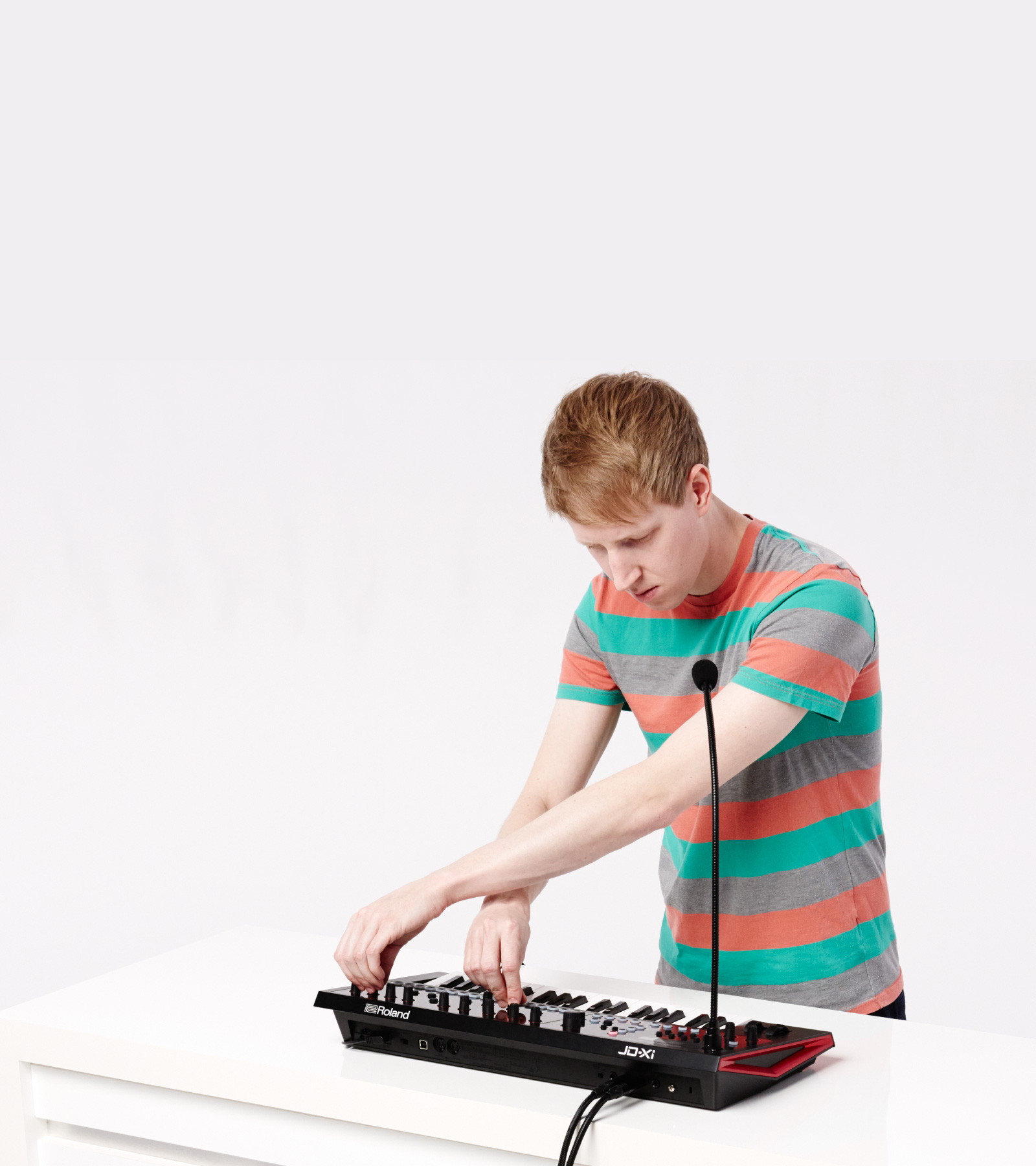 Construisez vos loops grâce au séquenceur quatre pistes
En utilisant le séquenceur par patterns intuitif et la large gamme de sons embarqués, vous pouvez créer une musique élaborée à partir du seul JD-Xi. Le séquenceur peut gérer quatre parties séparées – deux parties numériques, une partie analogique et une partie de batterie – vous permettant de créer des boucles musicales riches et élaborées dans tous les styles. L'enregistrement en temps réel ou en pas à pas est possible, ainsi qu'un mode d'enregistrement TR-REC spécial, pour programmer dans le style des boîtes à rythmes classiques TR- de Roland. Il est facile de créer des patterns et de modifier les sons en temps réel ; quant aux nombreux patterns en préset, ils vous permettent de faire de la musique dès la première prise en main de l'instrument.
Des kits de batterie de qualité pro pour des rythmes puissants
Avec ses kits de batterie dynamiques, le JD-Xi est capable de produire des rythmes de qualité, adaptés à tous les styles, qu'ils soient acoustiques ou électroniques. L'assignation des différents éléments sur les touches du clavier est clairement affichée pour une identification rapide. Vous pouvez personnaliser vos kits en modifiant le filtre, l'enveloppe, la hauteur de note, et la répartition en stéréo de chacun des sons de batterie qui les constituent.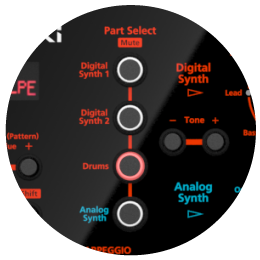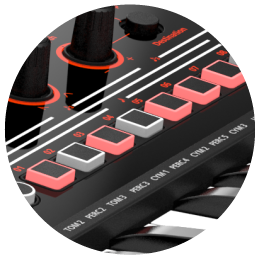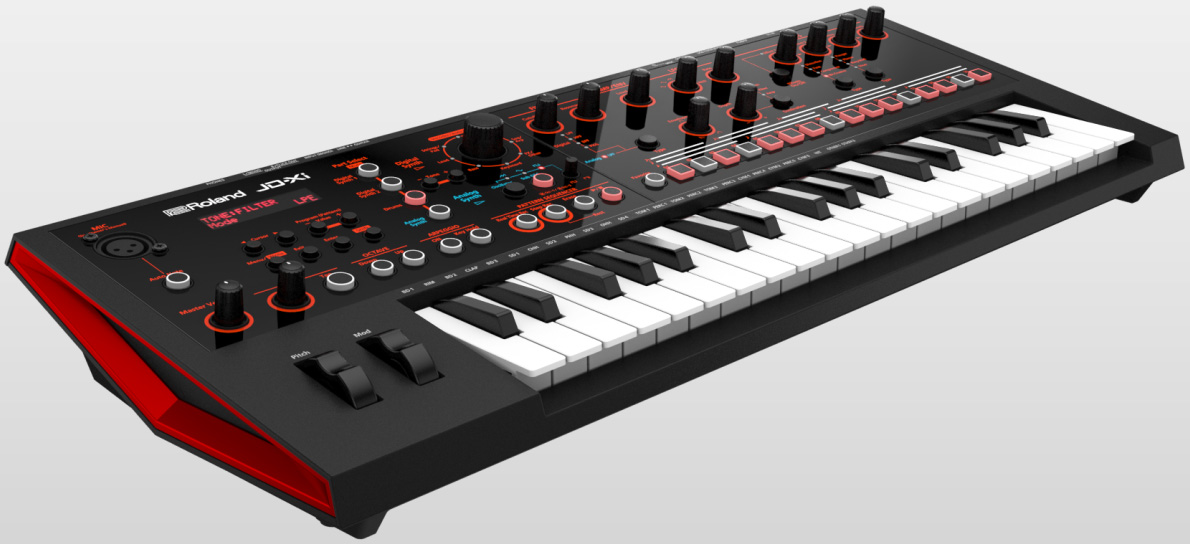 Modelez vos sons avec d'impressionnants effets
Le JD-Xi propose quatre sections d'effets simultanés pour améliorer les sons de votre choix. Les sections Effect 1 et 2 proposent des traitements du son de type Bit Crusher, Slicer et Ring Mod, tandis que les sections Delay et Reverb permettent d'ajouter facilement de la spatialisation. Chaque section d'effet peut être enclenchée ou non indépendamment pour les trois sections de synthé et les batteries, vous permettant de modeler votre son sans brider votre créativité.
Téléchargez des sons supplémentaires sur le site Axial de Roland
Vous recherchez de nouvelles idées, un son pour un style de musique particulier ? Rendez-vous sur le site Internet Axial, où vous trouverez une librairie sonore sans cesse enrichie de nouveaux sons et patterns pour le JD-Xi. Axial propose également des sons pour de nombreux autres synthétiseurs Roland, créés par les meilleurs ingénieurs du son et artistes leaders de la musique électronique.