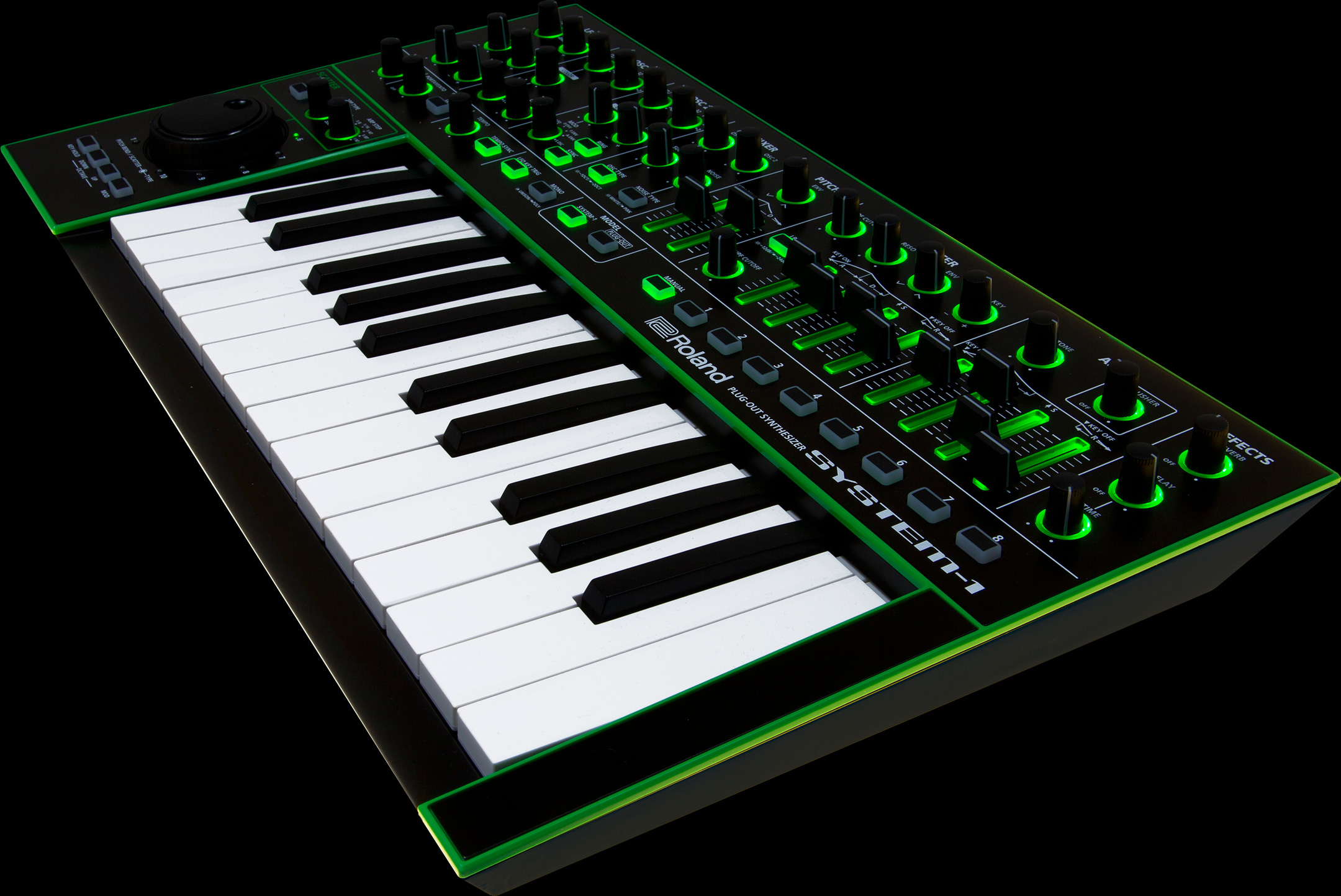 Back in the 1970s, Roland launched the SYSTEM 100, SYSTEM 100M, and the now almost mythical SYSTEM 700. These modular and semi-modular synthesizers are heralded to this day for their flexibility and character of sound. In the spirit of its predecessors, the SYSTEM-1 breaks new ground with remarkable flexibility and access to a vast palette of tones with the bold, unmistakable character associated with Roland synthesizers for nearly four decades.
Four oscillators for buckets of fat synth tones
Oscillator colors create continuous waveform changes from simple to complex
All parameters can be controlled with physical knobs and sliders with LED indicators
Advanced arpeggiator with Scatter function
Scatter jog dial offers 10 different phrase variations with dynamic, real-time control over 10 stages of depth
-12 dB and -24 dB filter types with independent high-pass filters
Tone knob for easy tonal balancing
Crusher knob for modern edge
Integrated delay and reverb effects
Tempo syncing for LFO and delay
Innovative thin keyboard with 25 normal-sized keys
Comfortable to play, yet the most compact Roland synth ever

73 Physical Controls. 100 Percent Synth.
Meet the SYSTEM-1, a synthesizer that's probably unlike any you've encountered before. At its heart is Roland's new Analog Circuit Behavior (ACB) technology, which we use to carefully analyze every aspect of analog circuits and then faithfully recreate them down to the finest details. This technology fills the SYSTEM-1, creating a fusion of beautifully classic and utterly modern synthesizer tones.
The SYSTEM-1 not only sounds amazing, but also has a totally innovative design with performance-ready controls, quality construction, and a dizzying array of lights and knobs and sliders that proclaim unashamedly: "I am synthesizer. Hear me roar." Sound good? There's more…
Plug In And Plug-Out
The SYSTEM-1 can control—and even host—software recreations of classic Roland synthesizers. That's right—the SYSTEM-1 gives you access to plug-in versions of legendary Roland synths, and they can be hosted in the SYSTEM-1 itself, with no computer required. You can even switch between the SYSTEM-1's internal sounds and those of the hosted plug-in. We call this wizardry "PLUG-OUT," and we're pretty excited about it.
We think you'll be excited too once you experience the supreme authenticity of the upcoming SH-101 soft synth, with the SYSTEM-1 providing an intuitive and fully automatic one-to-one control interface that just works. Let's be honest: who could make a better plug-in version of a classic Roland synth than Roland? And the SH-101 is just the beginning—more PLUG-OUT synths are on the way.
A Few More Things
The SYSTEM-1 looks great, and is designed to work seamlessly with other products in the AIRA series. In addition, you can connect the SYSTEM-1 to your computer via its USB jack to send and receive both audio and MIDI data, including MIDI clock information to sync with external devices and other AIRA units.
SYSTEM-1 Version 1.1 New Features
Backup and Restore — Manage your presets with easy backup and restore over USB.
Snapshot — Sends all current knob and slider settings as control change message.
Fix LPF CUTOFF Resolution — The increment size for "LPF CUTOFF" when "MODE = SYSTEM-1" was modified.
Other Fixes — General improvements to overall operation and PLUG-OUT functionality.
SYSTEM-1 Version 1.20 New Features
Memory function — You can use eight banks, allowing you to store a total of 64 patch memories (8 patch memories x 8 banks).
Expanded waveforms added to OSC 1 / OSC 2 — You can use expanded waveforms to make your sounds.
Noise Saw: A sawtooth wave with movement similar to an analog circuit. Ideal for making fat sounds.
Logic Operation: A waveform that uses a logic circuit to combine multiple waveforms.
FM: A frequency-modulated waveform.
FM+Sync: Syncs a frequency-modulated waveform to the OSC pitch to produce a scale.
Vowel: A waveform similar to human voice.
CB: A metallic one-shot sound.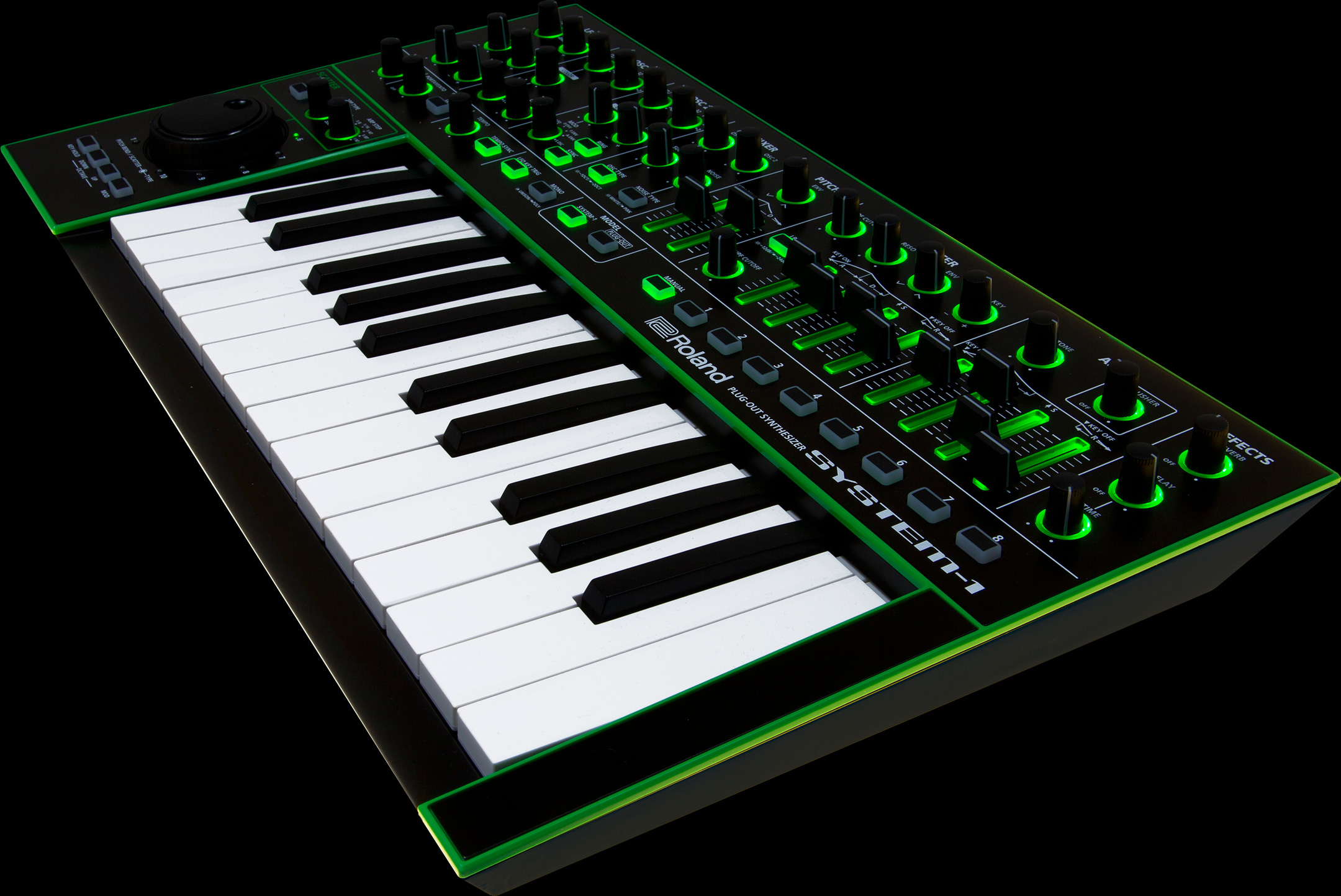 Dans les années 1970, Roland lança les SYSTEM 100 et 100M, et le désormais mythique SYSTEM 700. Ces synthétiseurs modulaires et semi modulaires sont restés célèbres jusqu'à aujourd'hui pour leur polyvalence et leurs caractéristiques sonores. Comme ses prédécesseurs, le SYSTEM-1 innove par sa remarquable polyvalence et sa vaste palette de sons synthétiques estampillés Roland, les mêmes qui ont marqué près de quarante années de musique.
Quatre oscillateurs pour créer tous les sons de synthés bien gras désirés
Les couleurs des oscillateurs créent des vagues de lumière accompagnant la musique
Tous les paramètres sont contrôlables par des curseurs et potentiomètres à LED
Arpégiateur avancé avec SCATTER
Le sélecteur SCATTER permet de choisir entre 10 variations différentes et de contrôler en temps réel 10 niveaux de profondeur
Les filtres varient entre -12dB et -24dB et comportent des passe-haut indépendants
Curseurs de tonalité pour un réglage facile de celles-ci
Un bouton Crusher pour moderniser le son
Delay et Reverb intégrés
Synchronisation du tempo pour le LFO et le Delay
Clavier à 25 touches de taille normale
Synthé très confortable à jouer, le plus compact à ce jour

73 réglages physiques. 100% Synthé.
Voici le SYSTEM-1, un synthétiseur comme vous n'en avez encore jamais pris en mains. Au cœur du son du SYSTEM-1 se cache notre nouvelle technologie ACB (« Comportement de circuit analogique »), que nous mettons en œuvre pour analyser tous les aspects des circuits analogiques avant de les recréer dans leurs moindres détails. Grâce à cette technologie, le SYSTEM-1 est rempli de magnifiques sons à l'ancienne et de timbres synthétiques totalement modernes.
Le SYSTEM-1 n'embarque pas seulement une banque de sons incroyables ; il possède également un design tout à fait innovant avec ses contrôleurs en temps réel, un châssis de qualité, et une multitude de lumières, de boutons et de variateurs qui proclament, sans aucune modestie : « Je suis le synthétiseur. Écoutez mon son. »
Plug In et Plug-Out
Le SYSTEM-1 peut contrôler, mais aussi embarquer des versions logicielles de synthétiseurs classiques Roland ! Oui, vous avez bien lu. Le SYSTEM-1 peut contrôler des plug-ins de synthés Roland légendaires, et ces plug-ins peuvent également être chargés à l'intérieur du SYSTEM-1, sans l'aide d'un ordinateur. Vous pouvez alors passer sans problème des sons propres au SYTEM-1 à ceux des plug-ins. Cette magie a pour nom « Plug-out », et nous en sommes très fiers.
Et nous pensons que vous serez de votre côté très impatients de retrouver l'authenticité du SH-101 sur l'interface intuitive et entièrement automatisée du SYSTEM-1. Mais cela semble évident : qui, mieux que Roland, pouvait proposer la meilleure version plug-in d'un synthé légendaire Roland ? Et le SH-101 n'est que le début—Il y a encore plus de synthés PLUG-OUT à venir.
Quelques infos supplémentaires
Vous pouvez connecter le SYSTEM-1 à votre ordinateur grâce à son câble USB pour envoyer et recevoir des données audio ou MIDI. Le SYSTEM-1 peut recevoir des informations MIDI Clock pour se synchroniser avec d'autres machines, y compris les autres instruments AIRA.
SYSTEM-1 Version 1.1 – Nouveautés
Sauvegarde et restauration : gérez plus facilement vos présets grâce à la sauvegarde et restauration par USB.
Snapshot : envoi des valeurs de réglage en cours des boutons et curseurs en message Control Change.
Résolution LPF CUTOFF : la taille d'incrémentation pour LPF CUTOFF lorsque « MODE = SYSTEM-1 » a été modifiée.
Autres améliorations : amélioration globale de la manipulation de l'appareil et de la fonctionnalité PLUG-OUT.
SYSTEM-1 Version 1.20 Nouvelles fonctionnalités
Fonction mémoire — vous pouvez utiliser 8 banques, ce qui vous permet de sauvegarder jusqu'à 64 mémoires utilisateur (8 mémoires utilisateur x 8 banques).
Palette de formes d'ondes élargie sur le OSC 1 / OSC 2 — vous avez un plus grand choix de formes d'ondes pour créer vos sons.
Scie sonore : une onde en dent de scie au mouvement semblable à celui d'un circuit analogue. Idéale pour les sons gras.
Opération logique : une forme d'onde qui en combine plusieurs au moyen d'une opération logique. FM : une onde modulée en fréquence.
FM+Sync : synchronisation d'une onde modulée en fréquence à la hauteur tonale de l'oscillateur pour produire une gamme
Voyelle : une forme d'onde semblable à celle de la voix humaine.
CB : un son ponctuel métallique.