V-Drums Quality for Practice, Learning, and Fun
Roland's V-Drums are the world's most popular electronic drums for one reason: they're the best. Blending superior sound, authentic feel, and rugged durability, each kit in the V-Drums lineup performs at the highest level, a testament to more than three decades of developing electronic drums. The compact TD-1KV is no exception, delivering respected V-Drums quality in a space-saving kit that keeps up with you as your playing evolves.
Ideal for everyone that wants to enjoy drums at home, the TD-1KV offers a wide selection of expressive drum kits for playing any musical style, plus fun onboard training and recording functions for building your skills and checking your progress. And as a Roland TD-1KV owner, you're not just starting an exciting musical journey—you're also joining the V-Drums family, a group of discerning players that includes the world's finest drummers and percussionists.
Standard Features
Acclaimed V-Drums sound and performance in an entry-level set
Enjoy drumming in any musical style with 15 expressive drum kits
Mesh-head PDX-8 V-Pad provides realistic snare drum feel with head/rim triggering
Supports essential acoustic drum techniques, including cymbal choke, advanced hi-hat playing, and more
Build playing skills with the onboard Coach function, metronome, and recorder
Practice along with onboard audio songs or your own tracks played from a smartphone or music player connected to the Mix In jack
Beater-less kick pedal provides low noise for playing without disturbing others, ideal for practicing at home
Space-saving, ergonomic design and stylish looks to suit any room in your home
Sturdy drum rack with quick and easy height adjustment for every drummer, from kids to adults
Many upgrade options for enhanced performance, including OP-TD1C for an additional crash cymbal, KT-10 or KD-9 for kick, and more
USB-MIDI for using the TD-1KV with the DT-1 Drum Tutor, V-Drums Friend Jam series, and other popular computer music software
Intuitive user interface for easy operation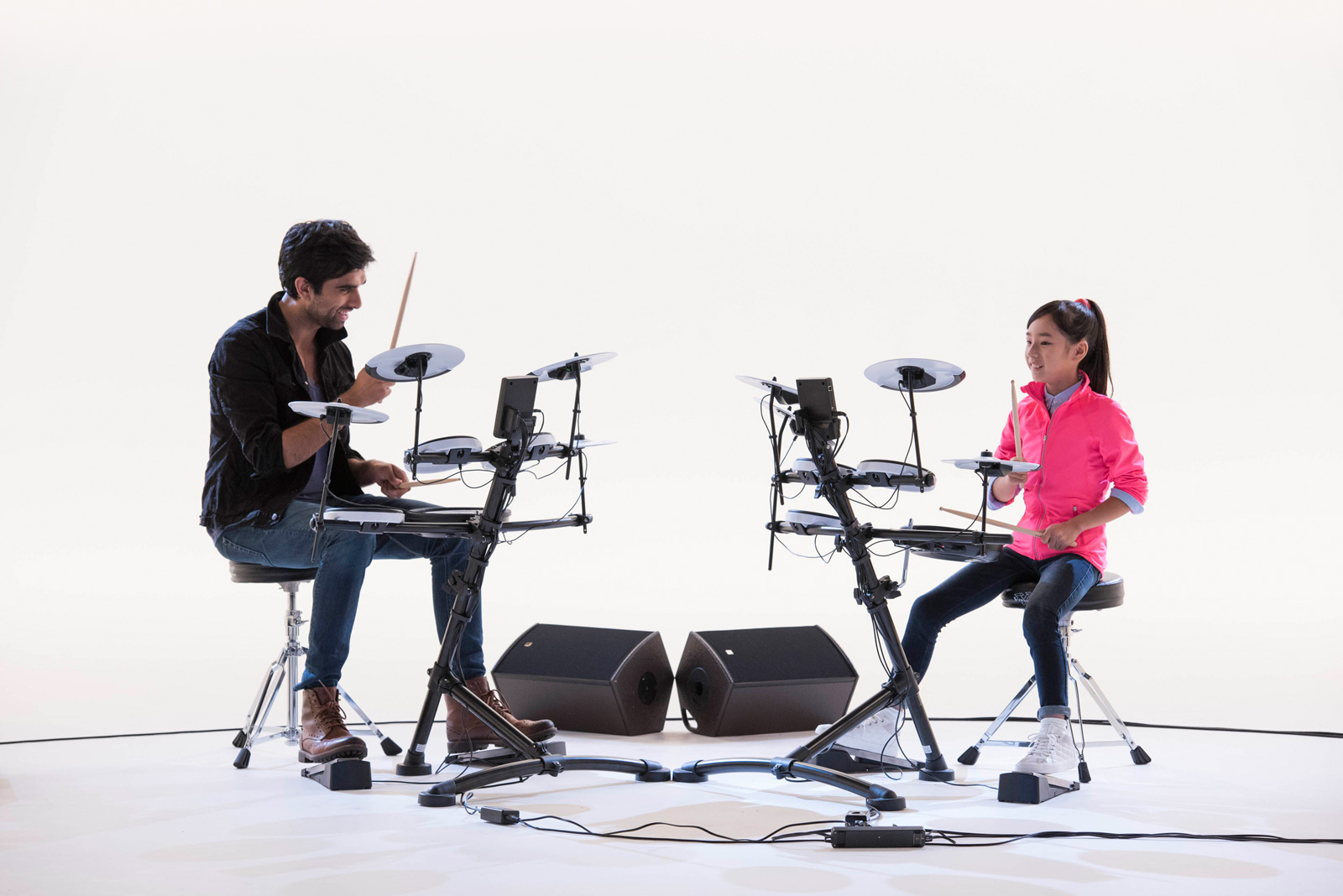 15 Drum Kits For Playing Any Style Of Music
An acoustic drum kit needs to be set up to play a specific style of music, so you're stuck with one type of sound. But that's not the case with the TD-1KV—it includes 15 quality drum kits on board, so you can play any kind of music you want at the touch of a button, from rock and blues to jazz, world music, EDM, and beyond. At one practice session, you can rock hard with a heavy bottom-end sound, then instantly change kits to recreate the sound of your favorite band. Every kit reacts just like the acoustic and electronic kits they emulate, giving you a huge range of variety in one compact, standalone instrument.
Develop Authentic Techniques With
Responsive Pads And Cymbals
Some drummers avoid electronic drums; worried they won't play like their acoustic counterparts. There's no need for concern with the Roland TD-1KV—it fully supports essential acoustic playing techniques, which is especially important for beginners to learn to play correctly. Every drum sound offers a wide dynamic range and natural tone, and the PDX-8 mesh-head snare provides an authentic feel with independent head and rim triggering. Unlike typical entry-level sets, the TD-1KV's cymbals include the advanced expressiveness found in all TD-series V-Drums modules, including bow and edge sounds and support for cymbal chokes. The hi-hat reacts to the nuances of your footwork, bringing personality and character to your playing. Great drumming is all about feel, and so is the TD-1KV.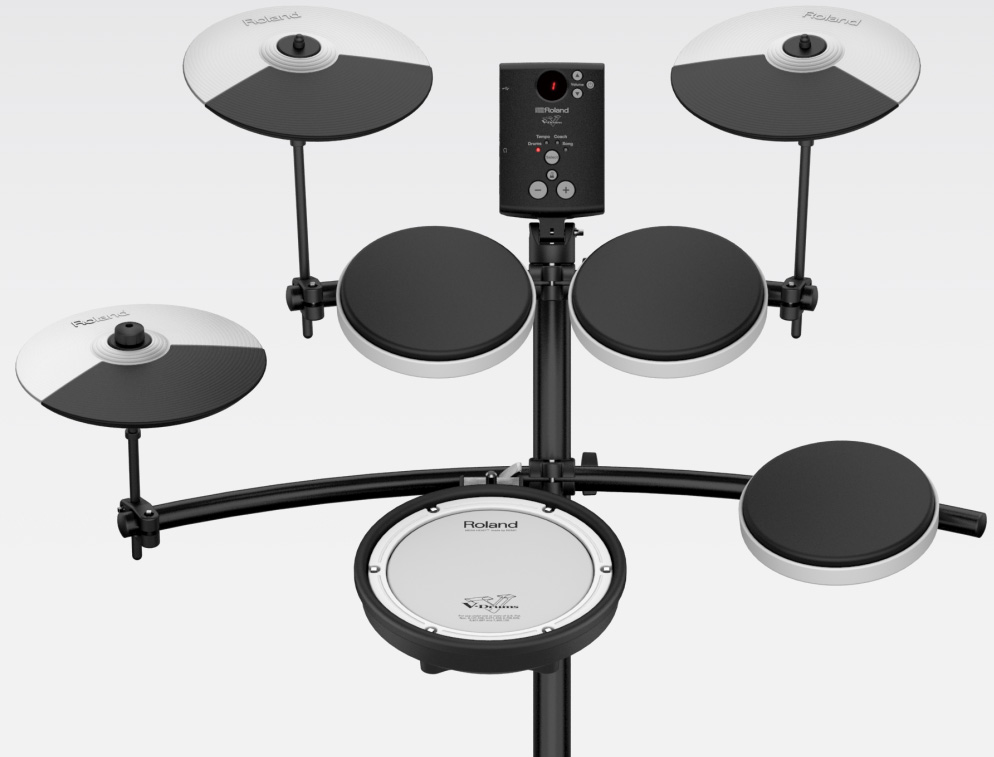 Stay Motivated With Onboard Training
Functions That Make Learning Fun
Built right into the TD-1KV is a wealth of enjoyable functions to encourage learning, no matter whether you're teaching yourself to play, studying regularly with an instructor, or simply want to keep your skills polished. Think of this kit as your own live-in drum teacher and personal backing band, packed with tutorial features that develop technique, boost motivation, and help you get the most out of practice time. Play along with the onboard metronome to tighten your timing, and use Coach mode to build and maintain speed, stamina, and accuracy. Get ready for your first band by jamming with the internal songs in the sound module, or connect a smartphone or music player via the Mix In jack and drum along with your favorite tunes. With the onboard recording function, you'll get instant feedback of your progress as well as quickly capture and playback a new fill or creative groove.
Practice At Home With Headphones And
Ultra-Quiet, Beater-Free Kick Drum
Traditional acoustic drums are extremely loud. Playing them at home is fun for you, but can be a problem for everyone else around! Quieter operation is a major benefit of electronic drums, and the Roland TD-1KV is particularly quiet where it counts, thanks to the sound module's headphone jack and the noise-reducing design of the mesh-head PDX-8 snare and the tom/cymbal pads. While many electronic drum kits annoy the neighbors as the beater strikes the kick drum, the TD-1KV reduces volume with a special beater-less pedal design. Optional NE-10 Noise Eater units can be used under the kick and hi-hat pedals to further reduce noise transfer to other rooms below.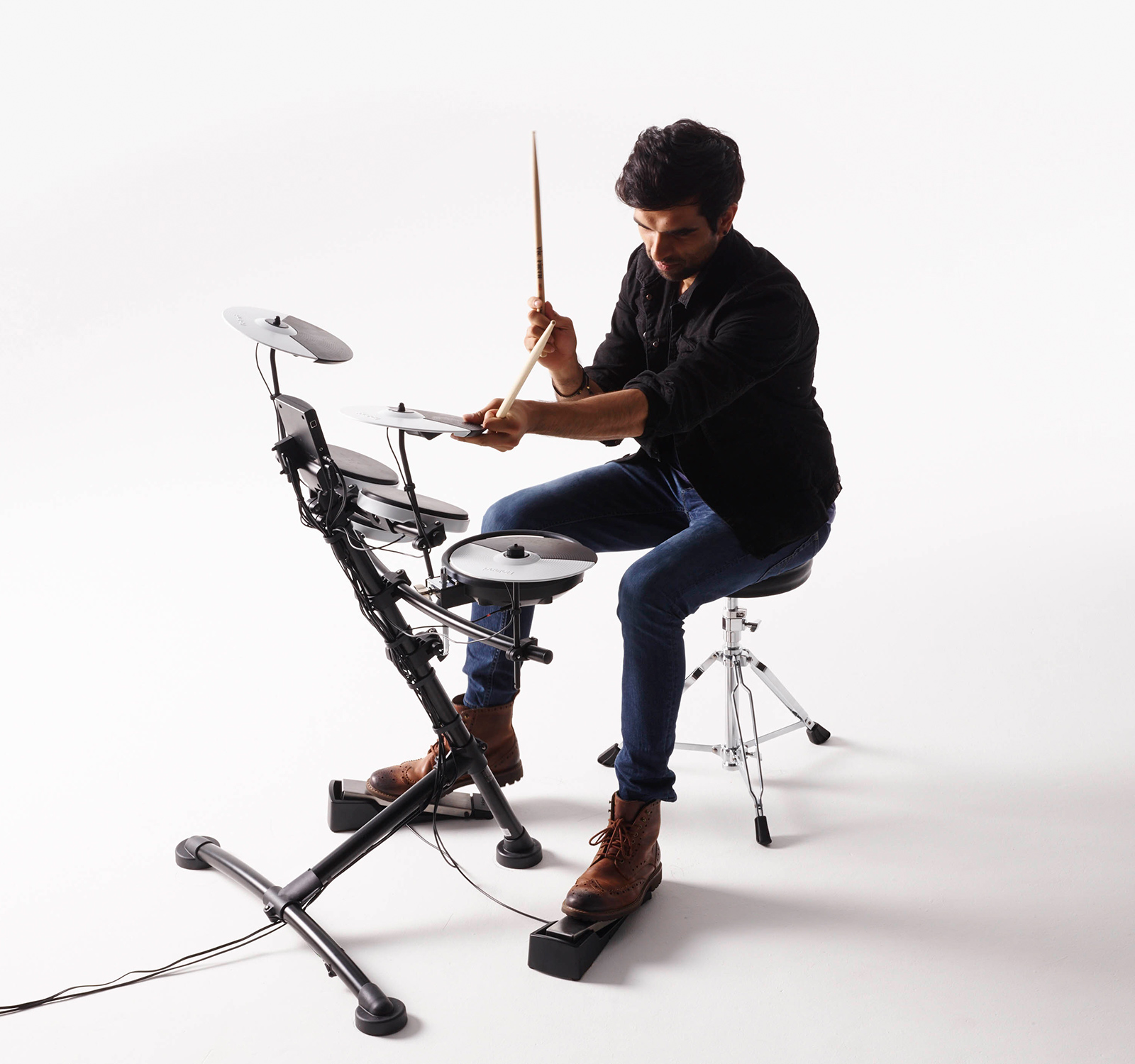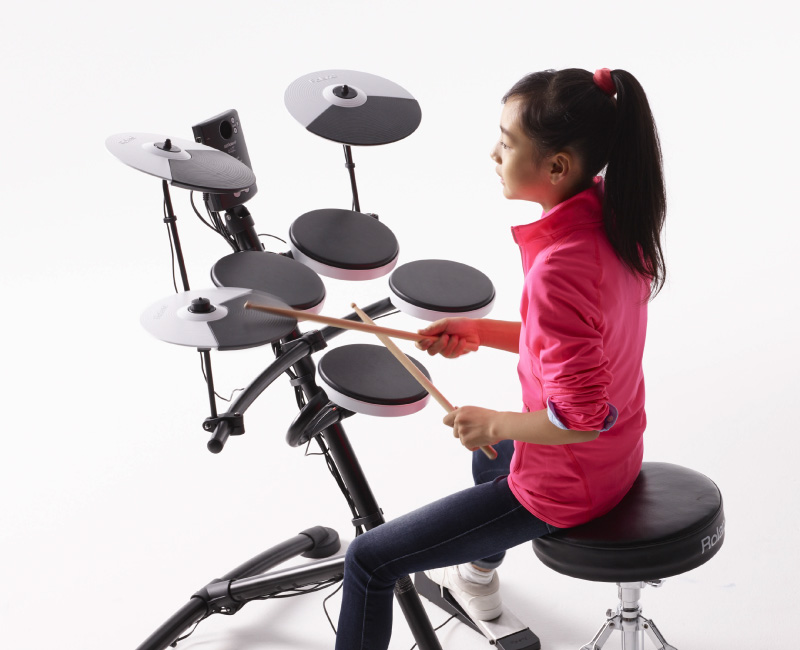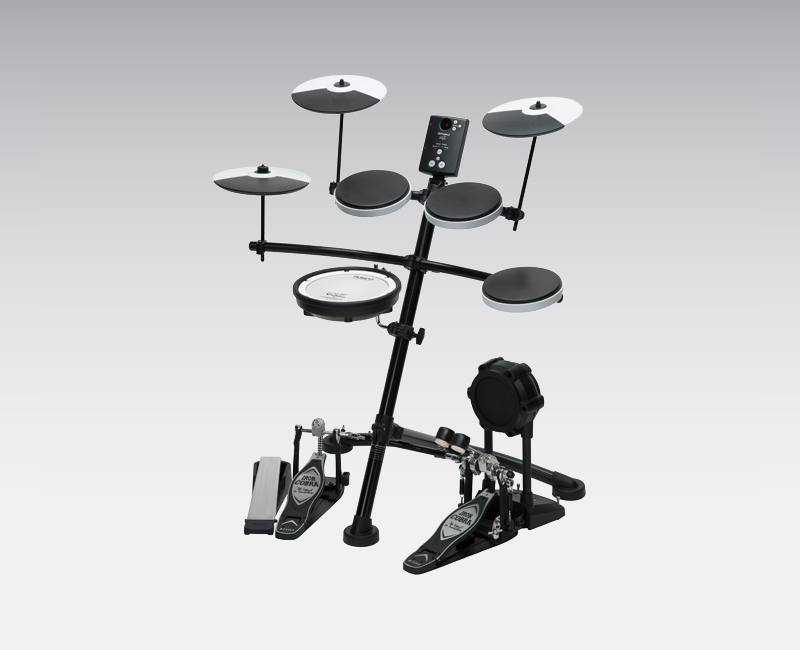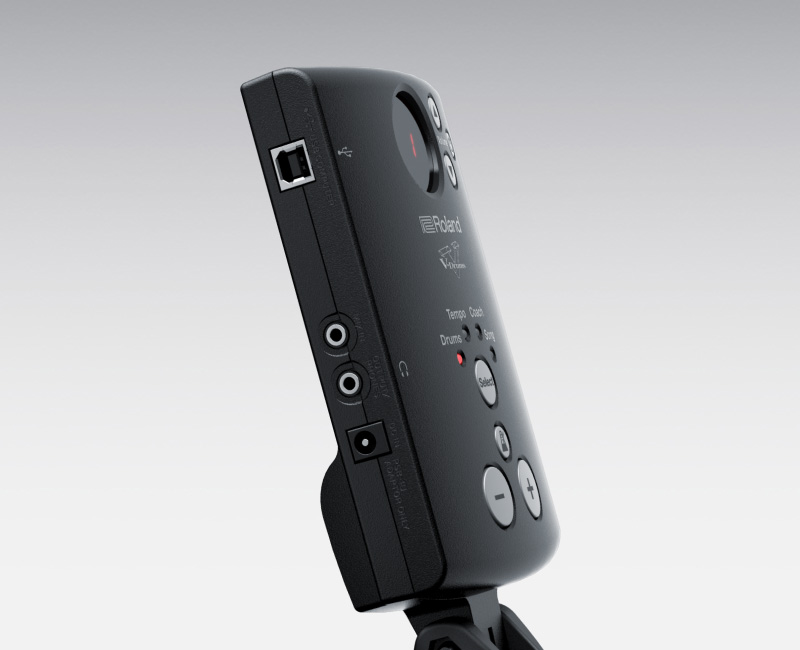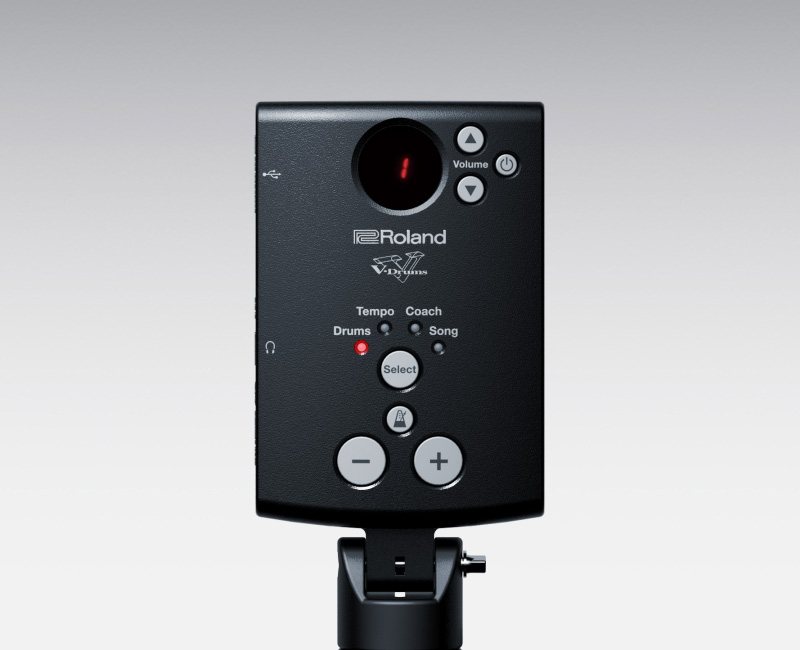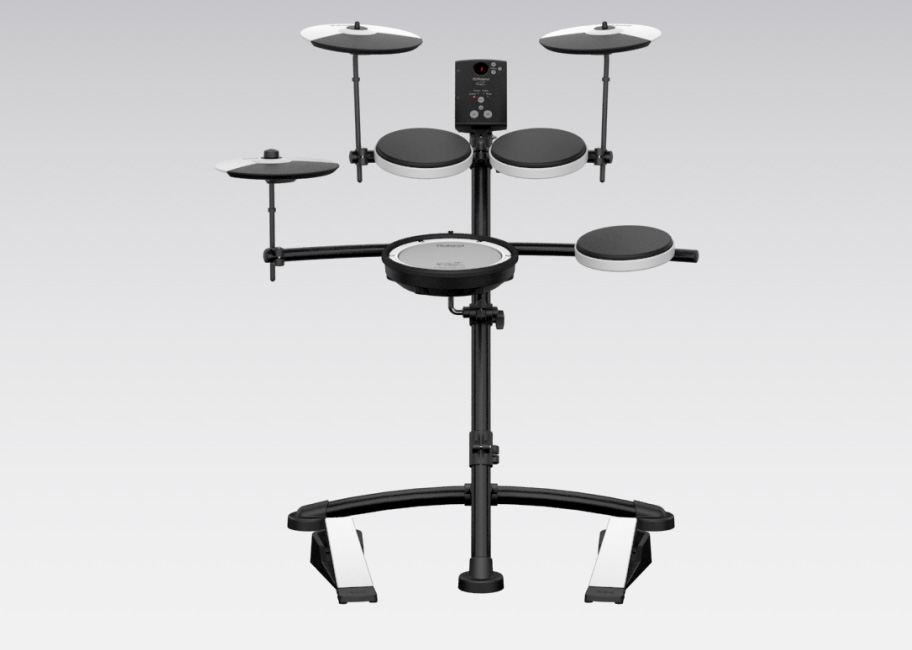 V-Drums Quality for Practice, Learning, and Fun
Les batteries V-Drums Roland sont les batteries électroniques les plus populaires au monde pour une seule raison : ce sont les meilleures. Rassemblant excellence du son, authenticité du jeu et durabilité, chacun des kits de la gamme V-Drums se place au plus haut niveau, résultat de plus de trente années de recherche et développement. La TD-1KV, bien que compacte, ne fait pas exception à la règle, fournissant la qualité V-Drums dans un kit d'encombrement minimum qui sera capable d'évoluer en même temps que la technique de son propriétaire.
Parfait pour tous ceux qui veulent jouer de la batterie à la maison, la TD-1KV propose une large sélection de kits expressifs dans tous les styles musicaux, ainsi que des fonctions ludiques d'apprentissage et d'enregistrement qui permettent de progresser et de suivre ses progrès. Assis derrière votre TD-1KV, vous ne partez pas simplement pour un excitant voyage musical, mais rejoignez également la famille V-Drums, qui comprend quelques-uns des meilleurs batteurs et percussionnistes au monde.
Standard Features
L'excellence du son et du toucher V-Drums dans un kit d'entrée de gamme
Jouez de la batterie dans tous les styles grâce aux 15 kits intégrés
Le V-Pad PDX-8 à peau Mesh procure une réponse de caisse claire authentique, avec différenciation de la peau et du cercle
Permet d'appliquer les techniques de batterie acoustique : étouffement de cymbale, jeu de charleston évolué, etc.
Progressez plus vite grâce au mode Coach, au métronome et à l'enregistreur
Travaillez en étant accompagné de musiques embarquées dans le module, ou de vos titres favoris stockés sur smartphone ou lecteur MP3, connecté à l'entrée Mix In
La pédale de grosse caisse sans batte rend le jeu plus silencieux et permet de ne pas déranger l'entourage ; parfait pour travailler à la maison
Un design ergonomique et compact, un look stylé, capable de s'intégrer à toutes les pièces du domicile
Un rack solide avec ajustement de hauteur rapide et facile pour tous les batteurs, des enfants aux adultes
De nombreuses possibilités d'évolution du kit : ajout d'une cymbale crash OP-TD1C, remplacement de la pédale de grosse caisse par une KT-10 ou un KD-9, etc.
Interface USB-MIDI pour l'utilisation de la TD-1KV avec le V-Drums Tutor DT-1, les applis V-Drums Friend Jam, ainsi que les autres logiciels de MAO
Une interface intuitive pour une utilisation ultra simple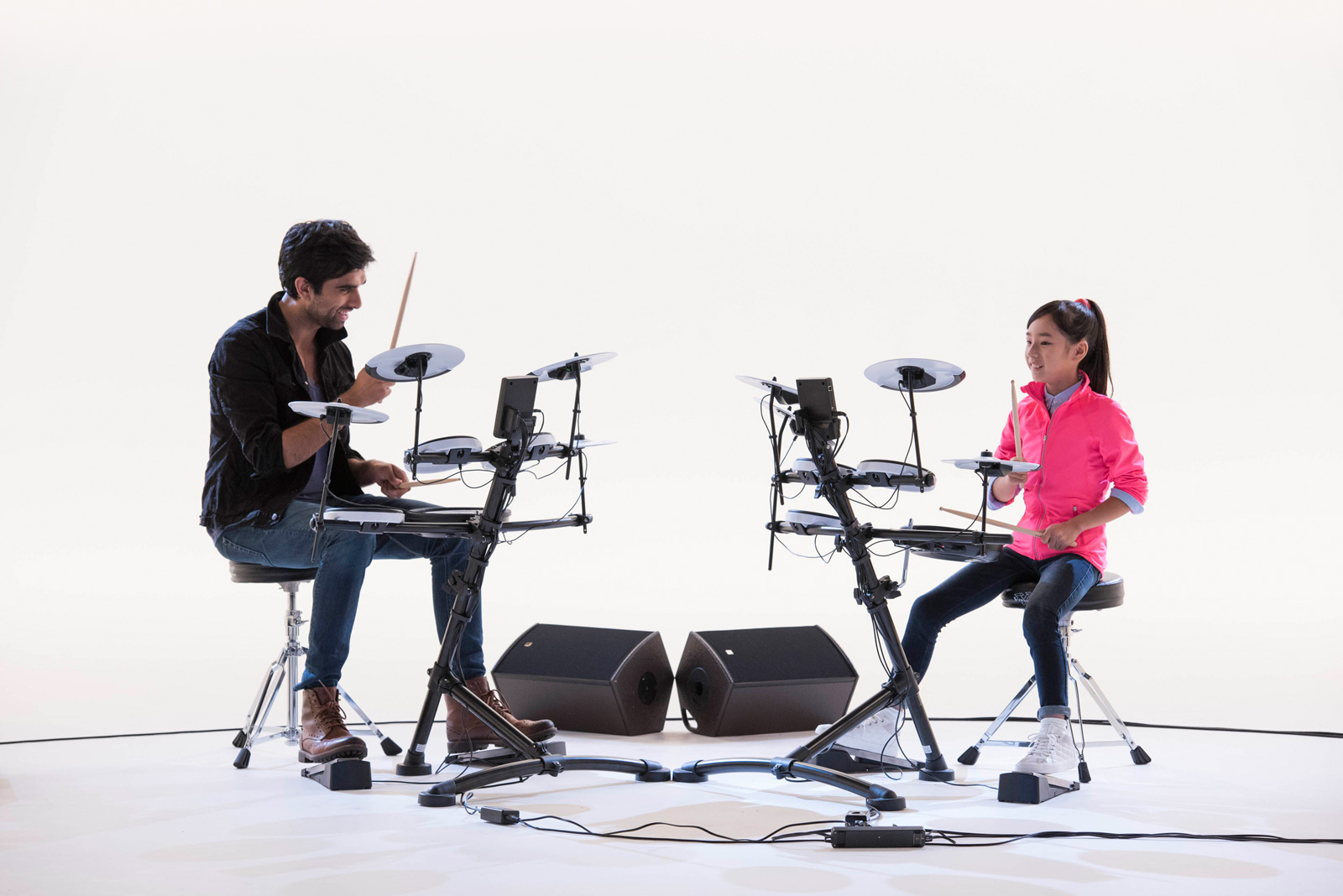 15 kits pour s'adapter à tous les styles musicaux
On monte en général son kit acoustique en fonction du style de musique joué, et on se retrouve alors coincé avec un seul son. Ce n'est pas le cas avec la TD-1KV : elle intègre 15 kits prêts à l'emploi, qui vous permettent de passer d'un style musical à l'autre en appuyant sur un seul bouton, du rock-blues au jazz, de la world music à l'électro. Vous pouvez passer en un instant d'une frappe lourde au son rempli d'infrabasses à un style plus subtil capable de convenir à toutes les musiques. Tous les kits se comportent comme les modèles acoustiques ou électroniques qu'ils émulent, vous accordant une grande polyvalence sur un instrument ultra-compact.
Développez les techniques traditionnelles grâce à la réponse des pads et cymbales
Certains batteurs ne veulent pas entendre parler d'électronique, car ils craignent de ne pouvoir avoir les mêmes automatismes que sur instrument acoustique. La TD-1KV de Roland devrait leur faire changer d'avis, car on peut la jouer de manière traditionnelle. Et c'est particulièrement important pour les débutants de pouvoir apprendre la bonne technique. Chaque son de batterie possède un timbre naturel et peut reproduire une large gamme de dynamiques, et le pad PDX-8 à peau Mesh procure une réponse de caisse claire authentique avec différenciation de la peau et du cercle. Au contraire de la plupart des kits d'entrée de gamme, les cymbales de la TD-1KV sont capables de la même expressivité que celles des autres modules TD, avec des sons de cloche et de bord, et la possibilité d'étouffer le son à la main. Le charleston réagit aux nuances produites par votre pied, rendant votre jeu encore plus personnel. Bien jouer, c'est avoir le bon feeling, et vous pourrez le développer avec la TD-1KV.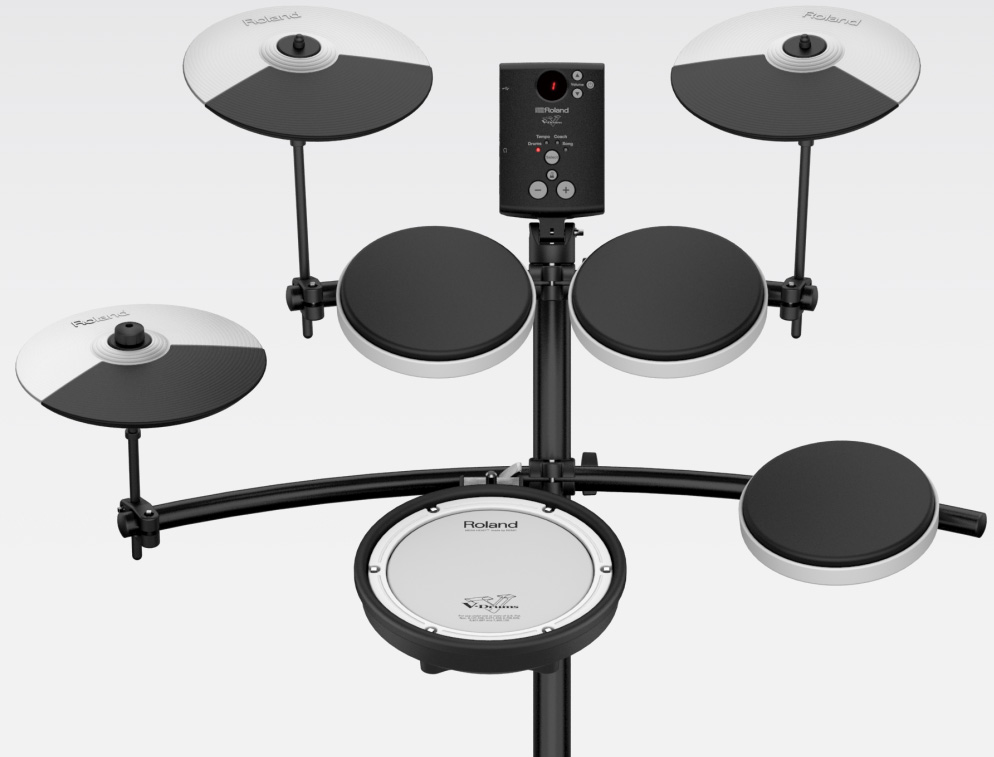 Gardez la motivation grâce aux fonctions ludiques d'apprentissage
Vous trouverez, intégrées à la TD-1KV, de nombreuses fonctions destinées à rendre l'apprentissage ludique, que vous soyez enseignant ou élève. Imaginez ce kit comme un professeur personnel, ou un groupe toujours à votre disposition, capable de vous fournir des exercices pour développer votre technique, booster votre motivation, et vous aider à optimiser votre temps de travail. Jouez sur le métronome intégré pour affûter votre sens du tempo, et utilisez le mode Coach pour améliorer votre placement, votre vitesse et votre précision. Préparez-vous à intégrer votre premier groupe en jouant sur des playbacks stockés dans le module, ou sur vos titres favoris en connectant votre smartphone ou autre lecteur audio à l'entrée Mix In du module. Vous commencez à progresser ? Évaluez ces progrès grâce à la fonction d'enregistrement intégrée.
Travaillez à la maison au casque et grâce à la pédale sans batte ultra-silencieuse
Les batteries acoustiques sont les instruments les plus bruyants qui soient. En jouer à la maison est un réel plaisir pour vous, mais cela représente une souffrance pour votre entourage. Or, le jeu silencieux est un des grands atouts d'une batterie électronique, et la TD-1KV de Roland ne fait pas exception, grâce à la sortie casque de son module et le peu de son émis par le pad à peau Mesh PDX-8 et les pads de tom et de cymbale. Mais alors que la plupart des kits électroniques dérangent tout de même les voisins à cause du son de la batte de pédale de grosse caisse frappant le pad, la TD-1KV réduit considérablement ce problème grâce à sa pédale sans batte. Les absorbeurs de son Noise Eater NE-10, en option, placés sous les pédales de grosse caisse et de charleston, peuvent même encore réduire les vibrations transmises aux pièces adjacentes.