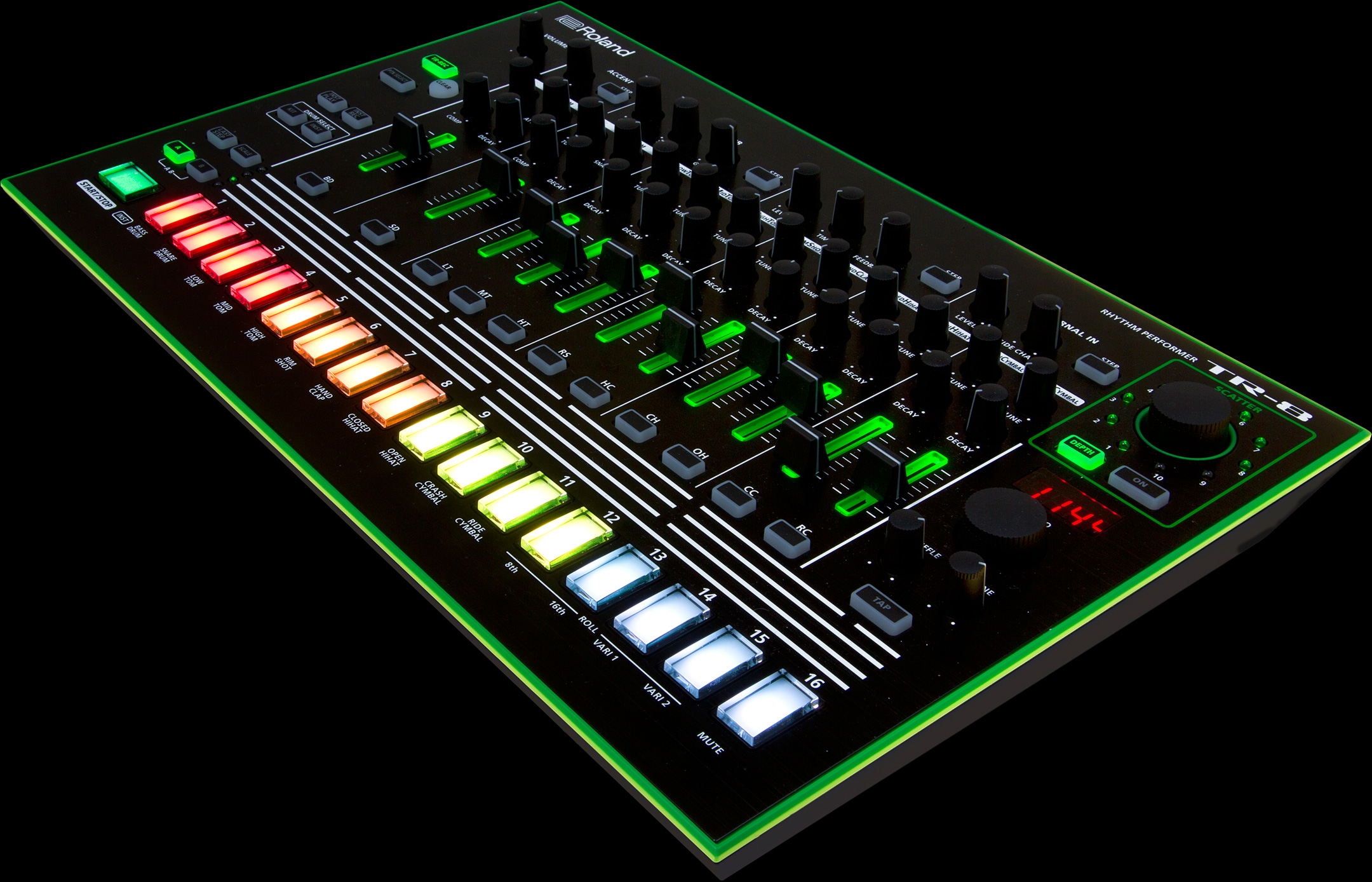 The TR-8 is a performance rhythm machine that melds the legendary sound and vibe of the TR-808 and TR-909 with features and functions for the modern age. Genre-defining sounds, classic effects, unprecedented live pattern manipulation, and solid, intuitive performance controls. It's the TR…evolved.
Capturing the Originals
Full reproduction of the classic TR-808 and TR-909 rhythm machines, based on original design spec sheets and detailed analog circuit analysis of many original TR machines, including Roland's own pristine units
Newly developed Analog Circuit Behavior (ACB) technology allows part-by-part analyses and faithful recreation of tonality and behavior, including the smooth variations of tone that occur when you work the controls of each instrument
Obsessive attention to detail, such as reproducing the original TR's unique variations in tone that occur when multiple instruments are entered in accented steps
Authentic 16-step sequencer with faithful TR-REC behavior, including A and B pattern variations and the ability to play instruments and record to steps in real time
Tr Evolved
16 stunning kits made up of 11 instrument types, including custom dream kits that use both TR-808 and TR-909 sounds
Large Tempo knob with Tap Tempo button and continuous Fine and Shuffle adjustment knobs
Control the intensity of the Accent function with a dedicated knob
Per-step reverb and delay effects with dedicated knobs
Mix sources connected to the External In jacks with built-in per-step Side Chain function for rhythmic ducking and gating effects
Scatter lets you freak and tweak your grooves with real-time control and perfect sync
7 segment, 4 character LED display and 16 per-step pads with bold, full-color LEDs
Real-time pattern creation up to 32 steps with on-the-fly step count adjustment
Rec/Play modes have been eliminated, enabling seamless switching between step input and real-time pattern making and performance
Real-time play of 4 different types of rolls (8th, 16th, VARI 1, VARI 2) and per-instrument mutes
Pattern copy and pattern randomization for rapid, spontaneous creativity
Two assignable analog outputs and full parallel outputs via USB for total mixing flexibility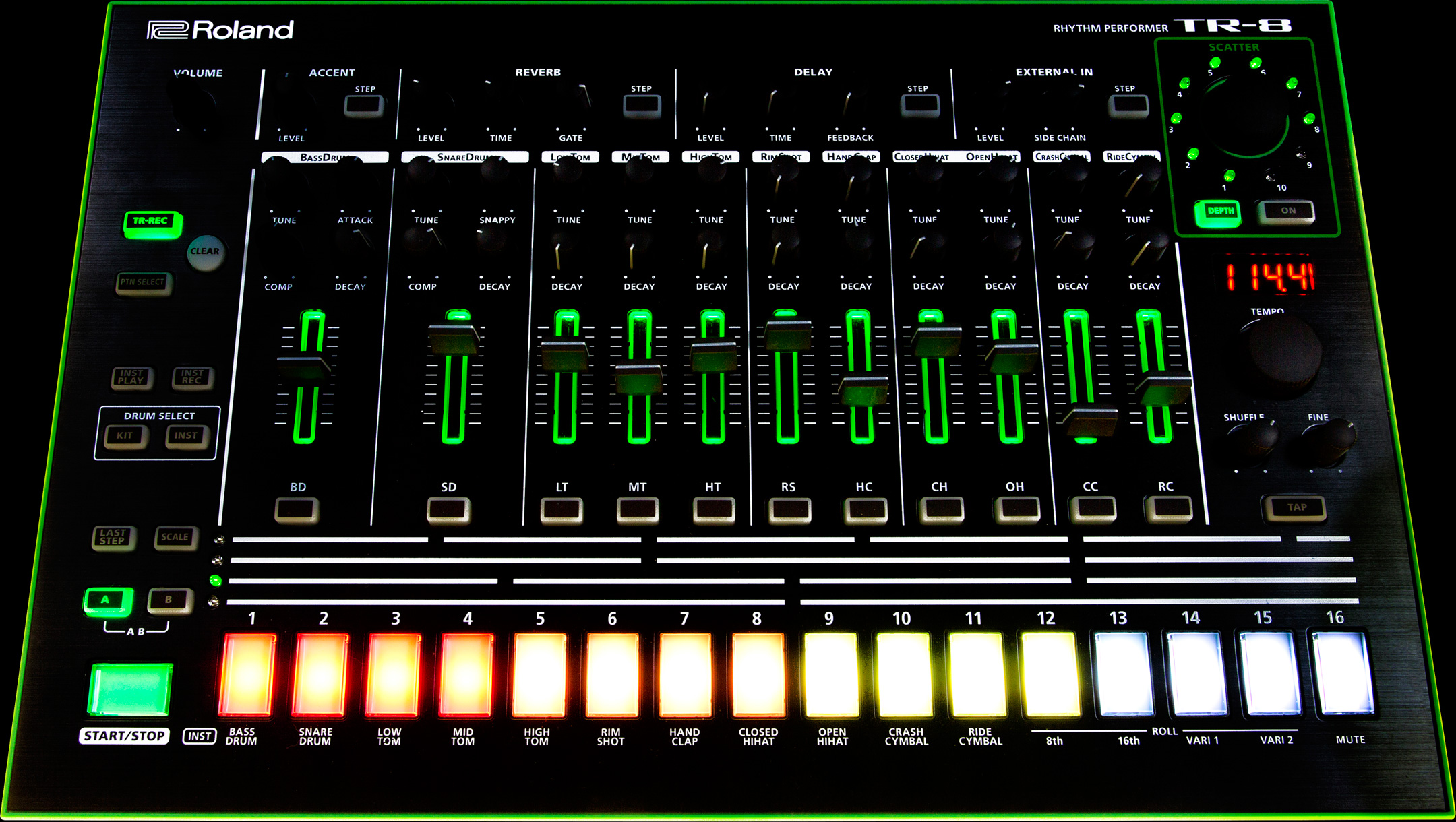 The Lineage
Unleashed upon an unsuspecting world in the 1980s, the TR-808 and TR-909 produce arguably the most influential drum sounds in modern music. Not only have they appeared on thousands of dance tracks over the course of three decades, they've helped define the sound of entire musical genres. From rap and house to techno and trance, the TR-808 and TR-909 have left an indelible mark on the art and culture of music. Roll the drums…
The Sound
In developing the TR-8, we've obsessively analyzed and faithfully recreated every detail and nuance of the analog circuitry of these legendary rhythm machines—the boom and snap of the 808; the thud of the 909; the robotic click of an 808 rim shot or a classic 909 snare roll. It's all here. But not content with mere recreations, we've enhanced these classic instruments with capabilities that go far beyond the original units.
Tune and Decay knobs are now present on every instrument, and the Bass Drum and Snare Drum have additional controls such as Attack, Snappy, and Comp. This allows for a wide variety of tones, from subtle ambient percussion to pounding dance grooves. Per-step effects and the massively addictive Scatter function take things into entirely new territory.
With the authentic tone and character of the original units and new sound-tweaking capabilities inspired by legions of users, the TR-8 breathes new life into the sounds we all know and love.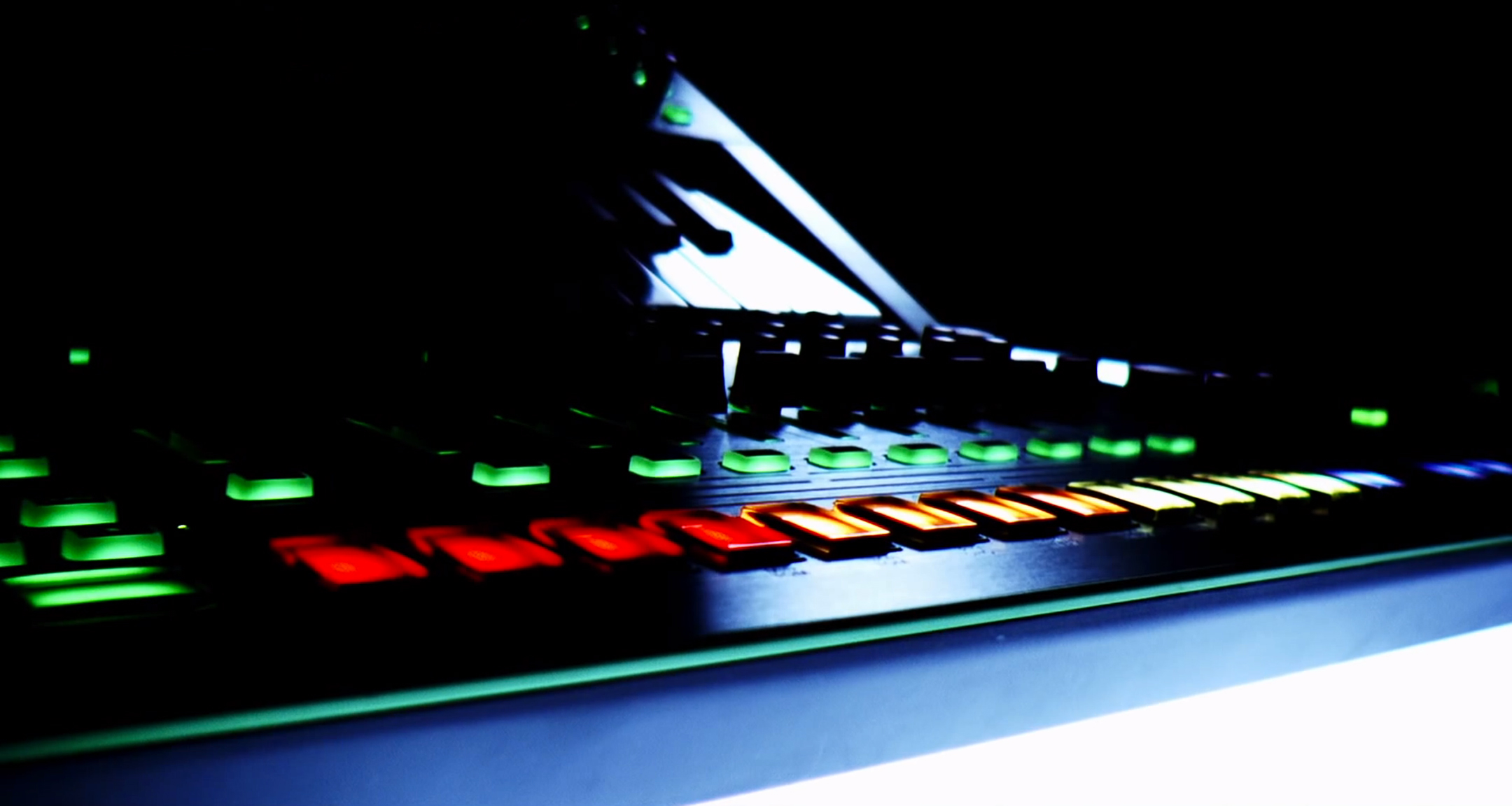 The Feel
Make no mistake—the TR-8 has been carefully designed from the ground up as an instrument to be played. Every control has a solid, predictable feel, with each drum instrument having robust, "playable" faders. Numerous lighted knobs and RGB buttons give both real-time performance feedback and a striking appearance on stage.
Pattern creation is creative and intuitive using an evolved version of the TR-REC method, which originated in the TR-808 and eventually became the standard for electronic rhythm programming. Based on detailed analysis of the original TR-808, the TR-REC behavior has been faithfully modeled in the TR-8. But the TR-8 goes well beyond the original, allowing you to seamlessly switch between programming and performance modes, and to introduce lots of groovy rhythmic variations from subtle snare fills to total glitch meltdowns.
What Is Scatter?
Scatter is a unique performance function that gives you detailed real-time control over variations in your patterns and any incoming external input signal.
Scatter can reverse, glitch, gate, truncate, stutter, and perform all manner of rhythmic variations from subtle to extreme, and all in perfect sync
Pick from 10 different types of Scatter and smoothly adjust the intensity—or "Scatter Depth"—with the large, comfortable dial
Seamlessly switch between Scatter patterns and quickly toggle Scatter on/off for cool variations when and where you want them
Try it…you'll like it!
A Few More Things
The TR-8 looks great and is designed to work seamlessly with other products in the AIRA series. In addition, you can connect the TR-8 to your computer via USB to send and receive both audio and MIDI data, including MIDI clock information for syncing with external devices and other AIRA units.
TR-8 Version 1.1 New Features
Backup and Restore
Manage your kit and pattern library with easy backup and restore over USB.
Improved Playability
Instrument Levels — Customize kits by adjusting the gain of each instrument to suit your individual style.
Better Rolls — Rolls are now easier to engage, offer more control, and sound better overall.
Scatter Latch On/Off — Alternate unlatched trigger mode engages only while "On" button is held down.
Scatter Cycle — Scatter will enable for one cycle and then automatically disengage.
Sync Reset — Get back in the groove by instantly starting a pattern from the top.
Improved Editing
Pattern Lock — Lock the contents of a pattern so you can experiment without losing your original groove.
Nonstop A/B Pattern Editing — Now you can edit both A and B parts of a pattern without stopping the sequencer.
Improved MIDI
Modes — Local On/Off and MIDI Controller modes determine how MIDI data is sent and received.
Accent Velocity — MIDI velocity is variable by the accent setting.
Kit Select — Select kits using MIDI control change messages.
Scatter — Scatter On/Off, Type and Depth can be controlled via MIDI control change.
External Record — Record patterns in real-time from external MIDI devices.
MIDI Off — Disable sending of all MIDI messages.
Ignore Play/Stop — Toggle whether or not TR-8 responds to PLAY/STOP messages.
Effect Control — Control effects using MIDI control change messages.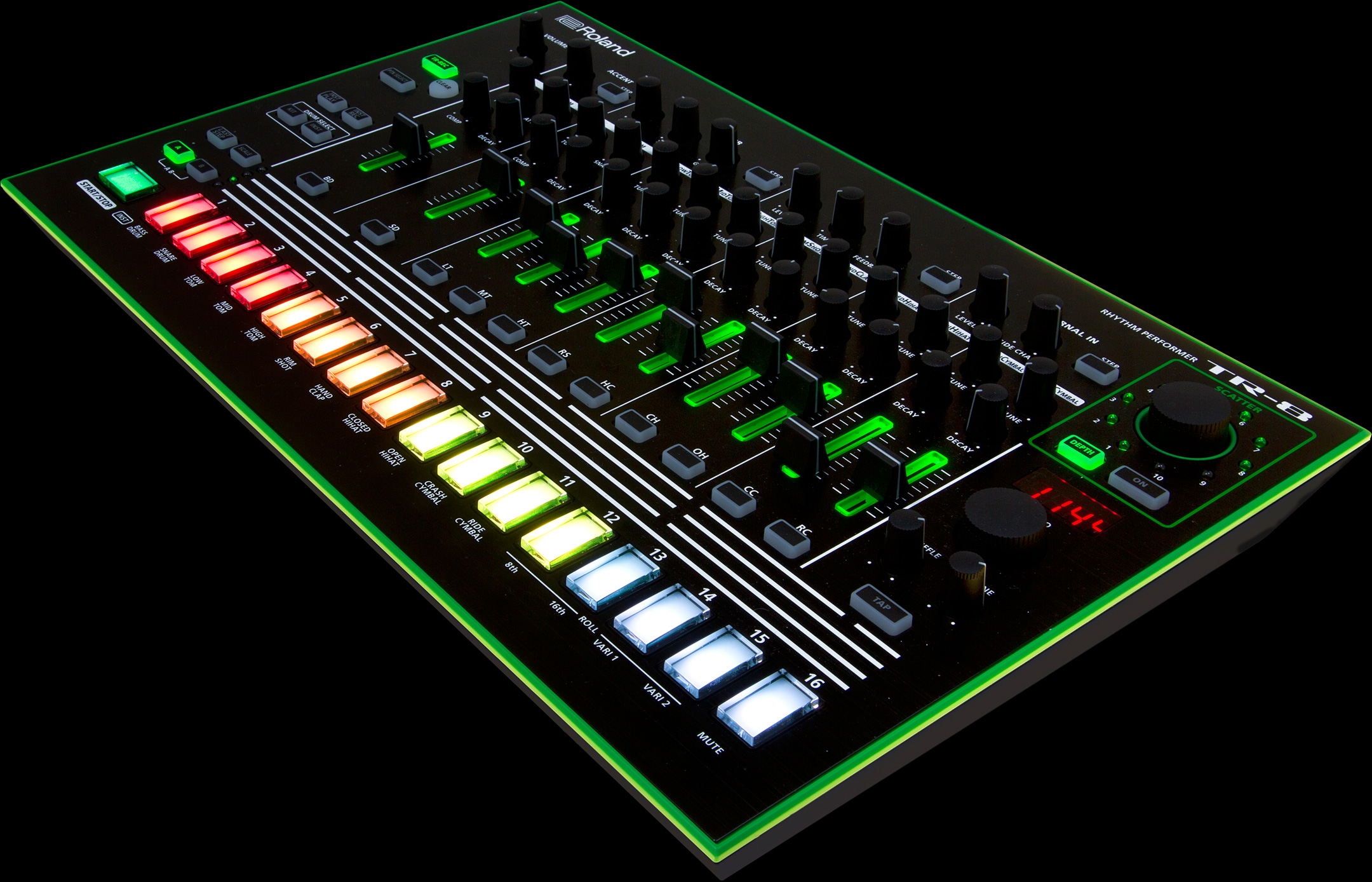 Le TR-8 est une boîte à rythme pour la scène qui allie les sons et le feeling légendaires des TR-808 et TR-909 aux fonctions et qualités d'une machine moderne. Des sons immédiatement reconnaissables et des effets classiques. Un mode de jeu en direct inédit. Des contrôleurs robustes et intuitifs. La légende TR entre dans une nouvelle génération.
Comme sur les instruments originaux
Reproduction complète des boîtes à rythme TR-808 et TR-909 originales à partir des spécifications de design d'origine, et de l'analyse détaillée des circuits analogiques de différentes générations de machines, y compris les modèles d'origine Roland
La technologie ACB (« comportement de circuit analogique »), récemment mise au point, permet l'analyse et la reproduction fidèle des timbres et des comportements, y compris les subtiles variations de tonalité qui surviennent lorsqu'on manipule les contrôleurs de chaque instrument.
Une attention obsessionnelle pour la reproduction de détails tels que les variations de timbre des TR lorsqu'on appliquait des accents sur plusieurs instruments à la fois.
Séquenceur à 16 pas authentique avec comportement TR-REC fidèle, inclus des variations de pattern A et B, et la possibilité de jouer des instruments et d'enregistrer à pas en temps réel
Les évolutions de la TR
16 kits possibles rassemblant chacun 11 types d'instruments ; Construisez les kits de vos rêves avec les différents instruments des TR-808 et TR-909
Commande Tempo large avec bouton Tap Tempo et des réglages Fine et Shuffle
Contrôlez l'intensité des accents grâce à un bouton dédié
Des effets pas à pas pour les Gate, Reverb et Delay, contrôlables en direct à l'aide de boutons dédiés
Mixez le son de vos sources externes à celui du TR-8 à l'aide de la fonction de chaînage (Side Chain) intégrée pour des effets 'ducking' et 'gating' rythmiques
Le Scatter vous permet de manipuler vos rythmes en temps réel sans perdre le groove
Affichage à 4 chiffres de 7 segments LED du tempo, avec option Tap Tempo
Création de patterns en temps réel jusqu'à la triple croche et changement de la durée de la mesure de programmation à la volée
Les modes Rec/Play ont été supprimés pour rendre la programmation et le jeu en direct plus fluides
4 types de roulements de tambour différents, déclencheables en temps réel, selon votre envie et « Mute » et « Démute » instantanés de chacun des instruments
La fonction de choix aléatoire des patterns vous rend plus créatif et apporte de la spontanéité sur scène
Deux sorties analogiques assignables et une sortie parallèle via USB, pour une grande flexibilité lors du mixage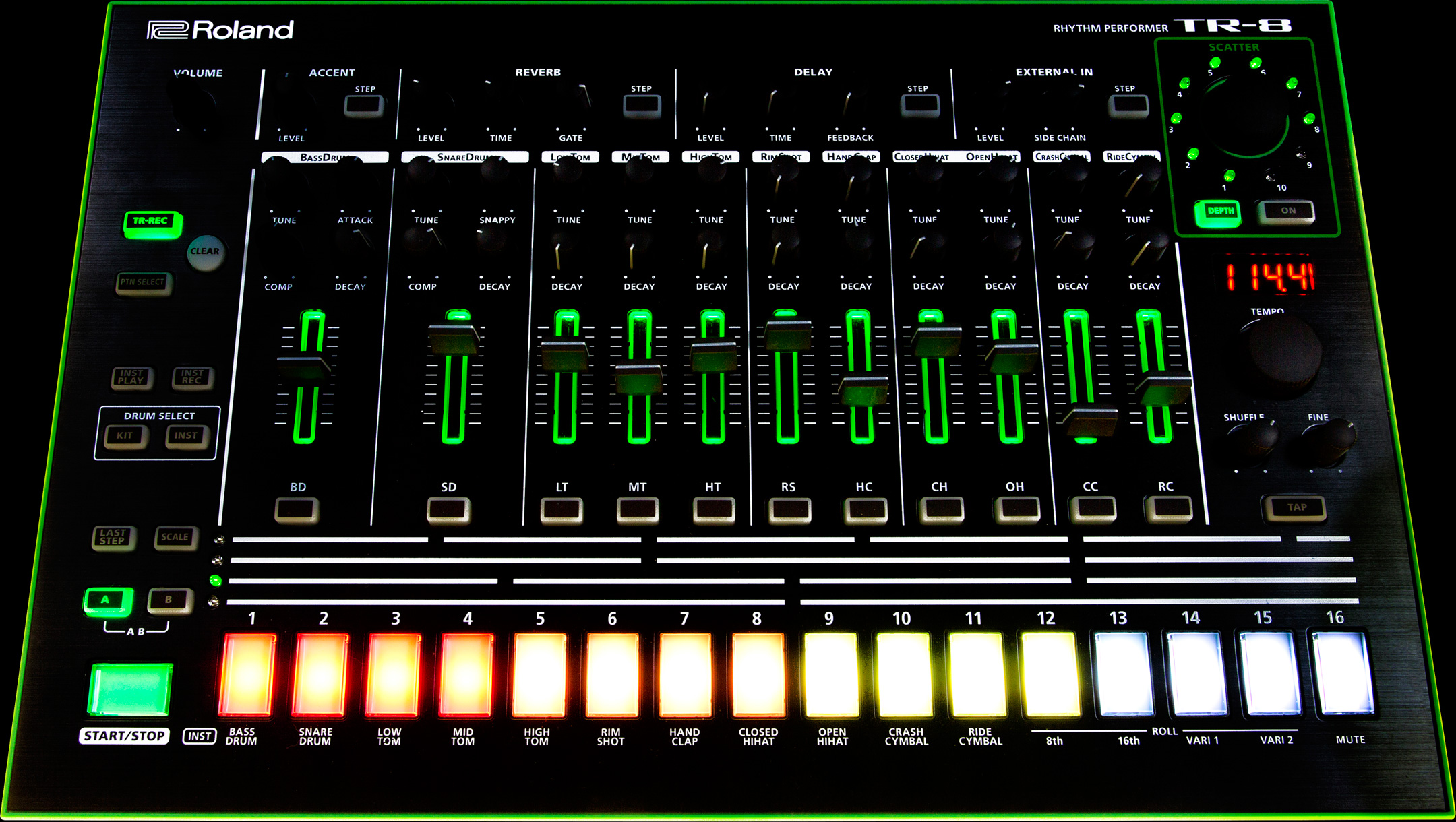 Les Ancêtres
Sorties par surprise dans lemonde de la musique dans les années 1980, la TR-808 et la TR-909 ont créé sans conteste les sons de batterie électronique les plus inspirants de la musique moderne. On ne les a pas seulement entendues dans des milliers de tubes Dance pendant une trentaine d'années : elles ont contribué à définir des styles musicaux entiers. Du Rap à la House, de la Techno à la Trance, ces deux boîtes à rythmes ont laissé une trace indélébile dans l'art et la culture musicale. Lancez le pattern.
Le Son
Pour fabriquer le TR-8, nous avons minutieusement analysé et recréé chaque détail et chaque nuance des circuits analogiques de ces boîtes à rythme légendaires. Le « boom » et le « snap » de la 808. Le « fomp » de la 909. Le clic robotique du rim-shot de la 808 ou le roulement de caisse classique de la 909. Tout y est.
Mais comme nous ne pouvions nous contenter de recréer un objet du passé, nous avons doté ces instruments classiques de possibilités bien supérieures à celles de leurs ancêtres.
Des boutons Tune et Decay équipent chaque instrument, et les modules Bass et Snaredrum intègrent des boutons « Attack » et « Comp » (compression) dédiés, permettant une grande variation des timbres pour la création de subtiles percussions d'ambiance ou de beats de danse ultrapercussifs. Des effets pas à pas et la fonction « Scatter », dont vous ne pourrez plus vous passer, vous emmèneront dans des territoires sonores entièrement nouveaux.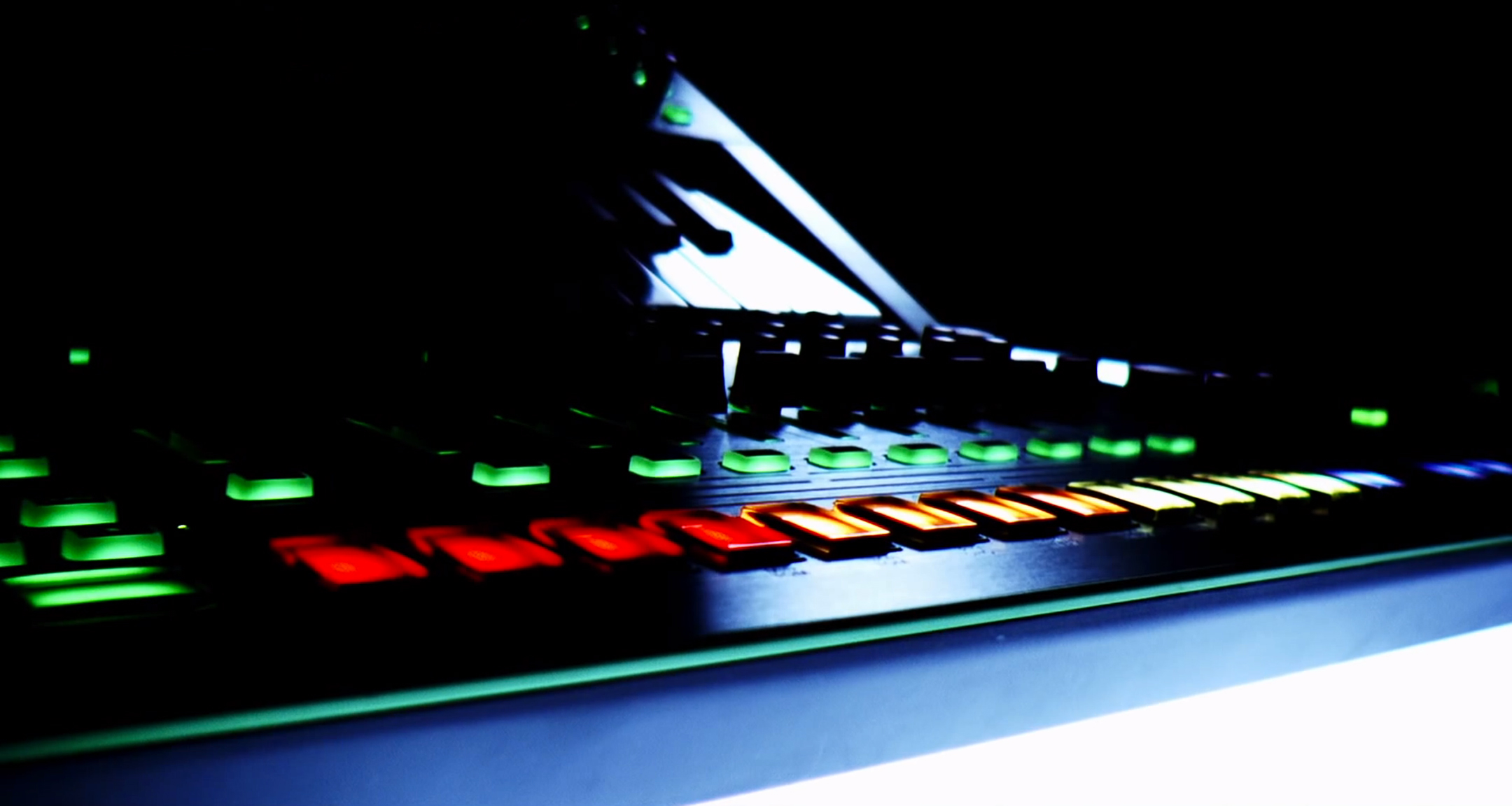 Les Sensations
Soyez-en certain, le TR-8 est un instrument, patiemment conçu pour être joué. Chaque contrôleur est solide et intuitif, chaque instrument se contrôle par un solide curseur. De nombreux variateurs et boutons éclairés rendront vos concerts spectaculaires, et vous aideront à mieux contrôler l'instrument.
La création de rythmes est intuitive grâce à la version évoluée de la méthode d'enregistrement TR-REC, lancée avec la TR-808 et devenue depuis le standard en programmation de rythmes électroniques. Après analyse détaillée de la TR-808 originale, le comportement du TR-REC a été pieusement modélisé dans le TR-8. Mais ce dernier va encore plus loin que son ancêtre, vous permettant de passer subtilement de la programmation au jeu en direct, et d'introduire de nombreuses variations rythmiques, du roulement de caisse claire subtil à l'avalanche de toms et de cymbales.
A propos du Scatter?
Le Scatter est une fonction de jeu unique qui vous procure le contrôle détaillé en temps réel sur les variations de vos patterns ou de n'importe quel signal d'entrée externe
Le Scatter peut produire des effets Reverse, Gate, dégrader ou faire balbutier vos rythmes de manière subtile ou extrême, sans jamais leur faire perdre le groove.
Choisissez l'une des 10 options de Scatter et ajustez l'intensité de « profondeur de Scatter » grâce au gros sélecteur.
Passez d'un pattern traité au Scatter à l'autre et mettez l'effet On ou Off pour multiplier les variations à loisir.
Essayez-le. Vous l'adorerez
Quelques informations supplémentaires
Le TR-8 est conçu pour être associé aux autres produits de la gamme AIRA. Vous pouvez connecter le TR-8 à votre ordinateur grâce à son câble USB pour envoyer et recevoir des données audio ou MIDI. Le TR-8 peut recevoir des informations MIDI Clock pour se synchroniser avec d'autres machines, y compris les autres instruments AIRA.
TR-8 Version 1.1 – Nouveautés
Sauvegarde et restauration
Gérez plus facilement votre librairie de kits et patterns grâce à la sauvegarde et restauration par USB.
Jouabilité améliorée
Niveaux d'instruments : customisez vos kits en ajustant le gain de chaque instrument en fonction de votre propre style.
Meilleurs roulements : Les roulements (Rolls) sont désormais faciles à enclencher, offrent plus de contrôle, et sonnent globalement bien mieux.
Fonctionnement du bouton Scatter (Latch On/Off ): le fonctionnement « Unlatch » est effectif uniquement si le bouton « On » est pressé.
Cycle de Scatter : le Scatter s'enclenche pour un seul cycle puis se désactive automatiquement.
Reset de synchro : reboostez votre groove en relançant le pattern depuis le début.
Édition améliorée
Verrouillage de pattern : verrouillez le contenu d'un pattern pour pouvoir expérimenter sans perdre votre programmation d'origine.
Édition de pattern A/B sans arrêt : vous pouvez maintenant éditer les parties A et B d'un pattern sans arrêter le séquenceur.
MIDI amélioré
Modes : Les modes Local On/Off et MIDI Controller déterminent de quelle manière sont reçues et envoyées les données MIDI.
Vélocité d'accent : la vélocité MIDI varie en fonction du réglage d'accent.
Sélection de kit : sélection des kits en utilisant des messages de Control Change MIDI.li>
Scatter : lancement et arrêt, type et profondeur du Scatter peuvent être contrôlés par des messages de Control Change MIDI.
Enregistrement de source externe : enregistrez en temps réel des patterns joués sur des appareils MIDI externes.
MIDI Off : annule l'envoi de tout message MIDI.
Ignore Play/Stop : choix de la réponse ou non du TR-8 aux messages PLAY/STOP.
Contrôle d'effet : contrôle des effets par des messages de Control Change MIDI.