The Total-Immersion, Authentic Grand-Piano Experience
With its groundbreaking approach to grand-piano modeling, and incredibly realistic sound, touch, and response, Roland's V-Piano has earned many international awards and accolades since its debut in 2009. It has become the #1 choice for many of the most discerning pianists on the planet. So how does the V-Piano evolve? Introducing the V-Piano Grand! Built into an elegant grand-piano cabinet, and with a unique, multi-channel sound system that reacts naturally and intelligently to your performance, this exquisite instrument blurs the line between digital and acoustic worlds. Stepping up from the previous generation, the V-Piano Grand's sound generator has been further refined, and new piano models have been added to the onboard library. Welcome to a new world of performance, sophistication, and musical innovation.
Roland's revolutionary V-Piano modeling technology in a grand cabinet
Onboard multi-channel sound system for true acoustic grand-piano sound
Deluxe PHA III Ivory Feel Keyboard with Escapement
Progressive Damper Action pedal for true acoustic grand-piano response
Elegant, traditional grand-piano cabinet design
New modeled pianos onboard fully optimized for the V-Piano Grand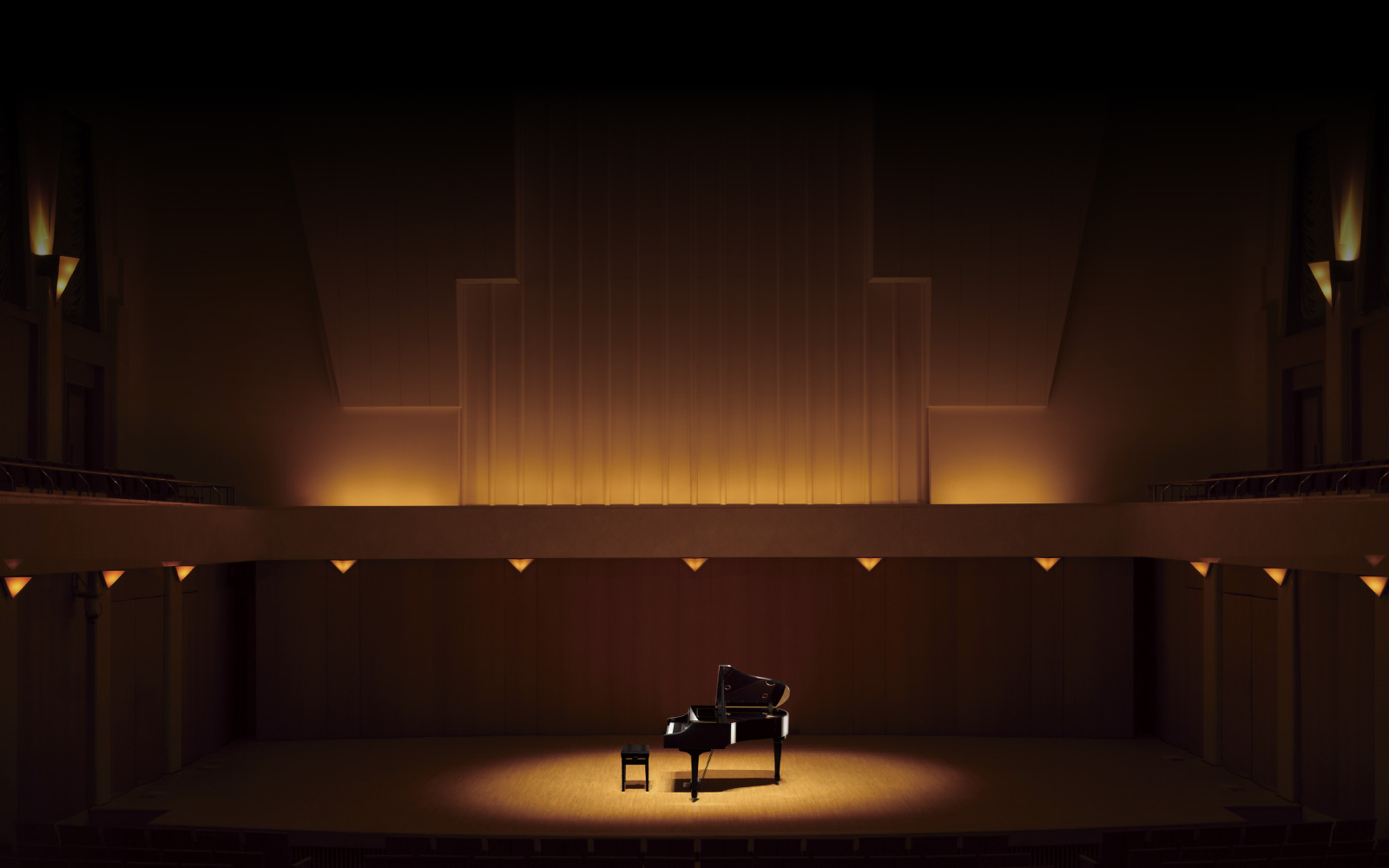 Living Piano
The V-Piano Grand soars above the limitations of past technologies with its revolutionary "living" piano core, allowing every note to respond and evolve naturally, seamlessly, and perfectly. With the V-Piano Grand, there is no velocity switching or looping, resulting in smooth, natural notes that must be heard to be believed. Organic, natural, beautiful — the V-Piano Grand is a dream to play.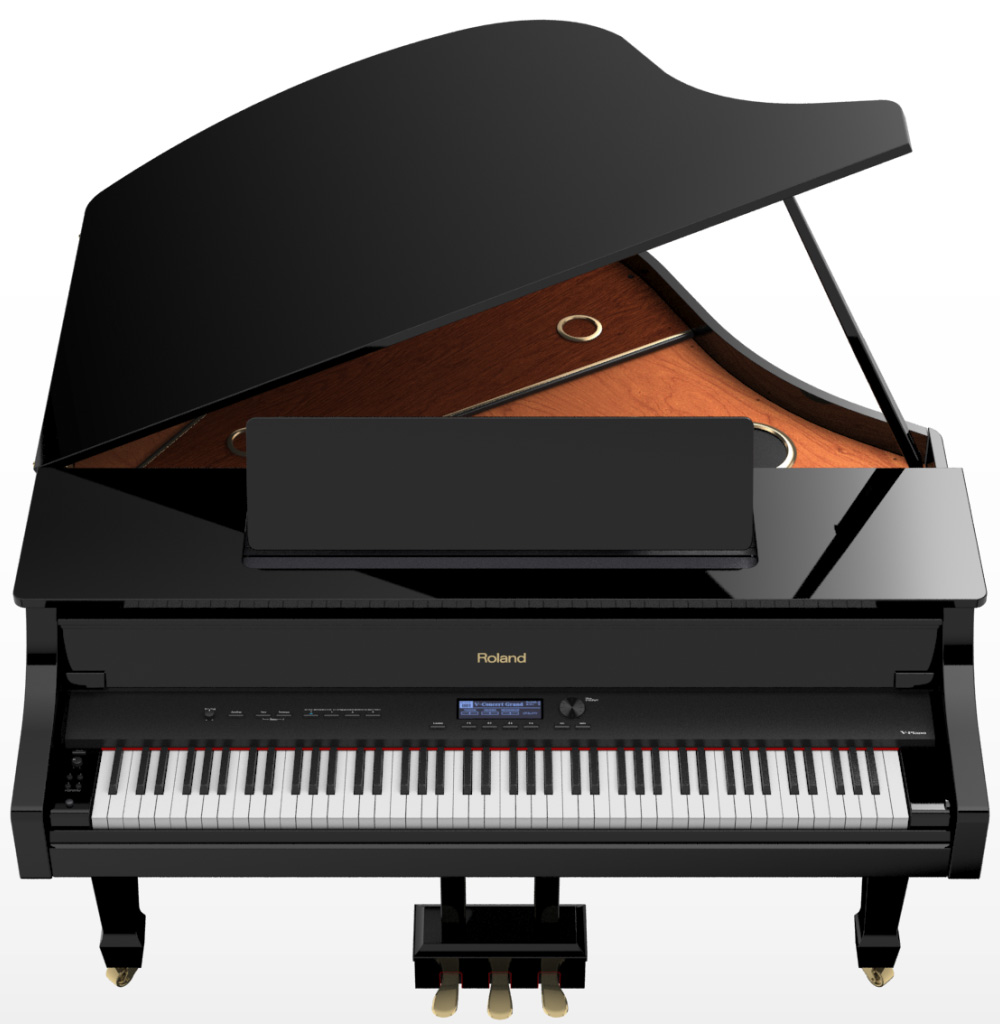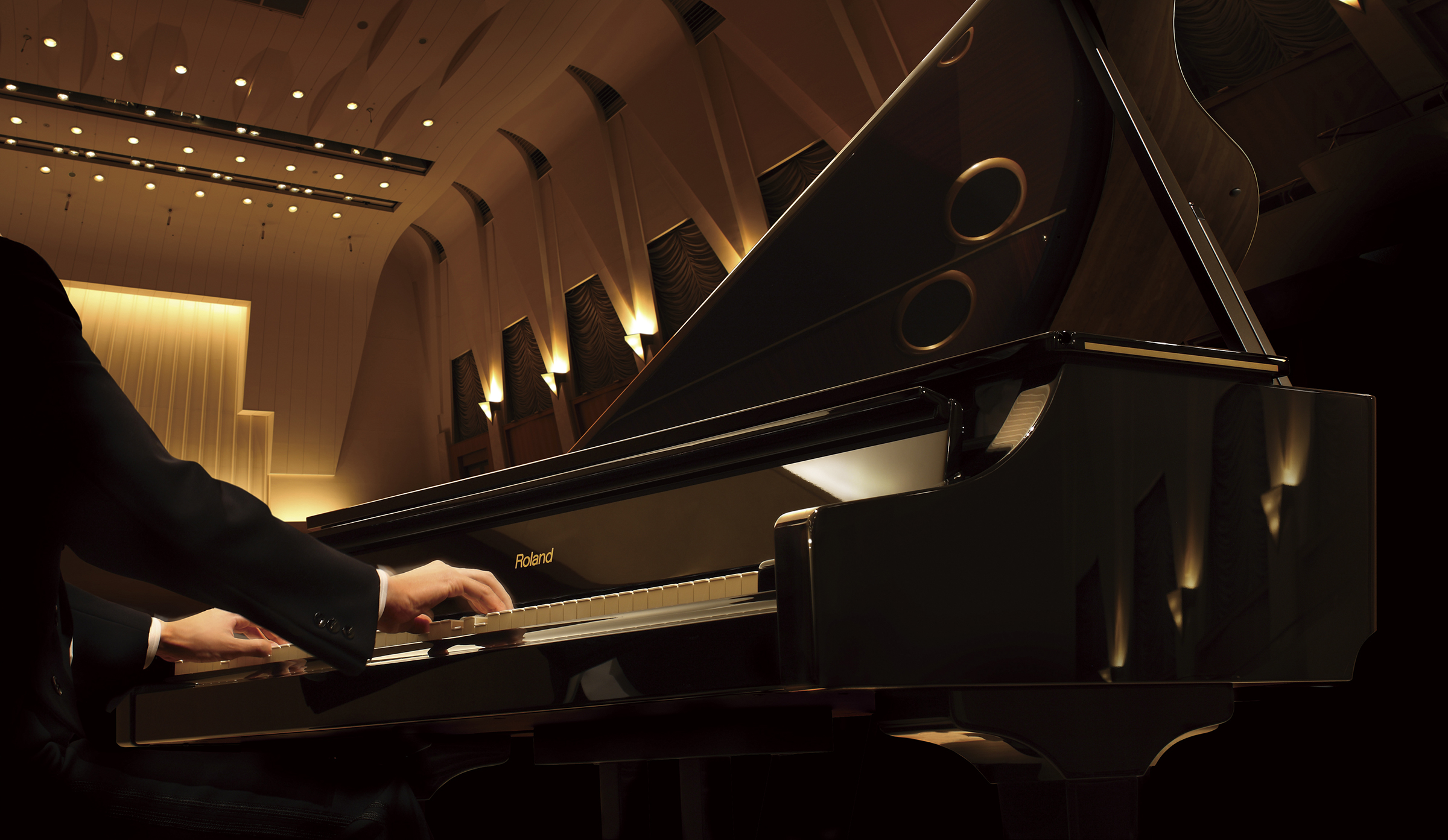 Amazing Spatial Sound
Unlike any instrument before, the V-Piano Grand's built-in sound system employs intelligent multi-channel audio technology that fills the room with amazing spatial sound in which the player and audience may not be aware of the existence of speakers. Each and every component of the piano sound is allocated to the appropriate location immediately, changing fluidly and naturally based on the performance. From the player's perspective, hammer-clicks sound closer, for example, and ringing strings are at a distance. Each element is allocated intelligently in real time to create a wide, multi-dimensional sound space. This sound image is true to the player's perspective, as well as to listeners. Furthermore, sound spaces are uniquely created for each piano model. This amazing feature is unique to the V-Piano Grand.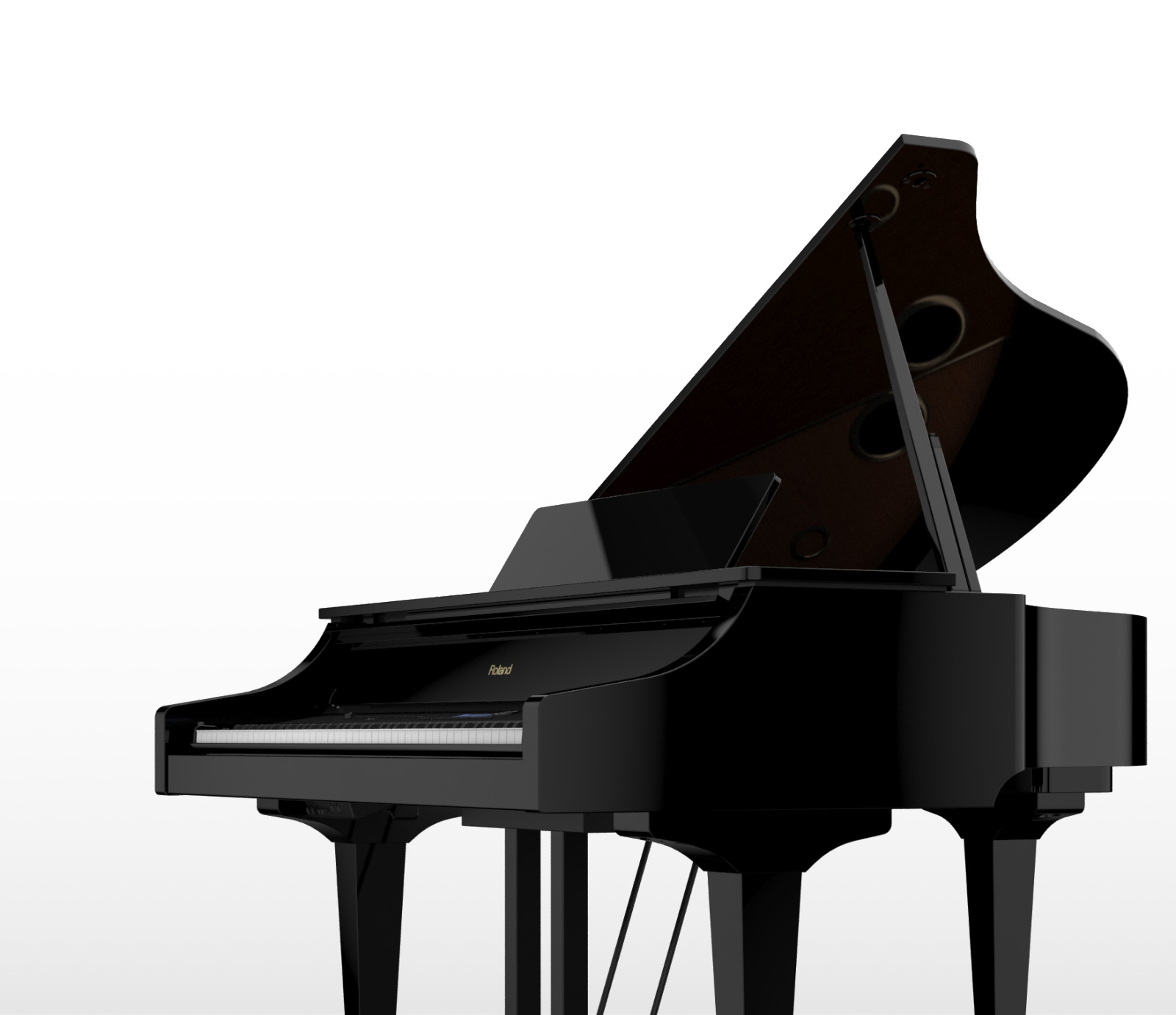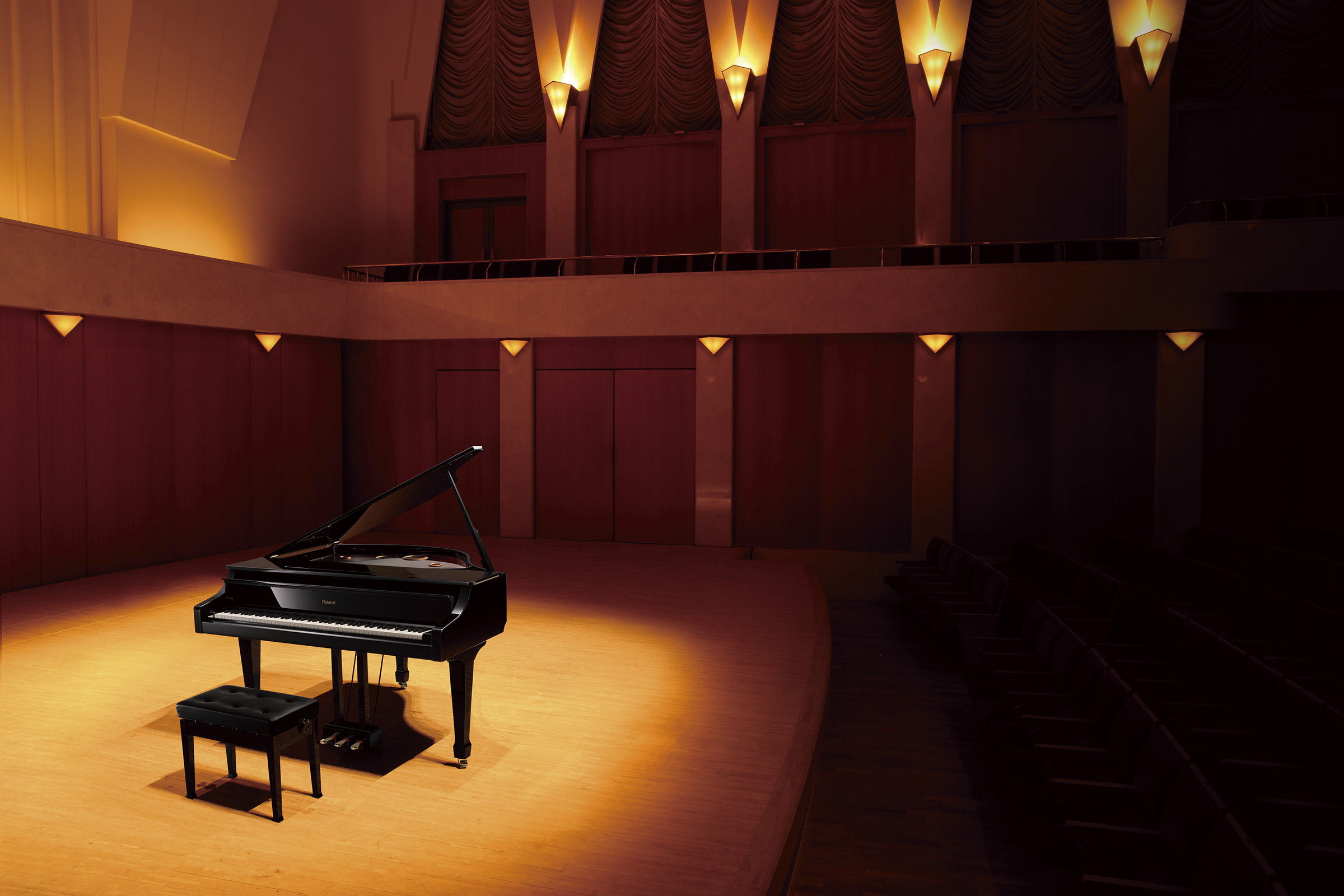 Sound Designer
With the V-Piano Grand you can choose from beautifully-crafted Vintage piano-model presets to futuristic Vanguard selections, or you can create your own custom collection. Vary the hardness of the virtual hammer felts, and experiment with exotic string configurations, tunings, and materials, such as all-silver triple strings for every key. Put a world-famous grand under your fingertips or play a futuristic piano that has never been heard before.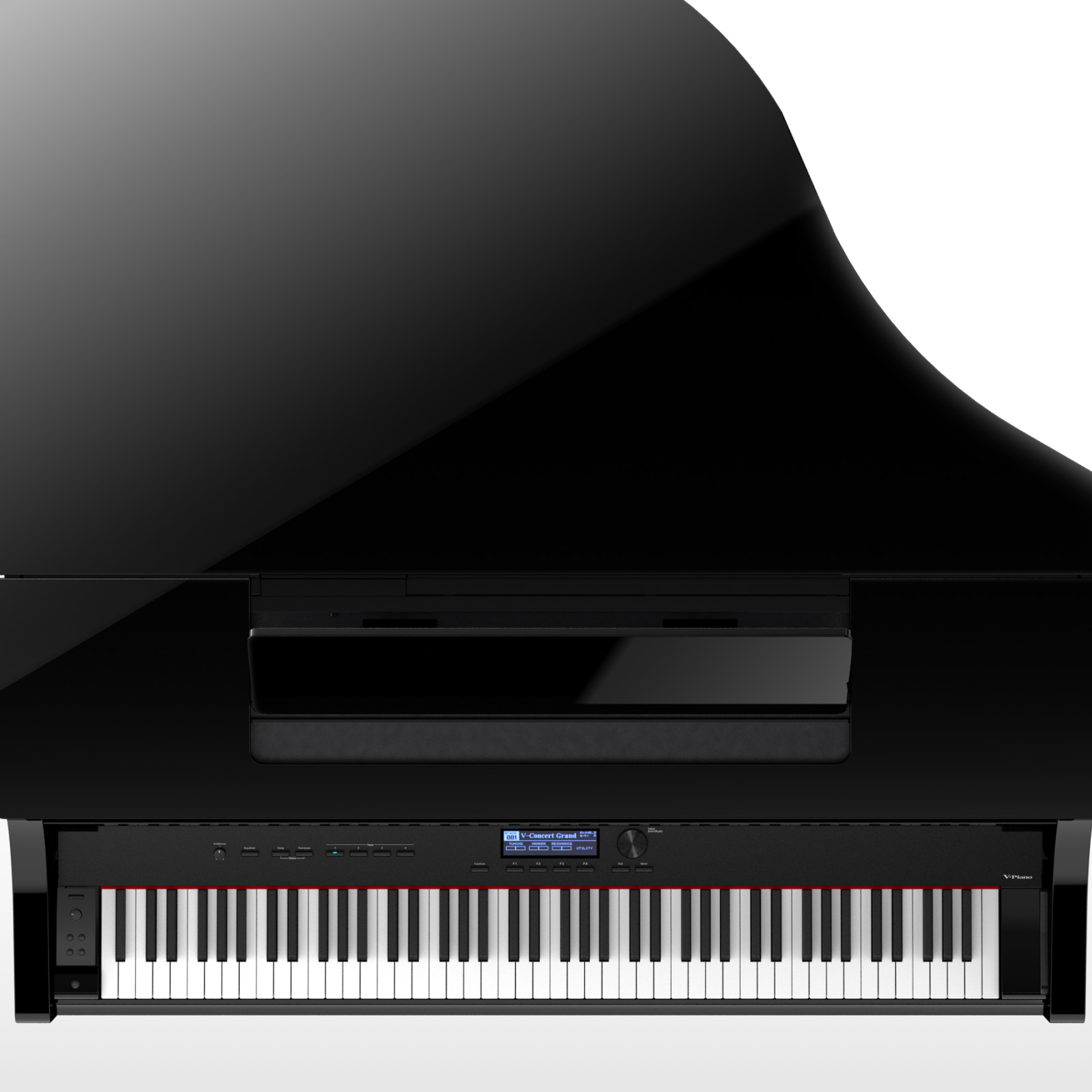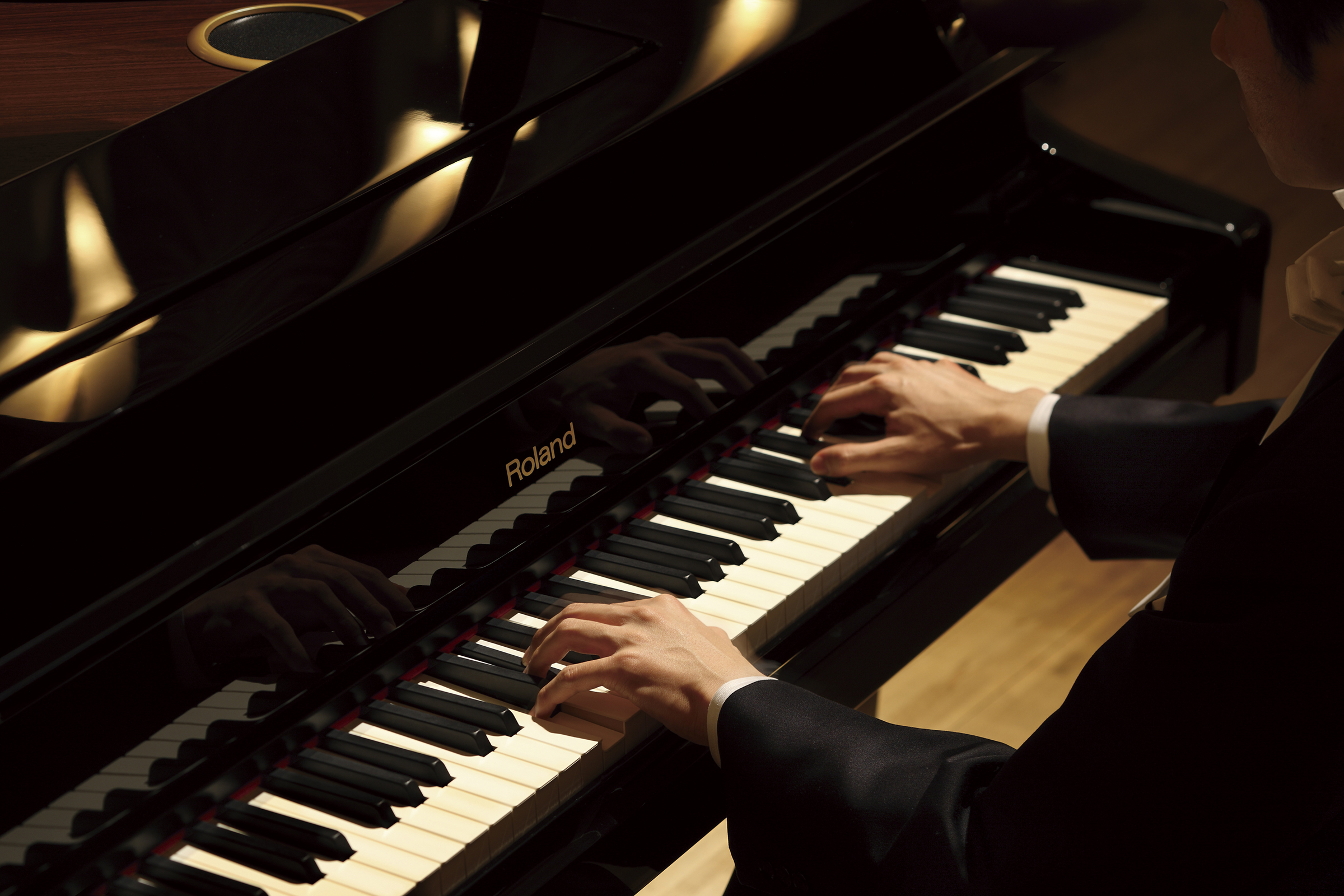 Innovative Cabinet Construction
In a Roland first, the V-Piano Grand lets you enjoy the aesthetic beauty of the mirror-finished fallboard while also concealing the control panel. In addition, the fallboard can function as a sliding lid. In the past, Roland digital pianos had either a fallboard or sliding-type lid. The V-Piano Grand combines the two, offering a beautiful fallboard that can also achieve the classic position. When the key lid is fully opened, it lets you see the control panel. If you want to conceal the control panel, the lid can slide horizontally, keeping the fallboard open (standing up). The music rest can be folded, so when the lid is closed and music rest is folded, the top of the V-Piano Grand becomes flat.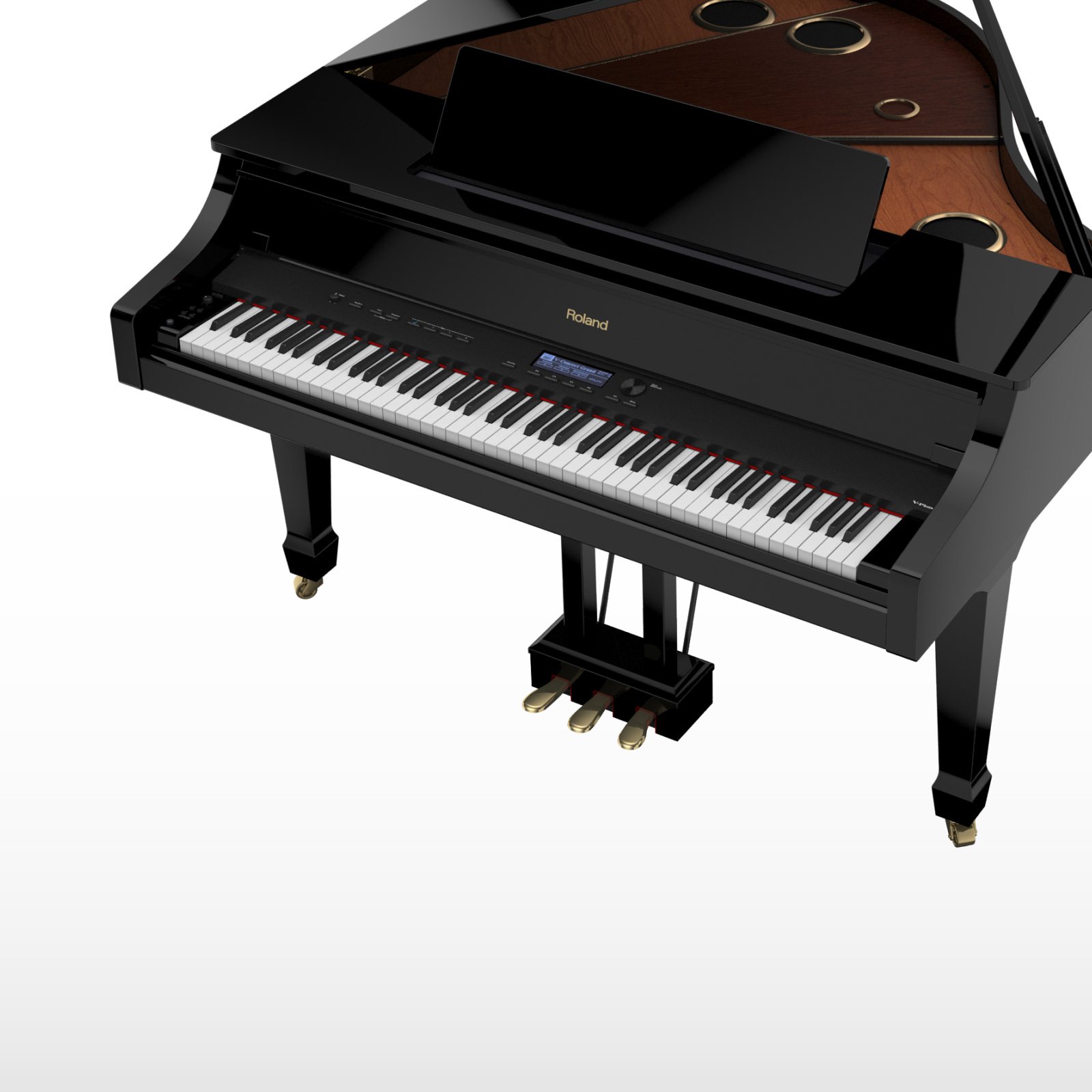 The Total-Immersion, Authentic Grand-Piano Experience
Avec une approche entièrement repensée de la modélisation de piano à queue mais aussi avec des sonorités, une dynamique et une réponse d'un réalisme inégalé, le V-Piano de Roland s'est vu décerner une kyrielle de prix et de distinctions depuis sa sortie début 2009. De nombreux pianistes, parmi les plus exigeants de la planète, n'en veulent plus d'autre. Un seul instrument pouvait encore surpasser le V-Piano… Le V-Piano Grand, Ce magnifique piano à queue, doté d'un système d'amplification multicanal unique en son genre, réagit aussi naturellement qu'intelligemment à votre jeu et gomme les différences entre instruments numériques et acoustiques. Le V-Piano Grand ne se contente pas de conférer un habit de cérémonie à un générateur de sons exceptionnel: la technologie elle-même a encore été améliorée et de nouveaux modèles ont été ajoutés. Bienvenue donc dans ce nouvel univers alliant sophistication et musicalité débridée.
La technologie de modélisation révolutionnaire V-Piano de Roland dans un superbe piano à queue
Système d'amplification multicanal pour une restitution extraordinaire des sonorités d'un piano à queue acoustique
Clavier PHA III «Ivory Feel» avec double échappement
Pédale forte à effet continu offrant une réponse identique à celle d'un piano de concert
Toute l'élégance d'un superbe piano à queue traditionnel
Nouveaux modèles de piano taillés sur mesure pour le V-Piano Grand
*Banquette réelle peut varier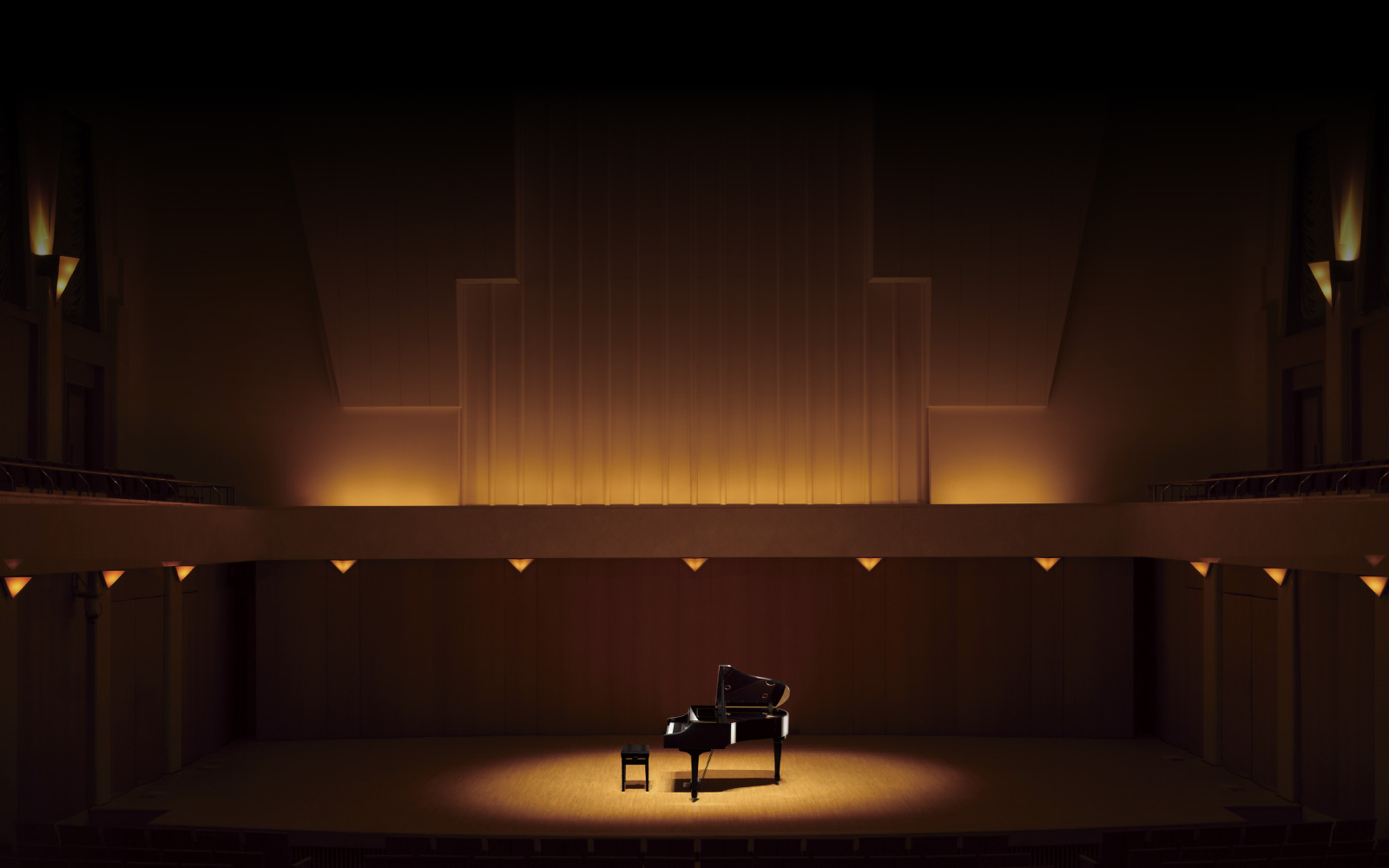 Un instrument dans l'âme
Le V-Piano Grand va bien au-delà des limites imposées par les technologies du passé et restitue l'âme même de ses homologues acoustiques en permettant à chaque note de répondre et d'évoluer de façon naturelle, fluide et parfaite. Avec le V-Piano Grand, les commutations par toucher ou les boucles appartiennent au passé et laissent la place à des sonorités absolument inimaginables. D'un naturel et d'une beauté hors du commun, le V-Piano Grand offre un plaisir de jeu incomparable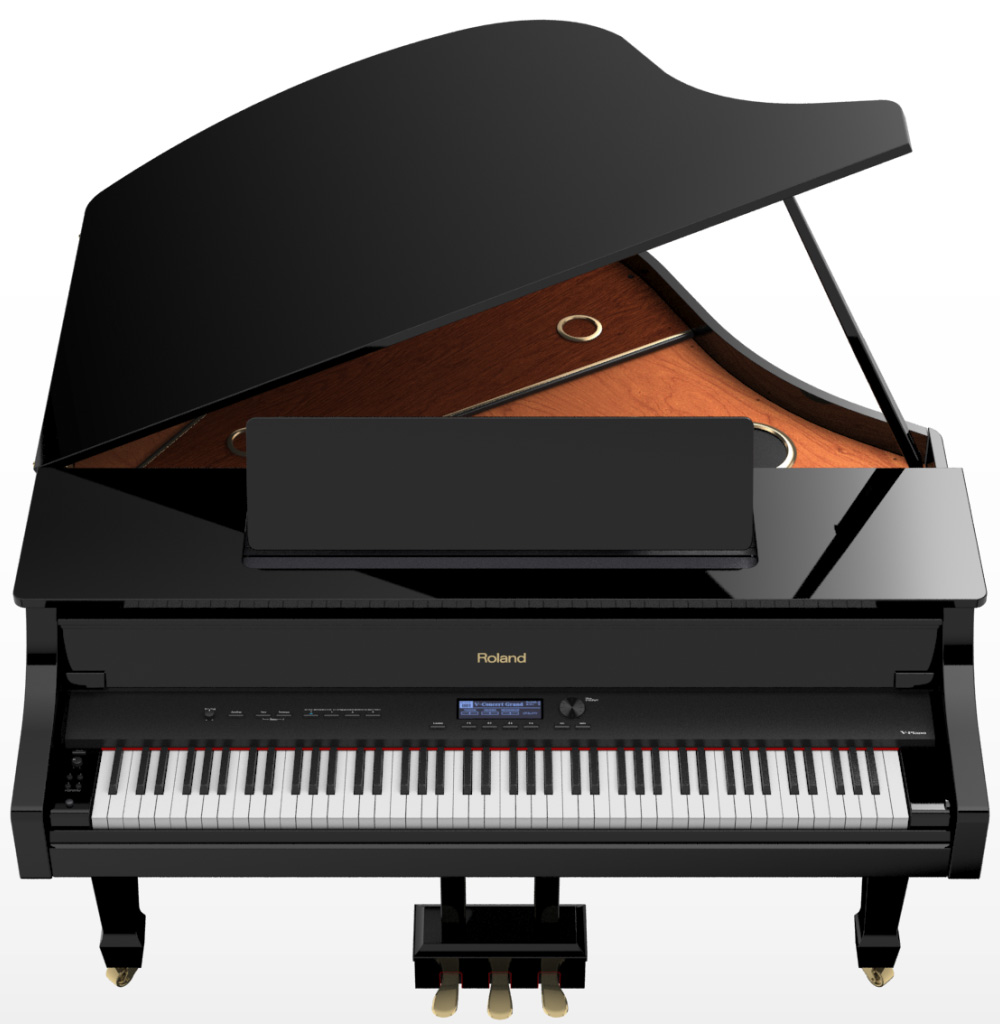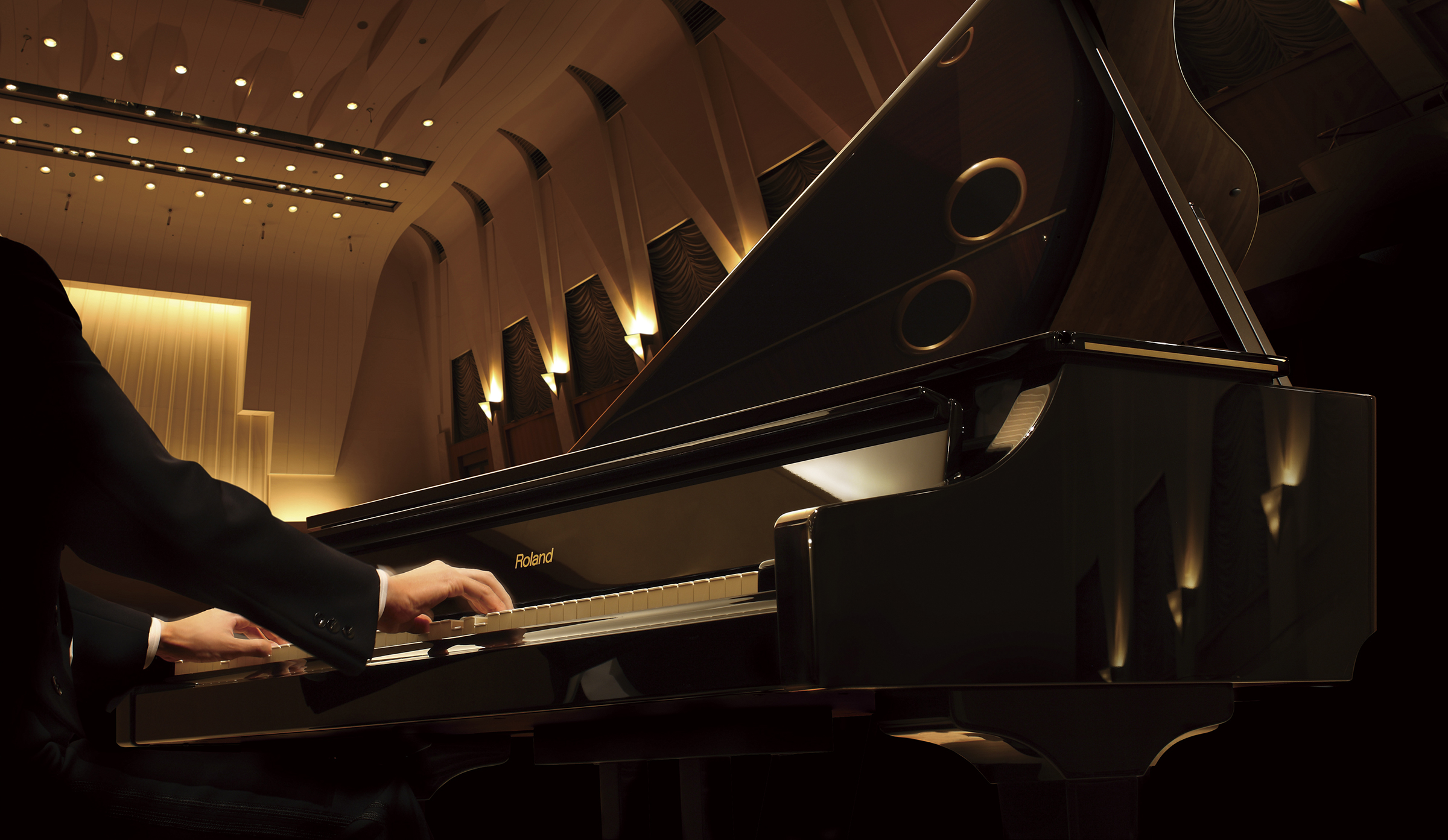 Un son envahissant l'espace
A la différence de ses prédécesseurs, le V-Piano Grand exploite une technologie audio multicanal intelligente qui emplit l'espace de ses sonorités sans que le pianiste ou le public ne soupçonne la présence de haut-parleurs. Tous les éléments constitutifs du son de piano sont rendus à l'endroit «acoustiquement correct» et varient subtilement en fonction du jeu du musicien pour offrir une profondeur sonore parfaitement naturelle. Le pianiste entend, par exemple, les bruits de marteaux plus près de lui par rapport aux vibrations des cordes qui sont un peu plus éloignées. Cette répartition spatiale intelligente est effectuée en temps réel pour générer un vaste espace sonore multidimensionnel. L'image sonore est d'un tel réalisme, tant du point de vue du musicien que du public, qu'il est difficile d'imaginer que cet instrument puisse être numérique… Cette restitution de l'espace sonore est propre à chaque modèle de piano et constitue encore un autre trait distinctif du V-Piano Grand.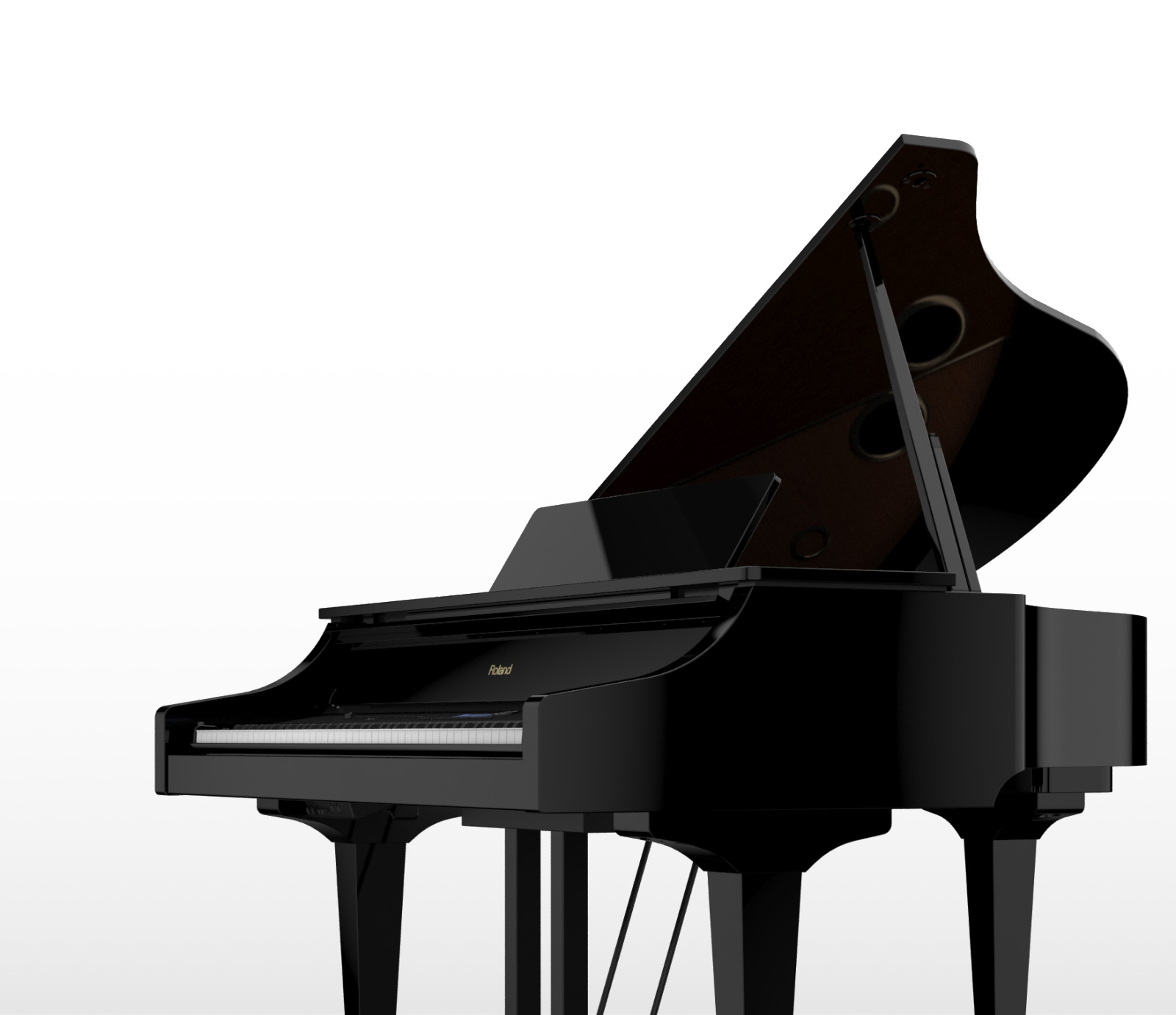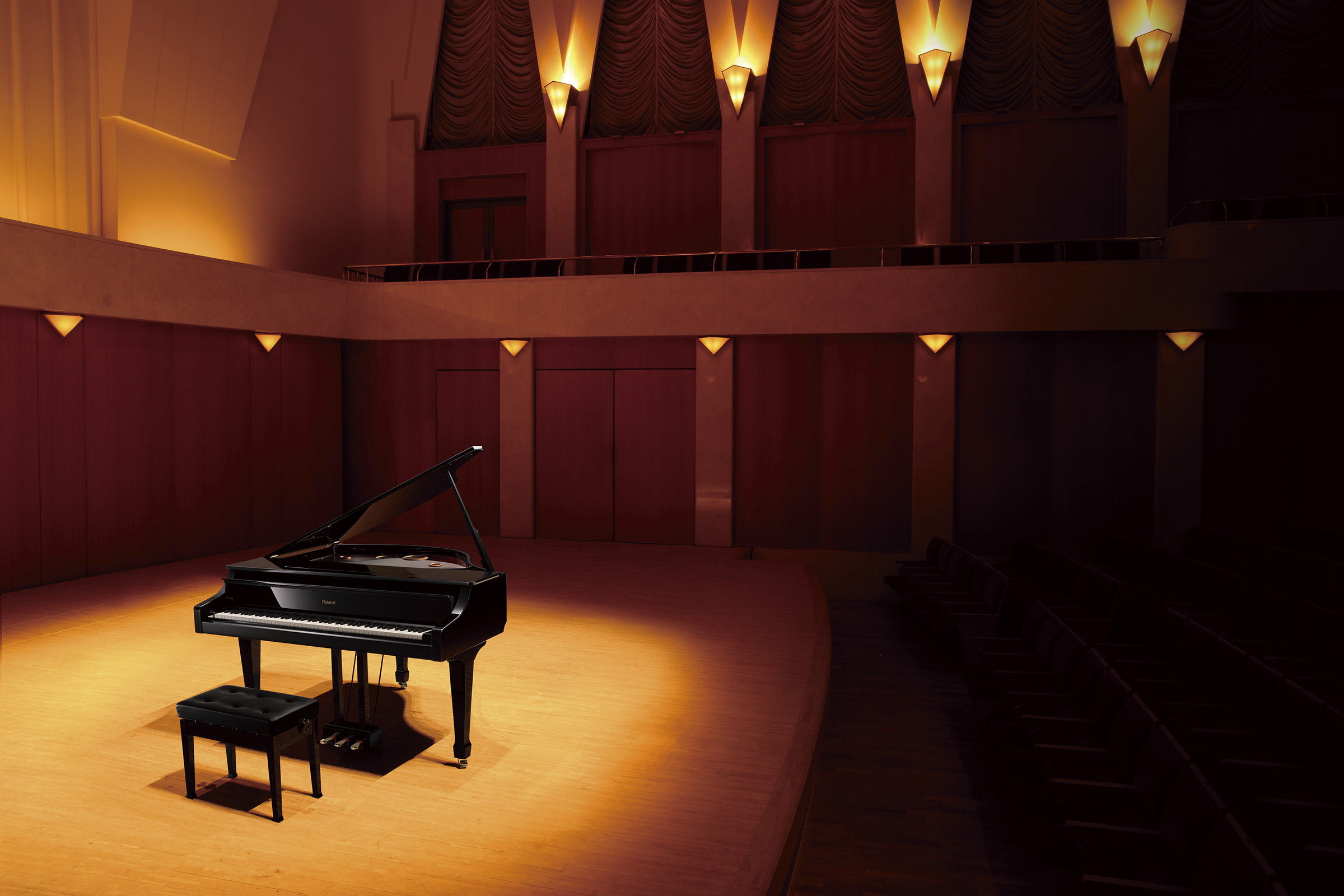 Sound Designer
Le V-Piano Grand propose des modèles de piano «Vintage» dont la richesse n'a rien à envier à ses plus beaux homologues acoustiques ainsi que d'audacieux modèles futuristes «Vanguard». De plus, il vous permet de vous constituer une collection personnelle de sons. A cette fin, vous pouvez, par exemple, modifier la dureté des feutres des marteaux virtuels ou essayer des configurations inédites de cordes avec des accords et des matériaux nouveaux (comme des triples cordes filées d'argent pour toutes les touches). Jouez alternativement sur un piano à queue célèbre dans le monde entier et sur un instrument futuriste qui décoiffe votre public.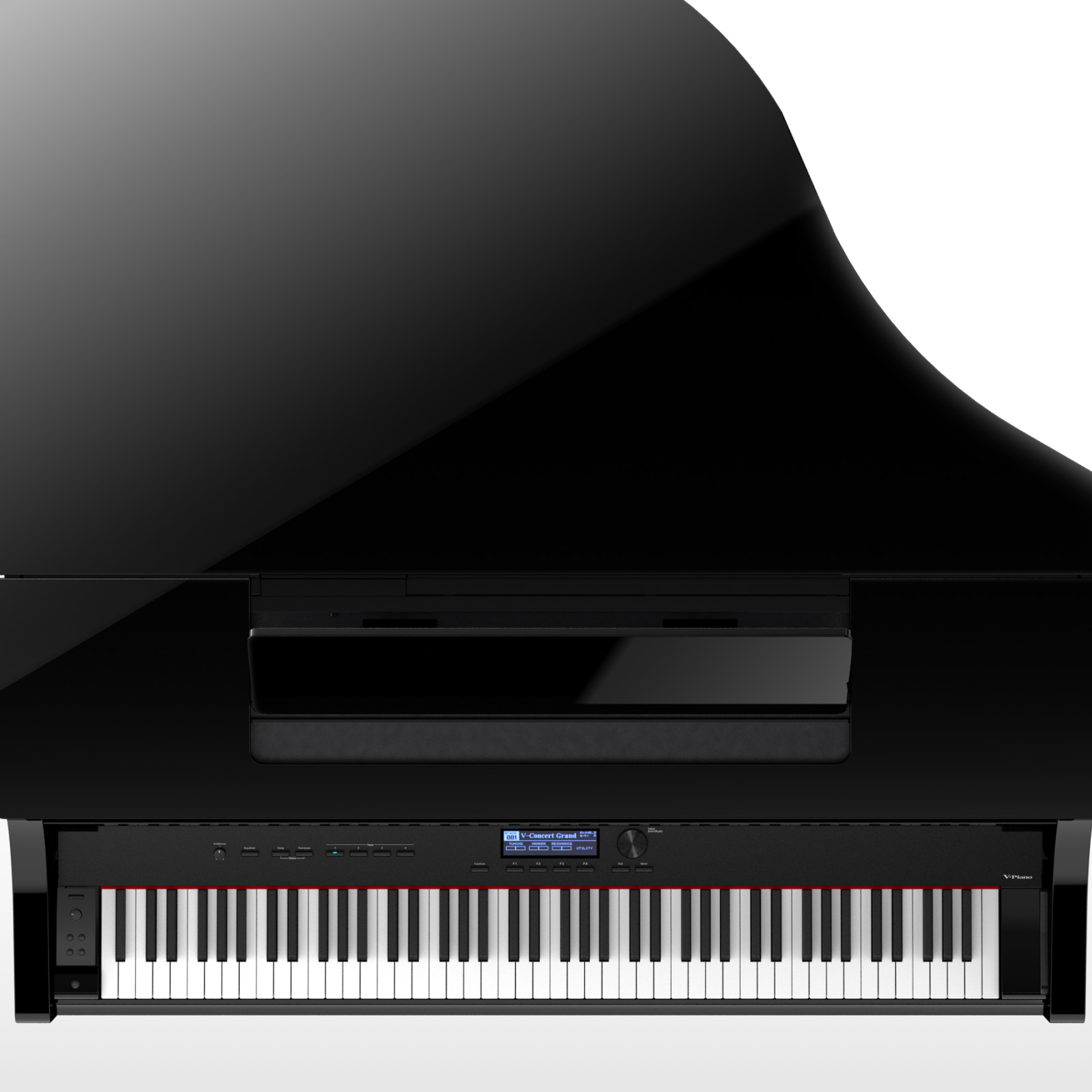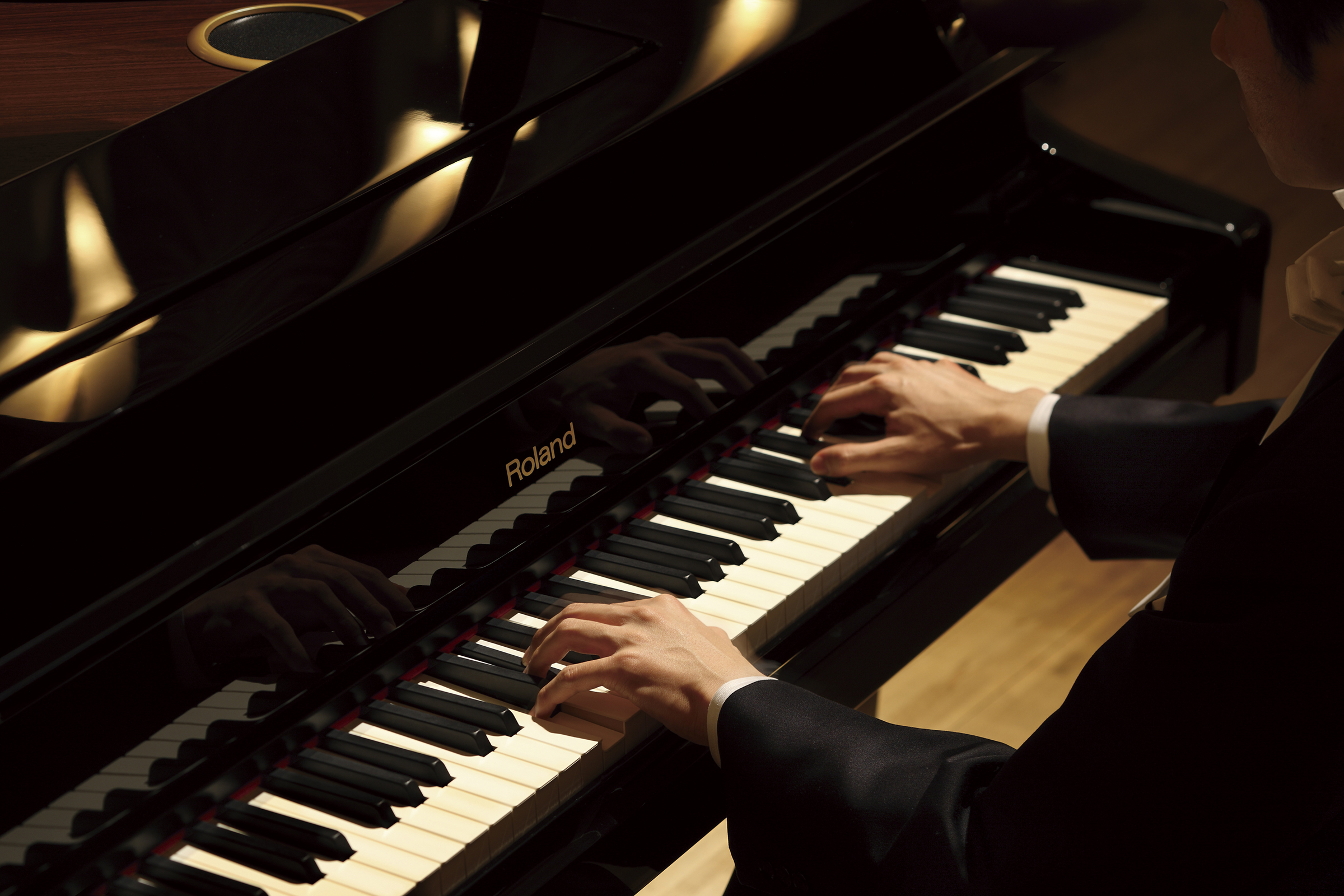 Elégant et novateur
Le V-Piano Grand est doté d'un couvercle de clavier rabattable en finition brillante permettant de masquer le panneau de commandes. Ce couvercle peut aussi se muer en couvercle coulissant. Jusqu'à présent, les pianos Roland disposaient soit d'un couvercle de clavier rabattable, soit d'un couvercle coulissant. Le V-Piano Grand combine les deux pour offrir l'image d'un superbe couvercle de clavier en position classique. Ce n'est qu'en faisant coulisser entièrement le couvercle vers l'intérieur que vous découvrez le panneau de commandes. Si vous préférez le masquer, il suffit de faire glisser le couvercle rabattu légèrement vers l'avant. Le pupitre peut être rabattu. Ainsi, quand le couvercle est fermé et le pupitre rabattu, le dessus du V-Piano Grand offre une surface parfaitement plane.