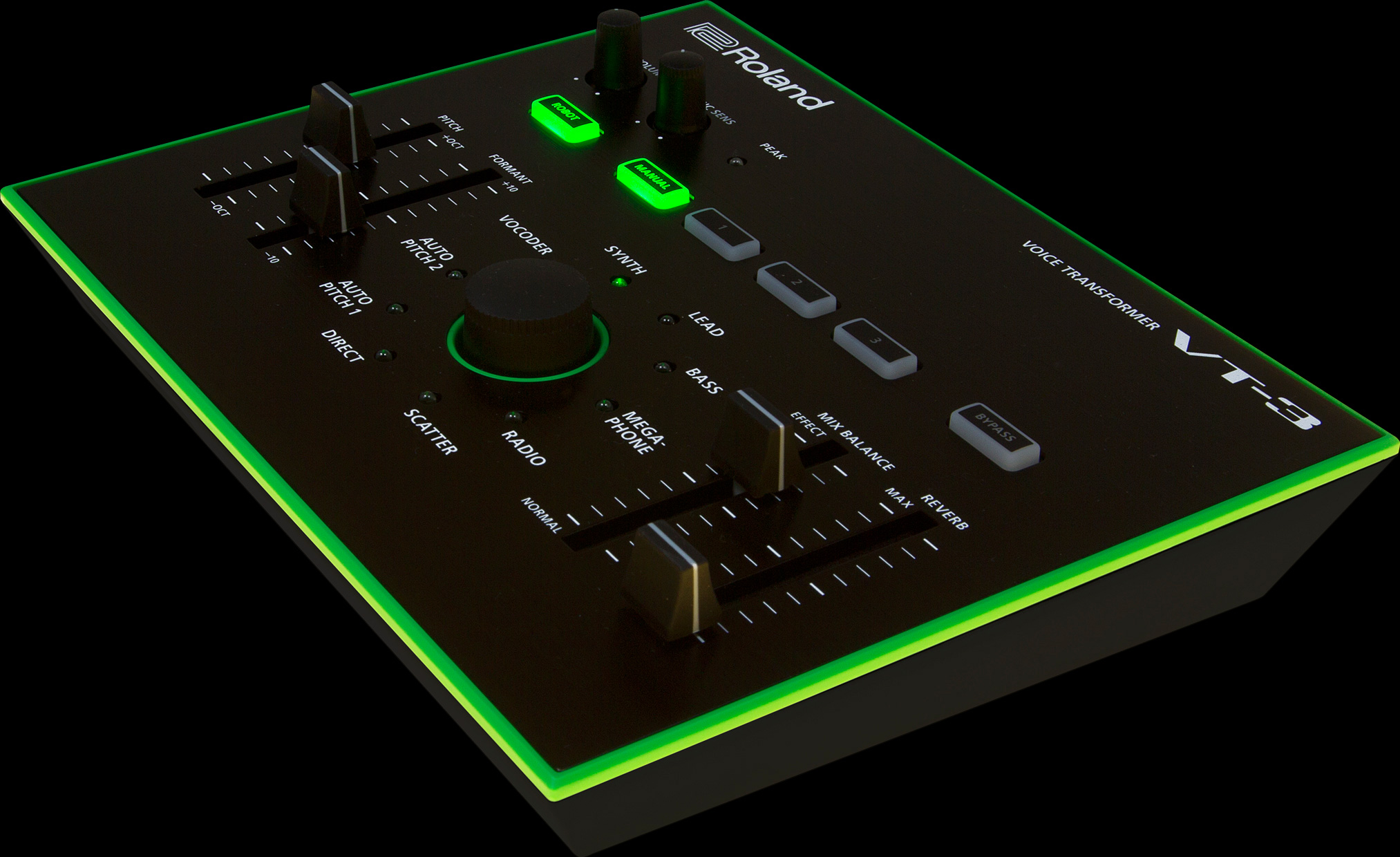 Aggressively processed vocals are common in electronic music today, but producing these effects easily and reproducing them live has been a challenge —until now. With the VT-3 Voice Transformer, you can smoothly alter pitch and formant in real time to introduce heavily processed vocal sounds into your studio tracks and stage performances with zero hassle. On top of that, the VT-3 looks great and works seamlessly with other products in the AIRA series.
Create heavily processed vocal sounds in real time
Smooth control with dedicated Pitch and Formant sliders
Large dedicated Reverb and Mix Balance sliders
Save three favorite settings for instant recall
Connect an optional footswitch for additional control in live performances
Pure green LEDs and brightly lit controls for great visibility
Lightweight and durable construction for easy portability
Standard XLR/TRS combo jack (with phantom power) and 1/8-inch mic jack (with plug-in power)
Stereo outputs can be configured as separate mono wet/dry channels
Built-in USB audio interface with loopback recording to overdub vocals on existing tracks
Great for podcasts and live web streaming
Powered by USB bus or included AC adapter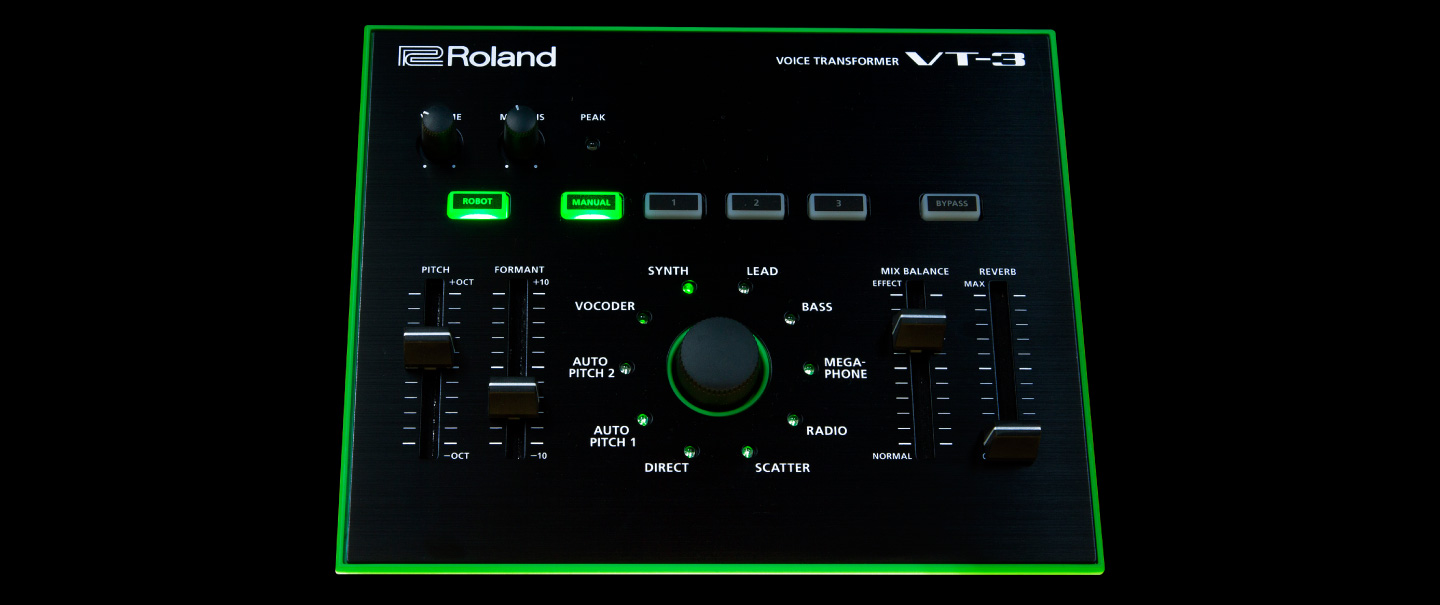 Total Transformation
The VT-3 is not just for robot voices (although we totally approve of robot voices). It also has the power to transform your voice into synthesizers, synth basses, hard-tuned and lo-fi sounds, and more. The VT-3 can also be subtle and musical, with built-in reverb, smooth wet/dry fader control, and instant bypass.
Transform your voice with different character types:
Pop and electro sounds with two distinctive Auto-Pitch effects
Create VP-330-style Vocoder sounds without the need for a keyboard
Scatter function for glitchy effects that sound like something's broken (in a good way)
Loads of lo-fi character with Megaphone and Radio settings
Synthetic sounding voices with the Robot button
Synth, Lead, and Bass settings for synths you can sing
Smooth Control
Built for creative speed and live performance, the VT-3 is meant to be played. It features high-quality specs and sturdy, brightly lit controls that are dead simple to use. The controls and functions are smooth and immediate, with no popping, clicking, or latency issues to worry about, even when switching presets or changing voice characters. Weighing less than two pounds and small enough to slip into a bag, you can take the VT-3 anywhere.
VT-3 Version 1.1 New Features
Backup and Restore
Manage your presets with easy backup and restore over USB.
Improved Playability
More Memory — User presets have been doubled to six locations.
Character Level — Volume levels of each character are more evenly matched for smooth transitions.
USB MIDI — Control pitch of voice characters, including vocoder, with external MIDI keyboard.
Low Cut Filter — Cuts low frequency sensing to improve performance of Auto-Pitch characters.
Noise Gate — Gates noise to reduce chance of feedback or howling sound.
USB attenuator — Adjusts level of audio over USB.
Improved MIDI
Program Change — Change program memory with MIDI controller message.
Control Change — Control VT-3 functions with MIDI control change messages.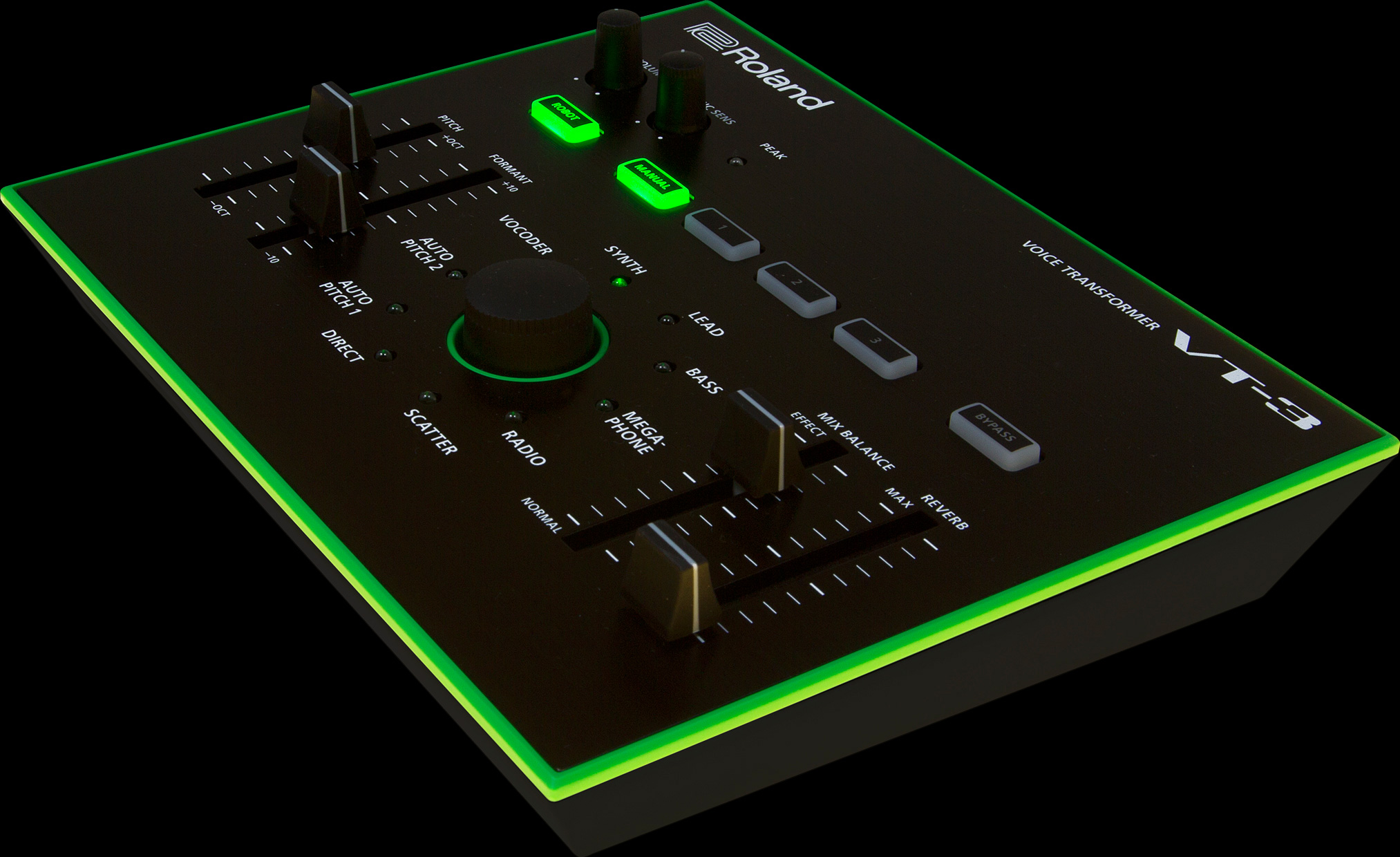 Les parties vocales au son mécanique sont devenues communes dans la musique électronique, mais les élaborer facilement et les utiliser sur scène reste souvent problématique. Le VT-3 vous permet de modifier facilement la hauteur (Pitch) et la résonance (Formant) d'une voix et de l'inclure dans vos pistes audio ou votre mix de scène sans tracas. En plus, le VT-3 est conçu pour être associé aux autres produits de la gamme AIRA
Créez des sons vocaux profondément traités en temps réel
Modifiez le Pitch et le Formant grâce à des curseurs dédiés
REVERB et MIX BALANCE contrôlables par des curseurs dédiés
Sauvegardez vos trois réglages favoris et rappelez-les instantanément
Contrôle par footswitch pour la scène
LEDs vertes et contrôleurs vivement éclairés pour une visibilité parfaite
Lightweight and durable construction for easy portability
Entrées XLR avec alimentation fantôme et jack 1/8" auto-alimenté
Les sorties stéréo peuvent être séparées en deux canaux mono Wet/Dry
Interface audio USB avec enregistrement loop pour superposer des voix à des pistes existantes
Idéal pour les podcasts et le streaming sur Internet
Port USB alimenté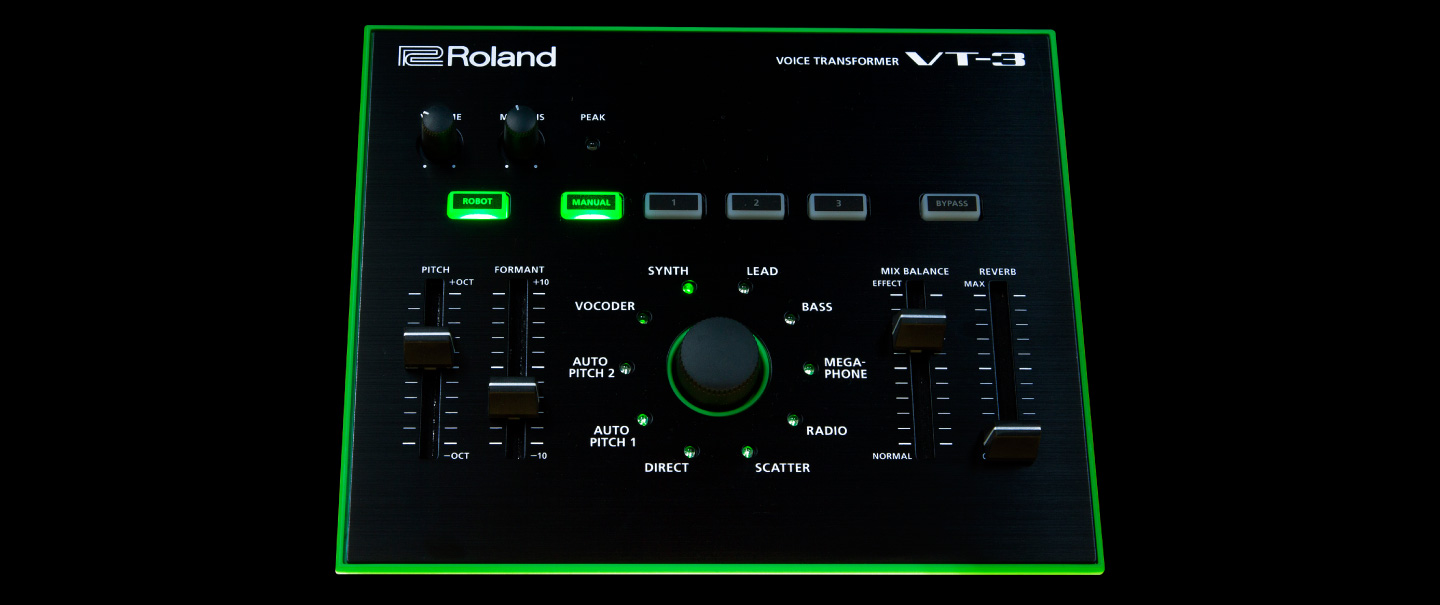 Transformation totale
Le VT-3 ne vous fait pas simplement chanter comme un robot : il permet de transformer votre voix en synthétiseur ou basse électronique, de la désaccorder ou l'altérer de nombreuses manières. Vous pourrez ensuite la transformer plus subtilement grâce à une reverb intégrée, un fader Wet/Dry et un Bypass instantané.
Transformez votre voix avec des différents types de caractère:
Sons pop et électro grâce à deux effets « AUTO-PITCH » distincts
VOCODER type VP-330 sans clavier supplémentaire
Effets SCATTER de distorsion évoquant un timbre fêlé
De nombreux effets Lo-Fi grâce aux réglages MEGAPHONE et RADIO
Des voix de robot grâce au bouton ROBOT
Une voix très synthétique grâce aux réglages SYNTH, LEAD et BASS
Maniement confortable
Conçu pour une utilisation immédiate en studio et sur scène, le VT-3 est un véritable instrument aux caractéristiques haut de gamme, aux nombreux contrôleurs lumineux, et d'une désarmante simplicité d'utilisation. Accéder aux différentes fonctions est immédiat et s'effectue sans aucun bruit parasite, sans latence, même lors du passage d'un preset à l'autre ou de la modification d'un effet de voix. Pesant moins d'un kilo et suffisamment petit pour tenir dans un sac, le VT-3 vous accompagnera partout.
VT-3 Version 1.1 – Nouveautés
Sauvegarde et restauration
Gérez plus facilement vos présets grâce à la sauvegarde et restauration par USB.
Jouabilité améliorée
Plus de mémoire : les présets utilisateurs bénéficient désormais de deux fois plus d'emplacements (6).
Niveau de caractère : les niveaux de volume de chaque caractère ont été égalisés pour de meilleures transitions.
USB MIDI : contrôle de la hauteur des caractères de voix, y compris le Vocoder, à partir d'un clavier MIDI externe.
Filtre passe-bas : coupe les basses fréquences pour améliorer le résultat des caractères Auto-Pitch.
Noise Gate : réduction du bruit pour diminuer les risques de feedback ou de sifflements.
Atténuateur USB : ajustement du niveau de l'audio via USB.
MIDI amélioré
Program Change : changement des mémoires de programme par message MIDI.
Control Change : contrôle des fonctions du VT-3 par messages Control Change MIDI.